News
Tom Holland Calls "Dark and Sad" Spider-Man: No Way Home "Not Fun"
While Spider-Man: No Way Home looks like a wild ride of a movie, star Tom Holland is hinting darker themes.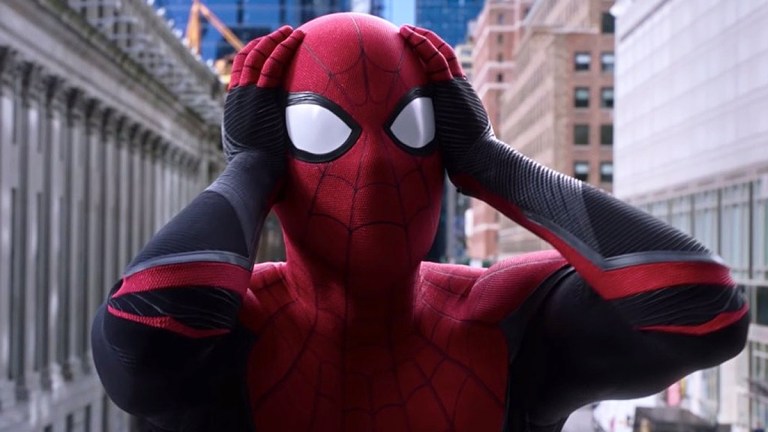 Spider-Man: No Way Home has been teasing a cavalcade of universe-crossing chaos, further fueling the uncontained delight of fans who anticipate its expected array of frenetically fun moments. Yet, while the promotional process for the December-scheduled threequel has forced its historically-gabby star, Tom Holland, to keep an especially tight lid on some stupendous secrets, his most recent comments seemingly slip out a narrative that contradicts the long-assumed notion of the film being, well… fun.
Based on what's showcased in Spider-Man: No Way Home, primarily from a debut trailer from this past August that still has everyone talking, "fun" is a knee-jerk adjective for the upcoming film. How else can one describe a big screen bonanza in which a screwed-up spell from Benedict Cumberbatch's Doctor Strange twists movie universes into a knot, forcing Holland's Marvel Cinematic Universe Spider-Man into a skirmish—potentially alongside former Spider-Men Tobey Maguire and Andrew Garfield—with a smorgasbord of villains from previous iterations such as Jamie Foxx's Electro, Alfred Molina's Doctor Octopus and even Willem Dafoe's Green Goblin? However, in a cover story interview for Total Film, Holland implies that darker dramatic elements will actually dominate the film's tone.
"What people will be really surprised about is that it's not fun, this film," reveals Holland. "It's dark and it's sad, and it's going to be really affecting. You're going to see characters that you love go through things that you would never wish for them to go through. And I was just really excited to kind of lean into that side of Peter Parker."
While Holland won't risk the wrath of Marvel Studios and/or Sony Pictures by going into specifics about the still-obscured plot of No Way Home, his comment seemingly references the starting point of the upcoming film, which will pick up the pieces in the aftermath of a consequential mid-credits scene in 2019's Spider-Man: Far From Home. As Spidey celebrated his victory over illusion-maker Mysterio, the stabilization of his life was sullied posthumously by the villain with a delivered scoop from TheDailyBugle.net's J. Jonah Jameson (J.K. Simmons) that not only revealed the Wall-Crawler's secret identity as Peter Parker to the world, but framed him for the murder of the villain. Consequently, Peter's already-frantic double-life has become tangled into an untenable single thread, which will apparently take its toll on the emotional constitution of the typically-sanguine superhero. While we're unlikely to witness the 2.0 version of Spider-Man 3's unintentional punchline "Emo Spidey," it's clear that the head of Holland's version is going to be driven to darker places.
"Peter Parker is always someone who's looking up," continues Holland. "He's always really positive. He's always like, 'I can fix this. I can do this.' Whereas in this film, he feels like he's met his match. He's like, 'I don't know what to do.' That was an aspect of the character that I'd never seen before, and I was really, really excited to try to tackle."
Indicatively, the core of Holland-starring solo superhero films Spider-Man: Homecoming (2017), Spider-Man: Far from Home (2019) and Spider-Man: No Way Home (2021)—now collectively known as the Homecoming Trilogy—is Peter's relationships with those closest to him, specifically aunt May Parker (Marisa Tomei), love interest M.J. (Zendaya) and best pal Ned Leeds (Jacob Batalon). Indeed, the films have heavily focused on the effect that Peter's web-swinging alter ego exploits has on these relationships. Thus, as the No Way Home trailer reveals, Peter's desperation to fix his broken life leads to a plea to former Avengers: Infinity War and Endgame ally Doctor Strange to conjure the aforementioned spell, which would ideally make the world forget the devastating dox. However, the Doctor discloses the crucial last-second caveat that the mass memory wipe would also affect his loved ones, inciting Peter to abruptly attempt a stop; an attempt that would not only prove unsuccessful, but result in a twisted, apparently-amalgamated universe.
While the extent of the spell's effects is not quite clear at this point, Holland's comments seem to indicate that there will be a lasting effect, potentially on the relationships that have been so integral to Peter in the Homecoming Trilogy. This would explain the darker demeanor that Holland is teasing of Peter's character. Moreover, it's an idea that's further backed by Holland's comments to EW back in October, which seemed to treat No Way Home in a curiously bittersweet manner, referring to it as "the end of a franchise."
Indeed, while Holland is most likely set for further web-swinging in the MCU and Sony's MCU-adjacent Spidey spinoffs, this film is clearly set to turn a prominent page, especially when it comes to Peter's inner circle. This idea was made especially clear in his recollection of shooting the last scene with Zendaya and Batalon, which he described as "heartbreaking, but also really exciting because we're all moving into the next chapter of our careers," and also called it "the best day I've ever had on set. I don't think I've cried like that ever."
It will be interesting to see if Spider-Man: No Way Home proves to be a marathon of movie moroseness hidden inside an exciting popcorn-friendly Trojan horse of hype. However, Holland is clearly stoked for its imminent arrival, further stating: "I haven't seen the film yet but I've seen pieces of the film, and it's the best work we've ever done. It's the best Spider-Man film that we've ever made. I really don't think fans are at all ready for what they've put together. I know that I'm not ready, and I know that it's going to be brutal."
Spider-Man: No Way Home lands at theaters on Dec. 17. It will be followed up in some manner with MCU sequel Doctor Strange and the Multiverse of Madness on May 6, 2022. However, before that, further Spider-Verse implications seem destined to be displayed in cold-intro spinoff film Morbius, which arrives on Jan. 28.