News
Tom Holland Hints at Spider-Man Exit as Marvel Contract Expires
With Spider-Man: No Way Home being the last film on his current contract, Tom Holland is teasing an exit from the Marvel movie franchise.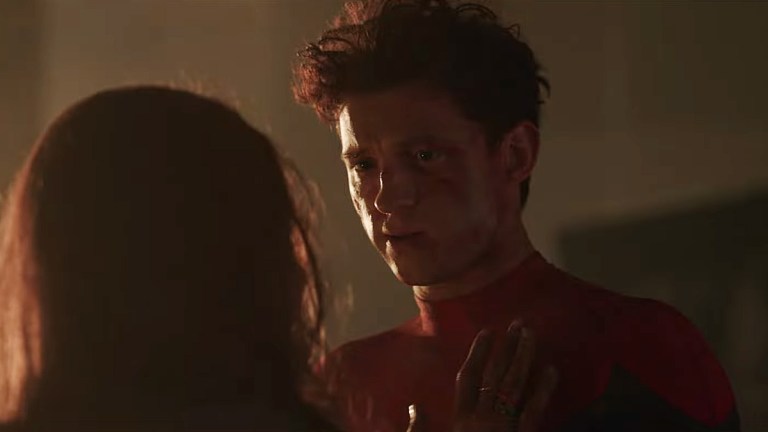 As the imminent arrival of Spider-Man: No Way Home stokes a fever pitch among fans with its new, multiverse-transcending, villain-stacked trailer, another story—a potentially consequential one—has been subtly playing out behind the scenes about star Tom Holland. With the headliner having already confirmed the threequel as his last contracted appearance, he has been intimating an idea of finality. Indeed, Holland's latest comments intriguingly push the impression that he's ready to walk away from his breakthrough role.
While Holland is still a young man of 25, he's been speaking to the press with the drained demeanor of a grizzled veteran who's ready to walk off into the proverbial sunset. That's likely due to the fact that the British actor has been a front-row passenger on the wild ride that is Marvel movie mania for six years now, having been plucked from relative obscurity in July 2015 to be announced as the new, Marvel Cinematic Universe-adherent Spider-Man. Now headed for a record sixth big screen Spidey appearance, Holland provides his strongest hint of a potential exit in an interview with GQ, in which he even teases a cut-off point.
"Maybe it is time for me to move on," says Holland. "Maybe what's best for Spider-Man is that they do a Miles Morales film. I have to take Peter Parker into account as well, because he is an important part of my life," adding, "If I'm playing Spider-Man after I'm 30, I've done something wrong."
Holland's idea that the film franchise should move on from Peter Parker to the Miles Morales version of Spider-Man would yield potent plot assumptions. After all, Morales was introduced in 2011 for Marvel Comics' Ultimate Universe as a similarly radioactive-spider-bit replacement for Parker, who died in that particular continuity. The character would eventually become grandfathered into the Prime Universe—concurrently with a still-alive Parker Spidey—and would go on to become a popular staple, notably serving as the protagonist (voiced by Shameik Moore) ensnared in multiverse chaos in the hit 2018 animated feature, Spider-Man: Into the Spider-Verse. Given that context, there's a lot to read into regarding Holland's name-dropping of Miles Morales in relation to his own potential onscreen exit. It's an idea that's now more feasible than ever, given the universe-breaching implications of No Way Home.
Yet, from the standpoint of the fans, it seems surreal that Holland is even entertaining the notion of an exit from the Marvel money-printing movie machine, especially with the ever-increasing prominence his character is receiving in the MCU. With Robert Downey Jr.'s Tony Stark/Iron Man having been martyred in unforgettably-emotional, universe-saving fashion in 2019's Avengers: Endgame, Holland's Spider-Man is unquestionably the de facto face of the MCU—mind you, this is despite the fact that his eponymous solo movies are still technically productions of licensee Sony Pictures, per the initial historic deal that finally brought Marvel's mascot into the prolific film continuity. Plus, with the increasing presence of Spidey-less, canonically-confusing cold-intro character spinoffs such as the Venom films and the upcoming Morbius, an exit would renege on expected onscreen collisions with Holland's Spidey—especially after the Spidey-related multiverse implications revealed in Venom: Let There Be Carnage's post-credits—and would be a blow to consumer confidence in the franchise.
Consequently, Holland's MCU tenure somehow feels as if it hasn't fully started, even after six apparently-taxing years for the star. Unlike predecessor Spider-Men Tobey Maguire and Andrew Garfield (both of whom might be secret No Way Home co-stars), the run of Holland's Spidey—introduced in fully-realized form in 2016's Captain America: Civil War—never showcased the character's traditional arc of an origin story, and has been notably deprived of all his classic character-defining comic book moments. It's a notable aspect that makes the whole tenure—despite its fan-celebrated status and unprecedented success—defined by unfulfilled potential. Former Sony chairperson Amy Pascal—who played a key role in forming this Spider-Man iteration—seems to agree with this notion, and unequivocally states in the GQ piece, "I've talked to him about doing, like, 100 more. I'm never going to make Spider-Man movies without him. Are you kidding me?"
Nevertheless, Holland seems to be telegraphing near-future plans that don't involve web-swinging and/or wall-crawling. In fact, one of said plans would even see the actor trade his signature "Underoos" for a tuxedo, and his web-shooters for a Walther PPK to fill one of the most prominent role vacancies in the film industry. "He talks about being James Bond a lot," co-star Jacob Batalon (best pal Ned Leeds) tells GQ, "A lot a lot." Yet, forgoing the obvious reasons why Holland, despite being a good actor, is not the right fit for Agent 007, one must also remember that he will get to showcase himself as a proper leading man for another popular franchise when his starring role will take adventurer Nathan Drake from the realm of bestselling video games to the big screen with Uncharted—as notably directed by Venom's Ruben Fleischer—which is currently set to invade theaters in February, which is not long after No Way Home's December drop.
However, amid the inauspicious declaration of being done with Spidey by the age of 30, Holland also hints at a future scenario in which he continues on with the role. "I'd be very content with just being a stay-at-home dad, and producing a film here and there," he continues. "That's not to say that will happen right now. "I might start shooting The Crowded Room [a film project he co-scripted with brother Harry] and go, 'You know what, this is what I'm going to do for the rest of my life.' Or I might do Spider-Man 4, 5, and 6, finish when I'm 32, and never make another. I'm not sure what I want to do."
Consequently, we can take Holland's words with a solid grain of salt, especially since he's been brandishing this one-foot-out-the-door mentality for some time now, and even raised many eyebrows this past October when he described No Way Home as "the end of a franchise," speaking of the solo series in an elegiac manner while simultaneously teasing that prospective future Spider-Man appearances would "try to build something different and tonally change the films," albeit after a hiatus for an undefined amount of time. Indeed, Holland seems to be assessing the overall trajectory of his career, about which he tells GQ, "I definitely don't think I want to be an actor for the rest of my life," going on to imply that he might one day fall back on his previous labor-of-love training as a carpenter. "I've always been really good with my hands. If something's broken, I can always figure out a way of fixing it," says Holland, who also toys with the philanthropic notion of "buying apartment buildings and renting them out cheaper than they need to be, because I don't need the money."
Spider-Man: No Way Home is positioned as a pandemic-era box office game-changer, scheduled to hit theaters on Dec. 17. A presumed direct follow-up, MCU sequel Doctor Strange and the Multiverse of Madness, is currently on schedule for May 6, 2022, barring any further delays from its reported re-shoots.