News
Doctor Strange 2: Elizabeth Olsen Teases Wanda's "Bonkers" MCU Return
If Elizabeth Olsen thinks Doctor Strange in the Multiverse of Madness is bonkers after starring in the very trippy WandaVision, then we're in for a treat.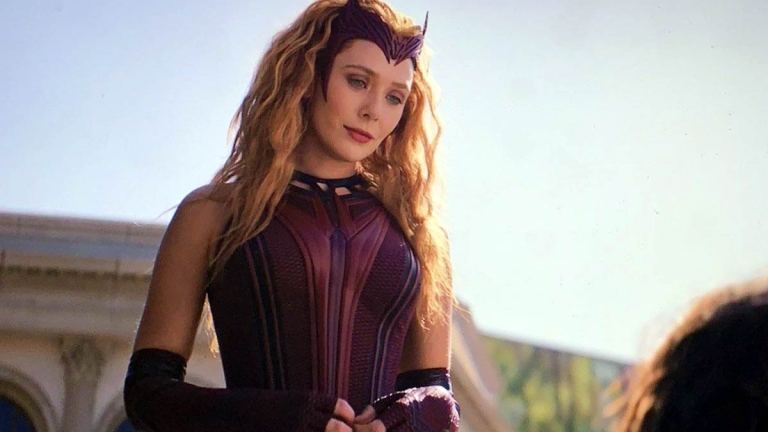 Elizabeth Olsen didn't get much of a break between her most recent Marvel Cinematic Universe gigs. The Scarlet Witch actress went straight from WandaVision reshoots in Burbank to the set of Doctor Strange in the Multiverse of Madness in the U.K. With shooting on the Doctor Strange sequel set to end this week, Glamour caught up with Olsen for their April cover story, giving us one of our best glimpse into what Doctor Strange 2 will be yet.
There hasn't been much official news about the MCU sequel. Back in January, an unofficial synopsis emerged for Doctor Strange 2, to be taken with a grain of salt: "After the events of Avengers: Endgame, Dr. Stephen Strange continues his research on the Time Stone. But an old friend turned enemy seeks to destroy every sorcerer on Earth, messing with Strange's plan and also causing him to unleash an unspeakable evil."
Whether this synopsis is correct or not, it doesn't give us a lot of information about the tone of the MCU sequel, which is where Olsen's Glamour article comes in. During her profile interview, Olsen had this to say about the superhero flick: "It's a bonkers movie, they're definitely going for that horror show vibe." It sounds like Doctor Strange in the Multiverse of Madness is going to push the envelope of what is possible in the MCU reality, just like Doctor Strange and WandaVision before it. Considering that WandaVision got pretty trippy at parts and Olsen is still describing Doctor Strange 2 as "bonkers," it sounds like the upcoming film is going to be an experience.
While we don't know much yet about Doctor Strange in the Multiverse of Madness, the WandaVision certainly set some expectations about what to expect from the sequel. The Disney+ series ended with Wanda Maximoff in a remote cabin, studying Agatha Harkness' Darkhold magic book, aka the Book of the Damned. We later see Wanda leafing through the book's contents via an astral form while her physical self putters about the cabin—a trick made MCU famous by the Sorcerer Supreme himself, aka Stephen Strange. As we discussed in this article, the closing scene is likely a huge indication of just how much the Darkhold will be key Marvel's Doctor Strange sequel, and how large a part Wanda may be playing in the film.
Doctor Strange in the Multiverse of Madness is directed by Sam Raimi from a script written by Jade Bartlett and Michael Waldron. In addition to Olsen, it of course stars Benedict Cumberbatch in the eponymous role (of Doctor Strange, not the Multiverse of Madness), as well as as Benedict Wong, Rachel McAdams, Chiwetel Ejiofor, and Xochitl Gomez. It is slated for a November 2021 release.