News
How Spider-Man: No Way Home Changed Alfred Molina's Doc Ock Performance
Alfred Molina's return as Doctor Octopus in Spider-Man: No Way Home required some interesting adjustments for the actor.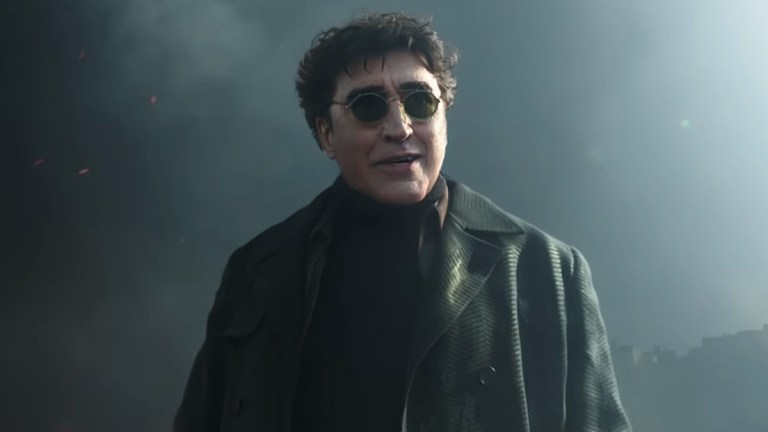 Rarely has two simple words from a movie trailer stirred up the kind of frenzy that "Hello, Peter" did in the recent teaser for Spider-Man: No Way Home. In essence, the line, as delivered with a mocking grin by Alfred Molina's returning Doctor Octopus, was the pithy, definitively-fulfilling validation of the wild multiverse rabbit hole avenues of speculation fielded by fans. Now, as the veil slowly lifts regarding the film's secrets, the prospective Peter in question, star Tom Holland, reveals the adjustments Molina had to make in his 17-years-awaited return.
Molina is making a monumental comeback in No Way Home from a memorable, emotionally-potent performance—one that's now two franchises ago—as Dr. Otto Octavius, a.k.a. Doctor Octopus, for director Sam Raimi in 2004's Spider-Man 2. Of course, that was nearly two decades ago, and production techniques have obviously progressed since cameras rolled for that film. Case in point, the evil-influenced robotic arms accidentally fused to the spine of the well-meaning nuclear scientist-turned-supervillain were, out of necessity, brought to life with puppeteers dedicated to controlling each individual tentacle and claw. Thusly, as Holland tells EW, Molina had to overcome a major learning curve in the current era of CGI motion-capture.
"[Molina was] one of my favorite people I've ever worked with," lauds Holland of the returning Raimi Spider-Man movie alumnus. "It was really fun to watch him see how technology has advanced. When he was making these films, the arms were puppets, and when we did it, they're all imaginary and CG. It was quite cool to see him relive it, but also relearn it."
Molina's Spider-Man 2 role as the iconic character often abbreviated as Doc Ock was the first—and thus far definitive—live-action rendition for one of the Wall-Crawler's oldest top-tier archnemeses. It also happens to be widely regarded as one of the most powerful, humanistic villain roles in the history of comic book movies, thanks to Molina's pathos-packed performance, boosted by a well-handled tragic backstory. Indeed, nuclear scientist Octavius—who'd become a mentor to the science-inclined Peter Parker—was experimenting with a fusion power source that would have changed the world, only to experience a destructive catastrophe that kills his beloved wife, and fuses a quartet of high-tech hazardous-waste-handling robot arms to his nervous system, creating a horrendous hybrid of a man with eight "arms" made insane by the evil tentacles.
In a less-mainstream-revered, pre-Marvel Cinematic Universe era for the genre, the role not only bestowed Molina with widespread acclaim, but earned him nominations with the MTV Movie + TV Awards, Teen Choice Awards, People's Choice Awards, London Critics Circle Film Awards, Satellite Awards and more—yielding only one win, via the Visual Effects Society; a notion possibly attributed to the era. Nevertheless, the performance became the benchmark for big screen supervillains, one that even director Raimi himself attempted to recreate for 2007 follow-up Spider-Man 3 with the tragic backstory of Thomas Hayden Church's Sandman, an accident-transformed, grain-manipulating supervillain—also revealed to be Uncle Ben's real killer—whose criminal exploits turned out to be a benevolent fundraiser for his sick daughter. However, the pathos lightning failed to strike twice for Raimi, and that threequel ended up bogged down by an array of plot issues, notably its crowded cinematic clown car of disparate supervillains.
Interestingly enough, it does seem likely that the version of Doc Ock set to appear in Spider-Man: No Way Home will not be the exact same person. Indicatively, Molina's character in Spider-Man 2 experienced a climactic redemption arc when the mind of Otto Octavius finally surfaced from the schizophrenic fray, and proceeded to undo the malicious, bank-robbery-funded endeavor that would have weaponized his initial fusion power experiment, this time to explosively destroy the city. Moreover, Octavius's struggle to undo those deeds ended up costing his life, as he used what free will he had left to bring down the structures holding his volatile makeshift sun in place, safely sinking the experiment into the waters below, and relegating himself to a wet grave.
Consequently, there is a widely-held belief speculating that this Doc Ock—and fellow returning other-iteration Spider-Man villains like Willem Dafoe's Green Goblin, Jamie Foxx's Electro and Rhys Ifans's Lizard—are variants (a concept recently introduced on the wild ride that was MCU series Loki,) from across the scattered Multiverse, adhering to what we now know to be the film's central concept. This idea bestows Molina's Doc Ock with completely new motivations, which will undoubtedly influence his performance this time around.
Molina's aforementioned "Hello, Peter" line brings further intrigue when considering the possibility that—contrary to the way the clip was edited—he might not even be addressing Tom Holland's Peter Parker, specifically. Indeed, collaborator studios Sony and Marvel are still clearly keeping certain elements about the film a secret, specifically about the enduring rumor that previous big screen Spider-Man portrayers, Tobey Maguire (from director Sam Raimi's 2002-2007 Spider-Man Trilogy) and Andrew Garfield (from director Marc Webb's 2012-2014 The Amazing Spider-Man duo) will appear in the film opposite Holland's current Wall-Crawler for some live-action Spider-Verse pandemonium in this third Spider-Man film from director Jon Watts. Thusly, Molina's Doc Ock—as a prospective variant who didn't experience the redemption arc that cost his life—might just be addressing the only Peter Parker he knew, that being Maguire's. That, of course, is an exciting reunion worth the price of admission in its own right.
Spider-Man: No Way Home will say hello to theatrical audiences on Dec. 17. Pertinently, with Benedict Cumberbatch's Doctor Strange revealed to be integral to that film, his subsequently-arriving sequel, Doctor Strange in the Multiverse of Madness, will more than likely—as its very title indicates—follow up on the storyline when it arrives on Mar. 15, 2022.