Features
Could Kingpin Fight Spider-Man in the MCU After No Way Home?
With Spider-Man: No Way Home seemingly opening an MCU Spider-Verse, Kingpin actor Vincent D'Onofrio wants in.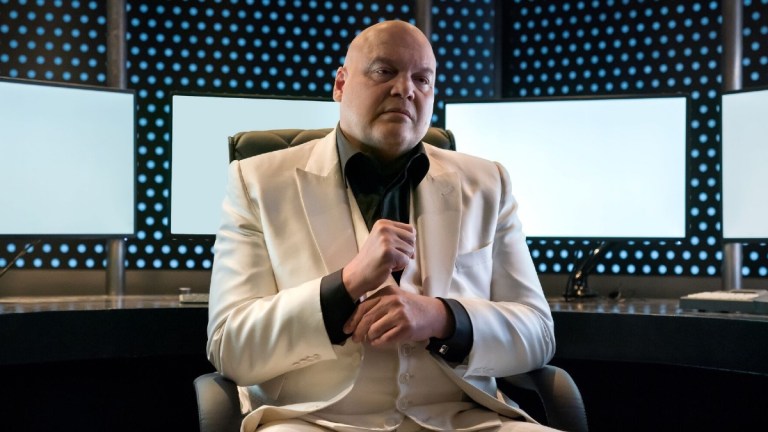 Spider-Man: No Way Home doesn't come out for another month but fans online are pretty sure they've unlocked all of its secrets.
The movie's trailer and poster have promised the introduction of a multiverse and officially revealed that Alfred Molina's Doc Ock and Willem Dafoe's Green Goblin from Sam Raimi's Spider-Man films will be invading the Marvel Cinematic Universe. Former Spider-Men Tobey Maguire and Andrew Garfield have fielded so many questions about returning to the franchise that the latter now appears to be craving the sweet release of death.
Then there's the Daredevil of it all. With the rights to classic comic character reverting from Netflix to Marvel Studios, many fans are convinced that Charlie Cox's Matt Murdock will play a role in Spider-Man: No Way Home. After all, Spidey star Tom Holland previously confirmed that he would be sharing a big scene with a mystery character. It seems as though every Marvel character and their mother are set to appear in No Way Home. And yet, someone very important has been missing from all the discussion up to this point: Wilson Fisk a.k.a. Kingpin.
If the Netflix Defenders universe Matt Murdock is joining the MCU (which we should stress, is NOT confirmed), then why wouldn't his big bad? Vincent D'Onofrio as imposing New York City crime boss Kingpin was hugely integral to Daredevil's success. Not only that, but in comic lore, Kingpin is frequently tied to both Murdock and Peter Parker. If you have a friendly neighborhood Spider-Man, you need an equally unfriendly neighborhood mobster for him to tangle with.
Thankfully, D'Onofrio agrees. In speaking with Jake's Takes on YouTube to promote The Unforgivable, the Kingpin actor discussed his character's potential MCU return and revealed which other character he'd most like to act opposite of.
"It would definitely have to be Spider-Man one day, I'm hoping. We'll see if they ask me to do it. Kingpin lived in a world of Punisher, Daredevil, and Spider-Man, so that would be the one."
Kingpin is one of Marvel's most iconic "ground-level" villains. While the Avengers are frequently tasked with confronting existential threats like Thanos, Galactus, and Kang the Conqueror, Kingpin occupies a more niche space in the criminal underworld. Even amid aliens, Eternals, and Blips, the world carries on as usual and it needs a crime boss to keep the seedy underbelly in line. Wilson Fisk is more than happy to be that man.
Phase 4 of the MCU is set to feature Marvel's biggest and most experimental storytelling swings yet. As first teased in Loki, the multiverse has arrived in earnest, opening up crossover opportunities that we are likely to see in No Way Home and Doctor Strange in the Multiverse of Madness. Still, if the franchise wants to maintain perspective with tragically human villains, D'Onofrio's Kingpin seems like an excellent choice going forward.
In fact, we already know that Kingpin can work conceptually within a multiversal story. Kingpin was the central villain in Sony animated feature Spider-Man: Into the Spider-Verse. Voiced by Liev Schreiber, the mob boss was more than able to hold his own among all the Spider-Verse chaos. It certainly helped that this Kingpin was the size of an SUV. If we ever see Vincent D'Onofrio seriously carbo-loading, then it's a safe bet Kingpin is coming back.