Features
Skinamarink: How Reddit and an Internet Leak Created a Horror Box Office Hit
Skinamarink may be the first movie that was willed by internet culture into a horror phenomenon.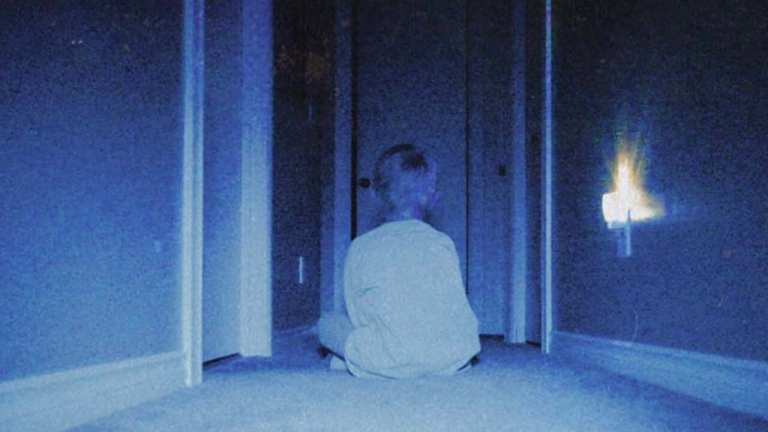 Leicester Square, London. A damp Saturday night in January. The Odeon, the largest cinema on the square, shines bright blue, the outside screens projecting images of Na'vi, hoping to entice us to step inside and watch Avatar: The Way of Water. Nearby, another of the large cinemas is covered in posters of Margot Robbie being carried through a blazing party; Damien Chazelle's Babylon, which cost $90 million to make, is playing there. It's not too busy—unlike around the corner where something remarkable is happening.
A line has formed outside the Prince Charles Cinema, a beloved theater known for spotlighting cult classics and frequently showing The Room. Now a queue isn't exactly a rarity (we're in Britain after all), but what these people are lining up for is. They're not here for a Hollywood star paying a visit (although Brendan Fraiser was there a few days ago), but a sold-out screening of a micro-budget movie from half the world away that leaked online a few months back.
Skinamarink has become a global sensation among the horror community. Made for $15,000 in Canada, the film's already grossed nearly $2 million worldwide. On the surface, its plot is threadbare: two children are left home alone and are haunted by a mysterious presence. That's not a whole lot to hang onto for over 100 minutes. When watching Skinamarink, however, you're hypnotized by its lo-fi aesthetic and paralysed by its haunting, liminal atmosphere. There's an occasional jump scare, but the real horror is how it taps into your subconscious and taunts you. I stayed at my brother's house after watching Skinamarink and I could barely sleep. I kept looking at the corner of the room, shrouded in darkness, searching for something. There was nothing specific to be afraid of, no singular monster, I was simply shook. The movie has unsurprisingly gained comparisons to The Blair Witch Project (1999) thanks to its viral status and low budget, yet it's a different beast altogether; a pastiche of creeping pictures that slowly builds a sense of dread and with barely any dialogue.
Stranger than Skinamarink's ability to slowly stick into your brain is how the movie has found international success. Reddit went wild for Skinamarink a few months back—and not because of some viral marketing ploy like M3GAN's dance. Instead the entire thing appeared seemingly out of nowhere, with no official release, like some cursed tape that's going to lead to any viewer's eventual death. Theories were abound on social media, and behind the scenes Skinamarink's director was caught between enjoying the fact everyone was talking about his movie and knowing that everyone was watching his creation illegally. 
Skinamarink Origins: A Nightmare on YouTube
Back in July 2015, Kyle Edward Ball started a YouTube channel titled Bitesized Nightmares. Two years later, Ball uploaded a video titled "nightmare 1 (contains strobing)". The horror short, just over four minutes, sees the filmmaker describe a nightmare he had as a child—and the dream plays out onscreen. It's an affecting piece of work, more a promising start than an instant success. The video ends with a message asking viewers to post their nightmares in the comments section, and Ball later turned the comments into short films. These ended up on Reddit, and the community embraced the channel to a small degree.
"From the get-go, the Internet has been my co-director," Ball told RogerEbert.com. "My channel didn't take off that much, and it still has never really taken off. I started sharing it on Reddit, and people on Reddit would share nightmares they'd had."
One nightmare kept recurring: you're a child, left home alone, and there's something else in the house. Ball turned it into a half hour film, "Heck," released two years ago on YouTube, about a daughter who wakes up in the middle of the night, her mother's TV blaring downstairs. Her mother's not there. And there's something else in the house.
"Heck" proved to be a proof of concept for Skinamarink, the two films sharing the same look and feel—collages of dark imagery and obscured faces, the constant hum of a sound recorder, distorted voices, the entire production trapped inside a house. Ball had mastered the idea of implication over showing. "After a while, I thought, 'Maybe I could do a feature like this,'" Ball said.
A wave of crowdfunding followed and then work began on Skinamarink. Ball hired his director of photography, Jamie McRae, originally an experimental filmmaker in their own right, and they bonded over Reddit's r/weirdcore. They filmed the entire thing in Ball's childhood home, using toys from his past as props. A television appears in the movie and shows cartoons they were free to use thanks to being in the public domain. Even part of Ball's impetus to call the movie Skinamarink, after the preschool song "Skidamarink," was because the word was in the public domain. This was budget filmmaking that used its limitations as an advantage, not disadvantage.
"Because I had these rules in place, I actually found it freeing to be working within a set framework," Ball later said.
Pirate of Reddit
Skinamarink's first taste of virality came when the trailer was uploaded to Reddit.
"Before I finished the final cut of the film, I cut the iconic trailer that people have talked about, which is the trailer that's still in use save for one or two cuts I made to it," Ball told RogerEbert. "That trailer blew up on the r/filmmakers subreddit, which is how I got my [initial] distribution deal." Executive producer Jonathan Barkan came on board, and they submitted the movie to Fantasia Film Festival (the original tweet celebrating the submission is still online).
Skinamarink was accepted and debuted that July. The response was immediate. "Horrifying vibes the entire time," wrote one person on Twitter. "I was blown away (and also terrified) by Kyle Edward Ball's Skinamarink, an experimental horror that's like a childhood nightmare version of Begotten," wrote another. "Legit the scariest movie I have seen in ages," exclaimed a reviewer.
Unfortunately, while the Fantasia Fest reception was rapturous, it also led to the entire movie leaking online due to someone illegally copying the digital screener. And after a couple of months, the pace at which people were sharing Skinamarink started heating up, the discussions around it growing on Reddit. Everyone was seemingly watching it illegally.
"Before it was pirated, on Twitter when anyone talked about my movie I would 'like' it," Ball told Variety. "If they did fan art, I'd retweet it. It's so cool that people are doing fan art! Since it's been pirated, it's been difficult, because no filmmaker wants to tsk tsk someone who's saying, 'Oh my God, I love your movie,' right?"
"I think people were under the impression we didn't have distribution and they were doing us a favor by pirating, but we did have a plan," he continued.
The plan in place was a distribution deal with IFC Midnight and the horror streaming service Shudder, both of which had to move quickly after the leak gained traction.
"I'm not happy that it got leaked," Ball added when talking to RogerEbert. "Having it get pirated in the beginning was a nightmare, and it caused conflicted emotions in me. Lots of people at Shudder and IFC had to work around the clock to move timelines up and change the release date; they've been amazing through this whole process… Am I happy that it blew up as a result of the leak? Well, maybe a little. Am I happy other people, who wouldn't have necessarily seen my movie, love my movie? Yes, I am happy about that."
We Need to Talk About Kevin
Of course Skinamarink didn't just go viral because it leaked online; its content caused the sensation. "Skinamarink is a distinct gem, a living nightmare that's some of the most exciting, unsettling new work in the genre," Samuel Zimmerman, the VP of programming at Shudder, told Variety. "Really, it's the best kind of horror movie, one unlike any other, that announces the arrival of a special new filmmaker."
Reddit agrees. As early as November last year, there were posts dedicated to Ball's work. "Skinamarink just scared me more than any other movie in at least a decade," reads one, its writer adding, "Something about this movie is deeply, deeply unsettling." On the post are some of the first discussions about plot theories, with Redditors pondering which characters are really alive and which are dead, and what, exactly, is the mysterious entity haunting the children Kevin and Kaylee. To go any further into theories would be touching on spoilers, but some of the best are on the main discussion post following the movie's official release.
"People have talked about it heavily on Reddit, sharing different fan theories," Ball told RogerEbert. "And it feels like, in weird ways, this is the movie that Reddit made. I know that's a loaded term, and I know people have different ideas of Reddit, but it's always come back to Reddit in a strange way."
And while that's somewhat right, Skinamarink's now more than just a viral Reddit sensation—it's a real box office hit. Non-horror specific publications like The New Yorker and Vulture have written about it. And perhaps, most importantly, the leak has somewhat faded away as the movie has become available in cinemas and on Shudder. No wonder people are walking past the Na'vi to get a seat at the Prince Charles to see this micro-budget miracle.