News
Mia Goth: MaXXXine 'Is the Best Script' of Ti West's A24 Horror Trilogy
Exclusive: The horror saga that started with Ti West's X and Pearl is coming to a grisly conclusion. And Mia Goth thinks it'll be the best of the bunch.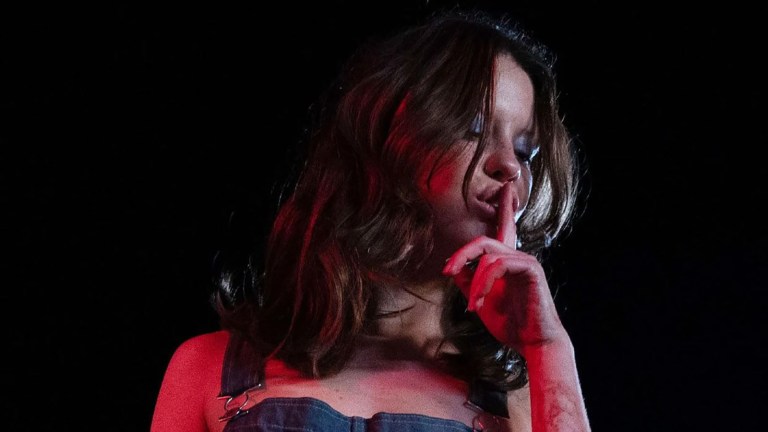 One year ago, British actor Mia Goth had about a dozen credits to her name, mostly supporting roles in films like Luca Guadagnino's somewhat misguided remake of Suspiria and Autumn de Wilde's charming adaptation of Jane Austen's Emma. Flash forward 12 months and Goth has reinvented herself as a horror queen and genre siren with three astonishing, multi-layered performances. Last March she starred in director Ti West's X, a '70s slasher throwback in which she plays an adult actress named Maxine who's not willing to let anyone—not even an elderly murderer (also played by Goth) on whose ruined farm her latest film is being shot—get in the way of her ambitions for fame and stardom.
Goth followed that up six months later with Pearl, a prequel where she and West co-wrote the origin story of the murderess from X, painting a portrait of a repressed, deeply disturbed woman's descent into psychopathy even as she yearns for the same kind of stardom she would resent in Maxine decades later. Goth's work in this film (a sort of Douglas Sirk movie gone insane) was capped by a stunning climactic monologue and haunting final shot that were simply seared into viewer's minds.
Now Goth and West are reuniting for MaXXXine, a conclusion for the impromptu horror trilogy that's earned each a whole new legion of fans. But whereas X was set in the '70s, and Pearl took place in 1918, MaXXXine lands in the 1980s with Goth's title character navigating Hollywood, the adult film industry, and the rise of home video.
"MaXXXine is the best script out of the three," Goth tells Den of Geek during a chat for her equally provocative new film, Infinity Pool. "I have no doubt that it's going to be the best film of the trilogy. I'm really excited to kind of get back together with everyone and start making this movie. I'm in the middle of prep, and I'm having a lot of fun with it."
Goth adds that on one hand, she's "not really" surprised by the way that the horror community has embraced the previous two films, X and Pearl, because she had a good feeling about them from the start. But she doesn't take the positive response for granted either.
"The reason I wanted to be a part of originally just X was because I knew that it was a really great script, and I love [independent studio] A24, and I just thought that it had a lot of potential," she explains. "But you never know how it's going to turn out, and that's been the biggest surprise and really wonderful to witness. You can know you're working on something great, but you don't know how it's going to be received. So that's definitely been a nice surprise."
While filming has yet to begin, and MaXXXine doesn't have a release date yet, you can see Goth right now in Infinity Pool, the third feature film from up-and-coming filmmaker Brandon Cronenberg (Possessor). In another bold, dangerous and sexually charged performance, she stars opposite Alexander Skarsgård as Gabi, one of a small group of wealthy, debauched hedonists who indulge in all kinds of bad and even horrific behavior at a resort in a small totalitarian nation—because the country has a bizarre loophole in its laws that allows them to get away with it.
"I received the script for Infinity Pool whilst filming Pearl," says Goth. "I read it, and very early on, I knew this was something that I would want to be a part of."
We'll have more from Goth and Cronenberg on Infinity Pool shortly, and we're willing to bet the farm (pun intended) that you'll be hearing a lot more about Goth by this same time next year.
Infinity Pool is out in theaters now, while Pearl and X are both streaming on demand.