News
New Spider-Man Marvel Trilogy Starring Tom Holland Confirmed
Tom Holland's time as Spider-Man is not over. In fact, he's suiting up for a second trilogy, according to No Way Home producer.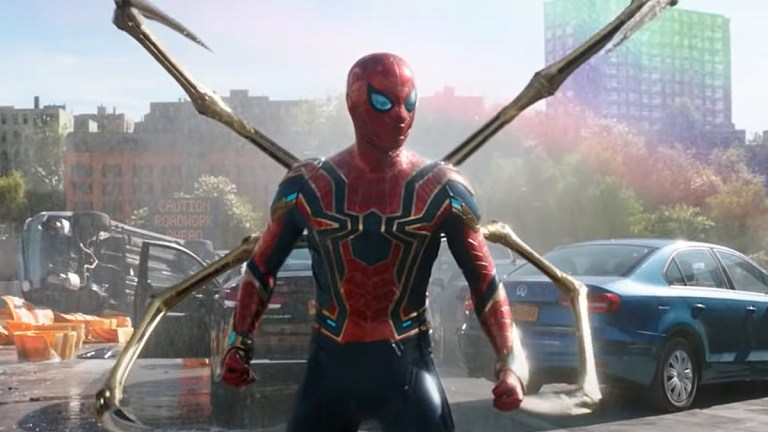 There's never been a bigger Spidey movie than Spider-Man: No Way Home, which will not only throw Doctor Strange (Benedict Cumberbatch) into the mix but also several villains from across the Marvel multiverse. Alfred Molina returns as Doctor Octopus and is joined by Willem Dafoe as Green Goblin, Jamie Foxx as Electro, Thomas Haden Church as Sandman, and Rhys Ifans as the Lizard. Oh, and reality itself seems to be falling apart after a spell gone terribly wrong. It's safe to say the wall-crawler has never faced a challenge quite like this one on the big screen.
Much has already been said about No Way Home marking the end of an era for Tom Holland's Spider-Man. The movie completes the trilogy of Spidey films Sony Pictures and Marvel Studios set out to make, starting with 2017's Homecoming and followed by 2019's Far From Home. But No Way Home producer Amy Pascal has confirmed that, while this is the end of the Homecoming trilogy, this won't be the end of Holland's time in the suit.
"This is not the last movie that we are going to make with Marvel – [this is not] the last Spider-Man movie," Pascal revealed to Fandango. "We are getting ready to make the next Spider-Man movie with Tom Holland and Marvel. We're thinking of this as three films, and now we're going to go onto the next three. This is not the last of our MCU movies."
This comes just days after Holland said in a separate interview with GQ that he was considering moving on from the role after No Way Home.
"Maybe it is time for me to move on," said Holland. "Maybe what's best for Spider-Man is that they do a Miles Morales film. I have to take Peter Parker into account as well, because he is an important part of my life," adding, "If I'm playing Spider-Man after I'm 30, I've done something wrong."
Holland also suggested that at the moment he wasn't interested in being an actor for the rest of his life, but that his feelings could change.
"I might start shooting The Crowded Room [a film project he co-scripted with brother Harry] and go, 'You know what, this is what I'm going to do for the rest of my life.' Or I might do Spider-Man 4, 5, and 6, finish when I'm 32, and never make another. I'm not sure what I want to do."
According to Pascal, the latter is definitely happening. The question now is how long it will take for the next trilogy to get off the ground, what it will look like, and how it'll fit into the ever-expanding tapestry of the MCU. Holland previously teased that, "If we were lucky enough to dive into these characters again, you'd be seeing a very different version. It would no longer be the Homecoming Trilogy. We would give it some time and try to build something different and tonally change the films."
Surely, a new superhero extravaganza every two years would be taxing for any actor. But maybe all Holland needs is a long vacation. That's at least what Sony is hoping.
While we wait for Spider-Man: No Way Home to release in theaters on Dec. 17, check out the complete release schedule of upcoming MCU movies here.