News
Tom Holland Reveals New MCU Character in Spider-Man: No Way Home
Spider-Man: No Way Home star Tom Holland describes a scene from the film that teases the presence of a mystery character.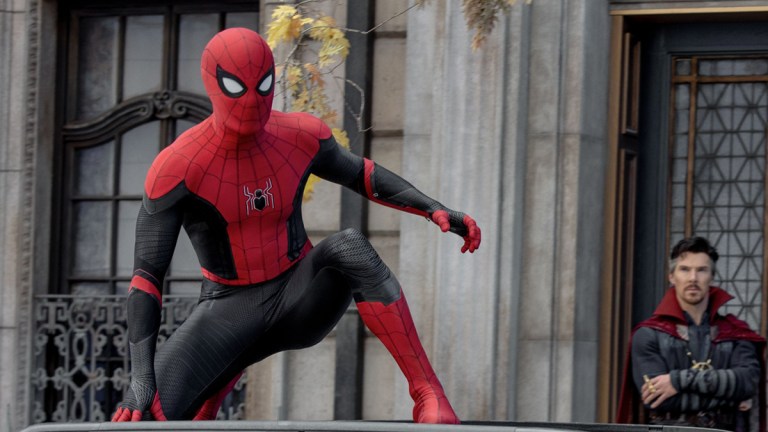 Despite stirring fans with a debut trailer earlier this month, Spider-Man: No Way Home still seems to have more monumental secrets set to be unleashed before the film's December arrival. With a multiverse-mired plot now confirmed, theories are rampant over the cadre of returning villains from past iterations and, more notably, the increasing expectation that former big-screen Wall-Crawlers Tobey Maguire and Andrew Garfield will join star Tom Holland. Consequently, Holland's story about a scene has further stoked speculation.
While the notoriously loose-lipped Holland has been walking a tightrope narrow enough to even challenge Spidey himself when discussing Spider-Man: No Way Home, his comments for an Empire cover story imply the involvement of a character whose mysterious status clearly raises eyebrows of intrigue. Holland, when pressed to describe his favorite scene in the upcoming threequel, offered a surprisingly understated answer about what he calls "one of the coolest scenes I've ever shot." Eschewing ostentatious action sequences, Holland identifies a simple scene involving his Peter Parker, Aunt May (Marisa Tomei), Happy Hogan (Jon Favreau) and a conspicuously unnamed fourth participant.
"It's four people sitting at a table, having a conversation about what it's like to be a superhero, and it was amazing," teases Holland. "The other day we watched the scene, my brother and I, and our jaws were on the floor."
Holland's description, vague as it may be, further fuels the idea of Maguire and/or Garfield's versions of Peter Parker/Spider-Man breaching the multiverse to fight alongside him onscreen in a live-action Into the Spider-Verse scenario. After all, the idea of a "conversation about what it's like to be a superhero" seems to evoke imagery of an other-world Peter Parker sitting at the table with our main continuity version and those closest to him. Indeed, the scene seems to be a deep discussion involving Peter's immediate family, since Spider-Man: Far from Home revealed a romance between Happy and May, which makes Happy a stepfather or sorts, reinforcing his status as the de facto paternal figure in Peter's life, filling a gap left by the late Tony Stark (and the still-unmentioned Uncle Ben).
Additionally, the table scene participants confirmed by Holland could narrow the possibilities of the fourth person in terms of familial closeness to Peter. This would eliminate the possibility of it being Benedict Cumberbatch's catastrophe-weaving Sorcerer Supreme, Doctor Strange. Also, while one might read into Holland's claim of watching the scene with his brother, Harry Holland, it's a non-starter, since he typically fields small roles and various crew work in Tom's movies, and is listed as playing a drug dealer for this one.
Interestingly enough, as denials seem to persist from said Spider-Man alumni, notably Garfield, Holland's comments complement other recent waves made from the Empire article by virtue of is very promotion. In response to a tweet from the publication revealing the cover story in question, Sony Pictures UK tweeted a most provocative reply of three Spider-Man symbol emojis—an implication that couldn't be any clearer outside of an outright confirmation. If said response—coming straight from the studio horse's mouth—turns out to be an innocuous bit of fun being played on the fans, then very few will be left laughing.  
Nevertheless, we do know that Spider-Man: No Way Home is being treated as the closing chapter of a solo movie trilogy, which started with 2017's Spider-Man: Homecoming and followed up with 2019's Spider-Man: Far from Home, with the thematically-linked, titular-referenced "home" set to be rendered unreachable upon the upcoming conclusion. While we don't know how that will occur, the trailer-revealed plot point in which a botched spell by an oddly-careless Doctor Strange entangles the universe in a multiverse flux will clearly be a factor. Thusly, the entire Marvel Cinematic Universe will likely be left with permanent implications that will directly spill over into subsequent MCU sequel Doctor Strange and the Multiverse of Madness.
The multiverse concept, which was recently introduced on Disney+ series Loki, seems to be the plot mechanism that will facilitate a codification of Marvel movie properties, presumably including the upcoming reboot of the rights-returned Fantastic Four and, eventually, the X-Men and all its connected franchises. That, of course, is an exciting prospect for the fans who have long-wished to see Marvel's film-rights-fragmented cinematic properties finally unify to create the ultimate version of the company's cinematic continuity.
The multiverse era of Marvel movies will kick off with Spider-Man: No Way Home scheduled to hit theaters on December 17. The film presumed to serve as its follow-up, sequel Doctor Strange and the Multiverse of Madness, was recently moved back to May 6, 2022.