News
Mark Wahlberg Movie Infinite Signals That Paramount Plus Will Evolve Beyond Star Trek
Director Antoine Fuqua and star Mark Wahlberg's sci-fi film, Infinite, will skip theaters for streaming service Paramount+, which is making a major movie expansion.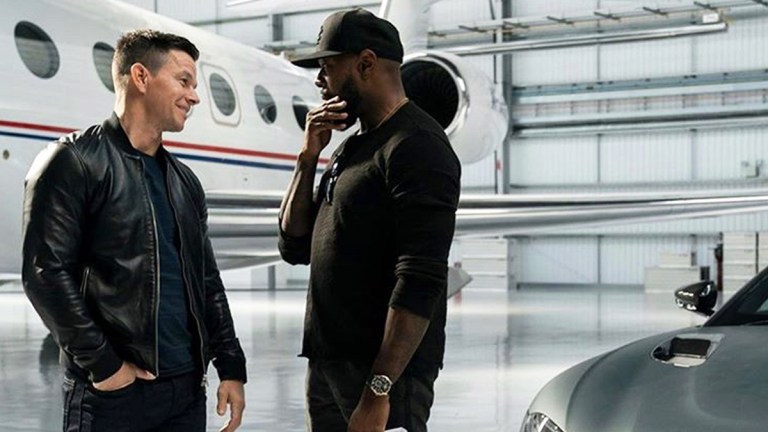 Paramount+, once known as CBS All Access, has mainly defined itself with an overwhelming wave of Star Trek television content. However, surrounded by high-end competition from Disney+, HBO Max, Netflix and Amazon Prime Video, the rebranded streamer is looking to live long and prosper beyond the space-faring franchise, having announced grandiose plans to expand its movie content. Most notably, sci-fi film Infinite, directed by Antoine Fuqua and starring Mark Wahlberg, will be the service's first theater-skipping feature offering; a surefire sign of things to come.
Obviously, the boat of box-office-bypassing movies already left its proverbial dock some time ago; a notion recently exemplified by streaming's dominance of the 2021 Academy Awards via Best Picture winner Nomadland (which debuted on Hulu in the U.S.), along with The Sound of Metal (Amazon Prime Video), Judas and the Black Messiah (HBO Max), Ma Rainey's Black Bottom (Netflix), Mank (Netflix) and Soul (Disney+)—embarrassingly-shrunken television audience for the ceremony itself notwithstanding. Indeed, while Paramount's plans were likely long-gestating, there had to be a feeling that its insurgent steaming service missed said boat after fellow streamers cleaned up at the Oscars. This is especially the case as the theater-free phenomenon's pandemic-related circumstances rapidly evolve in the post-vaccine era. Yet, today's earnings call with ViacomCBS CEO Bob Bakish shows a company embracing the old adage, "Better late than never."
Paramount announced a rather auspicious acquisition in director Antoine Fuqua's Infinite, which stars a reliable headliner in Mark Wahlberg, joined by an ensemble consisting of Dylan O'Brien, Toby Jones, Rupert Friend, Jason Mantzoukas, Kingsman: The Secret Service standout Sophie Cookson and, notably, 12 Years a Slave Oscar nominee Chiwetel Ejiofor as the villain. The film, which originally had Marvel's Captain America, Chris Evans, tapped as its star, was shot back in 2019, and, interestingly enough, was originally scheduled to hit theaters on May 28, 2021. Those plans, of course, have since dramatically changed, with Infinite now set for a U.S. streaming premiere on Paramount+ in late-June, with international plans to be revealed at a later time.
The Paramount+ arrival of Infinite will unveil famed director Fuqua's first feature since 2018's The Equalizer 2. The ambitious sci-fi actioner—officially teased as "a classic story of good vs. evil with an epic twist"—was scripted by John Lee Hancock and Ian Shorr, who adapted D. Eric Maikranz's 2009 novel, The Reincarnationist Papers. Bearing a plot that somewhat resembles the Assassin's Creed video game series (and its 2016 movie adaptation), the film focuses on a secret society, called the Cognomina, whose members have the helpful ability to recall details from their past lives. However, things unravel as the haunting memories of Wahlberg's formerly-Chris-Evans-cast character—a schizophrenic newcomer to the organization named Evan Michaels—uncover dangerous secrets. Thus, a film that could have been lucrative box office fodder for the popcorn crowd will instead become a bellwether offering for the streamer similar to HBO Max's recent premium-free premieres of action-packed crowd-pleasers like Wonder Woman 1984, Godzilla vs. Kong, Mortal Kombat and the upcoming Dune.
Indeed, Bakish promises a release strategy that will see the consistent arrivals of even more pandemic-era pictures purloined from their planned theatrical releases, stating, "All of this is a preview to a substantial ramping up of original movies next year, when we expect to begin averaging an original movie a week in 2022." The move complements news revealed to investors back in February that Paramount-hailing major releases such as A Quiet Place II and the untitled Mission: Impossible 7 will premiere on Paramount+ within a small 45-day window from their designated theatrical releases; news that's more immediate, since the former is set to hit theaters by the end of the month, May 28, to be followed next year, on May 27, 2022, by the latter.
Interestingly, the effect of Paramount Plus's acquisition of Infinite will be felt as immediately as early-June, during which 1,000 movies will be added to the platform's existing film library, bringing its total to 2,500. It's a dramatic transformation for the streamer, which, in its former life as CBS All Access, failed to make much of an industry impact outside of Star Trek—even with Jordan Peele's heralded reboot of The Twilight Zone. Of course, that is not to say that the platform is moving away from Star Trek, since it's still home to exorbitantly-produced returning live-action series Star Trek: Discovery and Star Trek: Picard, which will be joined by a spinoff show of the former, the U.S.S. Enterprise-set Star Trek: Strange New Worlds, and, prospectively, an untitled series focused on elusive intelligence agency Section 31 starring Michelle Yeoh's Emperor Philippa Georgiou—not to mention current animated series Star Trek: Lower Decks.
Nevertheless, the ViacomCBS CEO is effectively hyping the Paramount platform's imminent influx of films as a "Mountain of Movies," setting up a course correction to the platform's hitherto tardiness on the original movie front. While no serious prognosticator expects Infinite to make any kind of dent at the 2022 Oscars akin to its aforementioned dramatic streaming peers, its move does carry implications. The continued adherence to a socially-distanced distribution scheme is a consequential shift to Paramount+ itself, and also reinforces the idea that the pandemic's effects on the industry could become permanent.