News
Q's Return on Star Trek: Picard Season 2 will Follow "Significant Trauma"
While Star Trek: Picard's return of John de Lancie as Q means more omnipotent mischief, Patrick Stewart teases that it will occur after a shattering event.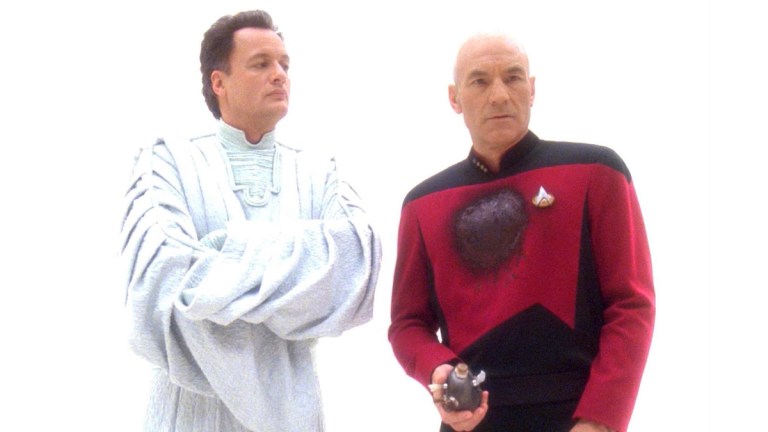 Star Trek: Picard is poised to bring back the disingenuously deferential greeting of "Bonjour, mon capitaine!" soon enough, with John de Lancie's mischievous omnipotent entity, Q, now confirmed for a return on the show's upcoming second season. It's an intriguingly exciting development for the Star Trek: The Next Generation spinoff series, which has notably taken the titular former captain down a most curious existential path. Yet, according to star Patrick Stewart, Picard will be in the midst of devastating circumstances by the time Q materializes back into his life.
Paramount+'s teaser trailer for Star Trek: Picard Season 2 is chockfull of evocative Easter eggs, but it closes strong with the tightening shot of a playing card, a Queen of Hearts, that disintegrates until it is left with only a single red "Q," followed by a familiar voice that ominously states, "The trial never ends." The line comes from The Next Generation's final episode, "All Good Things," in which Q—as he'd done seven years earlier in the pilot—put humanity (represented by Picard,) on trial for its barbaric ways. Yet, Q's "trials" tend not to be centered on jurisprudence, and are instead metaphysical tests for Picard to gauge if he (and, by proxy, humanity,) is capable of thinking about the universe in ways that exceeds said barbaric history. Pertinently, in an official Paramount interview (seen far below) with Wesley Crusher actor Wil Wheaton, Stewart (joined virtually by de Lancie,) risks the studio's wrath by teasing the context of Q's return on Picard.
"Q's arrival is, as it often was, utterly unexpected," explains Stewart. "But [it] also comes at a shattering moment in the episode. And I do mean a shattering moment. Whether it's directly connected to Q or not, I am still actually not quite sure. But there is significant trauma. And, in fact, at the moment, I am working on how the trauma of this moment hangs around Picard for quite a substantial part of the episode and then [claps his hands] there he is."
Stewart's emphasis on the "shattering" nature of what occurs in Picard's life before Q's arrival invites speculation about whether he's being literal, figurative or even both. Picard's first season certainly wrought impactful changes to the retired captain's life, involving him in an uprising of synthetic life forms, the exploits of collective-disconnected Borg, the politics of post-planetary-destruction Romulans and even saw the apparent death of Data's residual essence. Most notably, it actually saw Picard himself die from his neurological condition, only to have his consciousness transferred into a "Golem" android body (designed to emulate all his elderly human frailties). Indeed, WandaVision viewers still playing with the Ship of Theseus thought exercise can also have a philosophical field day with this one. Therefore, with such a consequential array of events having played out in the first season, it leaves fans to wonder what could possibly happen in Picard's life to warrant potent concepts like "shattering moment" and "significant trauma."
Interestingly, Picard's status as an android expediently plays into a theme frequently explored on The Next Generation regarding his artificial heart, which was the result of an Academy-era incident during which he was impaled through the heart by a trouble-making Nausicaan ne'er-do-well. The stabbing and subsequent installation of the robotic heart was seen as Picard's transition from freewheeling playboy cadet to the austere officer we know; a dilution of his humanity exacerbated by his brief assimilation by the Borg as "Locutus." It's an aspect that wasn't lost on Q, who famously put Picard through a flashback ordeal centered on that very moment in the iconic Season 6 episode, "Tapestry." When Q allowed the stodgy Picard to undo the array of risks he dismissed as youthful mistakes, it took Picard to a version of the present in which he was an aged, unexceptional junior science officer with no command prospects. Once Q allowed him to undo that bleak result, Picard realized that the ordeal was designed to teach a lesson that the man he became is the culmination of his so-called mistakes more than his accomplishments—that our true selves are a gestalt creation (the metaphorical tapestry) of events that we often chose not to face.
"I have changed my visage," de Lancie mirthfully muses of Q's current state. "I've aged a little bit so as to be more in keeping of where we are right now." Of course, de Lancie debuted his series-hopping character in Star Trek: The Next Generation's 1987 two-part pilot, "Encounter at Farpoint," and was last seen onscreen in 2001 Star Trek: Voyager episode "Q2." However, he notably voiced the role of Q in a 2020 episode of Star Trek: Lower Decks, titled "Veritas."
While we're obviously not privy to the profound events in Picard's life that precede the long-awaited return of Q on Picard Season 2, Stewart's teased story elements seem to evoke a version of the judgmental jester as depicted in "Tapestry," in which he forgoes his antagonistic role to become a dealer of tough love to Picard's occasional moments of haughty hubris. Additionally, in returning to the theme of Picard's incrementally diminished humanity, Q's apparently-timely return could also facilitate a reckoning of sorts with his current artificial state, especially since the former captain's growing backlog of regrets—his self-perceived complicity in the supernova destruction of Romulus, the android ban and corruption in some of Starfleet's big brass—might mean that a "Tapestry" type lesson (one possibly rife with Mandalorian/Luke-like digitally-de-aged flashbacks,) is long overdue. Moreover, Trekkies who didn't quite like the android Picard angle might have their best hope for his human restoration via some Deus-ex-Q hand-waving.
Star Trek: Picard Season 2 doesn't have a specific release date set, but it is expected to premiere on Paramount+ sometime in 2022.