The Main Event Trailer Previews Netflix WWE Family Film
Netflix movie The Main Event makes a young boy's wish to be a WWE superstar a reality, by way of a magical mask.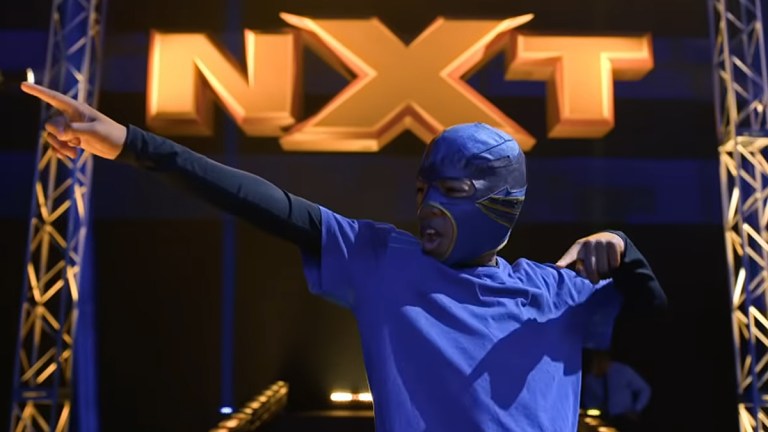 The Main Event may be a family film set to arrive on Netflix, but its content might make you think it's something streaming on the WWE Network, since the wrestling-themed family film is packed with the wrestling company's stars.
Indeed, what we have here is a fantastical wish-fulfillment offering in which an 11-year-old, played by Seth Carr (best known as Young Killmonger in Black Panther,) finds a magical luchador mask that enhanced abilities (and the confidence that comes with them,) that he uses for a crucial competition to become a WWE superstar.
Jay Karas directed the film, bringing television experience notably from tenures on sitcoms such as Superstore, Splitting Up Together, Teachers and Workaholics. He worked here off a screenplay credited to Peter Hoare, Zach Lewis, Larry Postel and Jim Mahoney.
The Main Event Netflix Trailer
The trailer for Netflix's The Main Event is here. The clip showcases the uplifting tale of a bullied kid, who—magic mask notwithstanding—is buoyed in life by the spectacle of pro wrestling, specifically WWE's industry-dominating brand, and gets to live out his dream.
The Main Event Netflix Release Date
The Main Event arrives on Netflix on Friday, April 10.
The Main Event Netflix Details
As the official logline for The Main Event reads:
When 11-year-old Leo Thompson (Seth Carr) discovers a magical wrestling mask that grants him super strength, he uses it to enter a WWE competition. With the support of his grandmother (Tichina Arnold), Leo will do whatever it takes to achieve his dream of becoming a WWE Superstar. Can one kid win it all, in the face of epic challengers in the ring?
Joining the aforementioned Carr and Arnold in the cast are actors such as Adam Pally, Ken Marino, Lucie Guest, Momona Tamada and Lisa Drupt.
Perhaps tellingly, The Main Event's debut trailer was initially posted on WWE's YouTube account (rather than Netflix's), which highlights its purpose of promoting and/or reminding the public of the magical majesty of being a WWE superstar. – In other words, it's an infomercial of a movie. That, however, is not throwing shade on the film, which seems to wear those motivations on its sleeve.
Indeed, the film seems to be a wrestling take on uplifting sports pictures such as 2002's Like Mike, which showcased a then-pint-sized Lil Bow Wow—by way of magic Michael Jordan kicks—dunking on and dominating full-sized NBA players. However, the blatant commercialism (almost to the point of parody) better compares to the 2000 comedy film, Ready to Rumble, which followed two ne'er-do-wells—played by David Arquette and Scott Caan—who come to the aid of their defrocked favorite wrestler (Oliver Platt), also becoming superstars themselves in WCW (WWE's former rival company). The film also included nearly the entire WCW roster as themselves. Ironically, its promotional campaign led to the infamous stunt in which Arquette actually became WCW champion; an industry nadir that's widely credited as contributing to the company's decline and eventual absorption by WWE.  
While we don't expect young Seth Carr to take Roman Reigns's place against Goldberg (who was in Ready to Rumble,) at the imminent quarantined WrestleMania, The Main Event is similarly packed with current WWE superstars like Kofi Kingston, Sheamus, Otis, Keith Lee, Beth Phoenix and Mike "The Miz" Mizanin, who continues to feed his wrestling gimmick as an "A-Lister" by appearing in yet another WWE Studios-produced movie.