Reviews
Why is WWE Humanizing The Undertaker?
Something seems off about AJ Styles out-of-place promo on RAW about the Undertaker match at WrestleMania 36.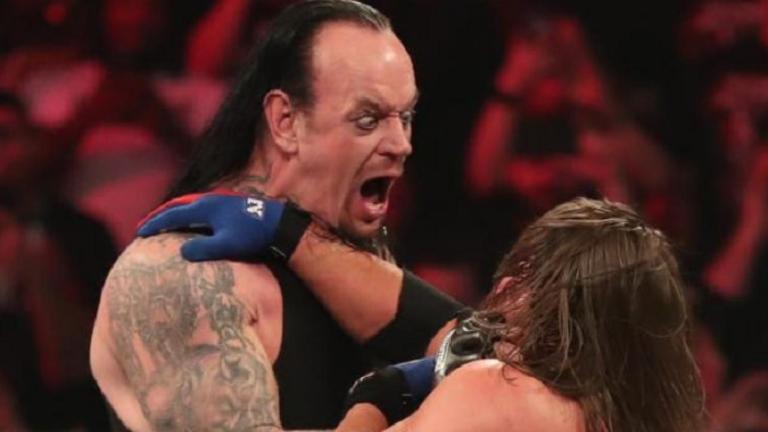 Since he entered semi-retirement, the Undertaker's two or three matches per year don't require much storyline. The Deadman returns, wrestles his match, and then goes back to his home in Texas until the next Saudi show or WrestleMania comes around. That's changing with this year's WrestleMania 36 Undertaker match, though.
AJ Styles cut a bizarre promo on last night's RAW, outing former WWE women's wrestler Michelle McCool as Undertaker's wife. McCool married Undertaker, a.k.a. Mark Calaway, back in 2010. But that hasn't been acknowledged on WWE television until now.
Historically, Calaway has kept the Undertaker character very close to the vest. There are stories about how he would rarely even interact with fans at an airport when he was the "deadman" character, but was more than willing to interact with fans when he utilized the biker gimmick in the early-2000's.
Styles told the live crowd in Washington and watching on RAW that not only was Undertaker married, but he said that McCool was controlling the Undertaker and essentially hated him. He said he would make sure that the Undertaker "dies in the ring" at WrestleMania because that's what his wife wants.
Huh?
The delivery from Styles was fine – he was only working with the content "creative" gave him – but the content was questionable at best.
First, WWE already has a strong personal feud going into WrestleMania, with Randy Orton and Edge hitting home runs every week leading up to their match in Tampa. In fact, I'd argue that right now, Orton-Edge should close the show. Last week Orton attacked Beth Phoenix, Edge's wife, and here WWE is again one week later bringing someone's wife into the storyline again? It feels a little repetitive.
Secondly, do WWE fans want a humanized Undertaker? The phenom has been a phenom for years, and after one promo he's an old married guy who is controlled by his wife? Is that supposed to put sympathy on the Undertaker? I don't think so.
I do wonder if some real-life events played into this. Last week WWE.com released a list of the most influential women's wrestlers in WWE history and McCool was kept off the list. She mentioned the slight on Twitter and Undertaker, who rarely uses his Twitter account, chimed in to defend his wife.
I don't think that's part of the storyline. If it was, Styles would have been directed to include it in his promo. Instead, this feels like WWE's way of taking a shot back at McCool, and indirectly, Taker.
Whether it was Vince himself or some low-level "creative" team member writing the promo for Vince's approval, the promo felt like a counterpunch from WWE.
Maybe I'm wrong, and Undertaker and McCool are totally on board with this storyline, but Styles' promo goes against all the ways Undertaker has protected that character his entire career. And portraying McCool as a nasty controlling wife feels like a shot more than a wrestling storyline.