News
Rob Gronkowski Headed to WWE
Rob Gronkowski has been with the FOX networking covering the NFL since he retired, but now might be headed to the WWE.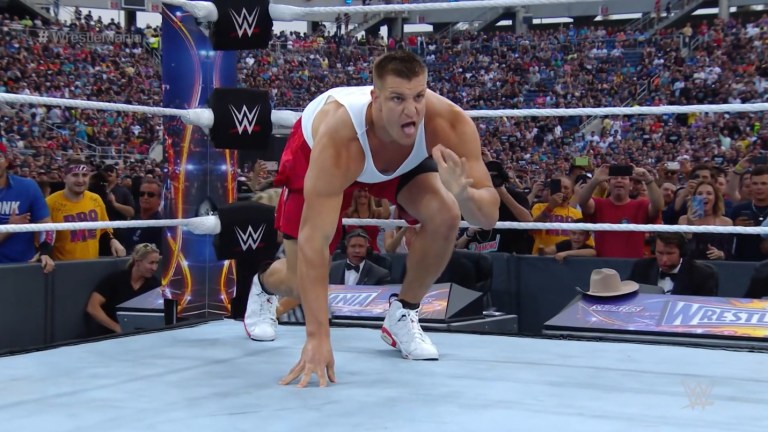 Former New England Patriots tight end Rob Gronkowski is reportedly close to signing a deal with the WWE, according to Ryan Satin of ProWrestlingSheet.com. Gronkowski, who retired from the NFL last year, has flirted with WWE in the past. At WrestleMania 33 in 2017, Gronkowski sat ringside and helped Mojo Rawley win the Andre the Giant Battle Royal. Gronkowski was also a frequent visitor to WWE events in the Boston area while he played for the Patriots, even attending a non-televised NXT show in Lowell, Mass. a few years ago. While Gronkowski's role within WWE hasn't been confirmed, Satin reported that he could make his first appearance for the company on the March 20 SmackDown episode in New Orleans.
This past January, Gronkowski was photographed at a Super Bowl party with Triple H and Rawley, along with Patriots head coach Bill Belichick. Triple H tweeted the photo, and speculated that Gronkowski might show up at SummerSlam this summer, which is scheduled to take place in Boston at the TD Garden in August.
Since retiring from the NFL, Gronkowski signed a contract with FOX Sports and has been part of the network's commentary team for NFL games. Obviously, there's a connection there with WWE now, as the FOX network also is the home of SmackDown on Friday nights.
98.5 the Sports Hub, a sports-talk radio station in Boston, mentioned on Wednesday morning that Gronkowski isn't likely to become a full-time wrestler, or even a part-time wrestler. Instead, the station said that Gronkowski's role will likely be that of an announcer.
Satin first reported the Gronkowski news on Tuesday night's WWE Backstage, a weekly program on Fox Sports 1 that's part of WWE's deal with FOX. Satin has a regular segment on the show where he reports on the latest behind-the-scenes news.
Gronkowski, known as "Gronk" to fans, played for the New England Patriots from 2010-18. Over the course of his career, he won three Super Bowls, all with the Patriots. He was named All-Pro four times and is a five-time Pro Bowler. He was at the Super Bowl this year, where took the photo with Rawley and Triple H, because he was there to be honored as part of the NFL 100th Anniversary All-Time Team.
This past August at a charity event, Gronkowski discussed the possibility of him wrestling.
"With wrestling, I don't feel like I would be a full-time wrestler, but there is one thing I'm down for," Gronkowski said. "And that's to do one crazy match. Practice it for a little bit, go out there — like in a Royal Rumble — go out there, I got my friend in WWE [Rawley], practice it and do a full-on WWE match. I'm not saying when, maybe five years. I got the rest of my life to do that. I've always dreamed about doing that, just one time, going in there and going full-out. That may be a possibility, one time, down the road."