News
Angry Birds Animated Series Summer Madness Set for Netflix
Netflix has greenlit animated series Angry Birds: Summer Madness, expanding the game and movie franchise to television.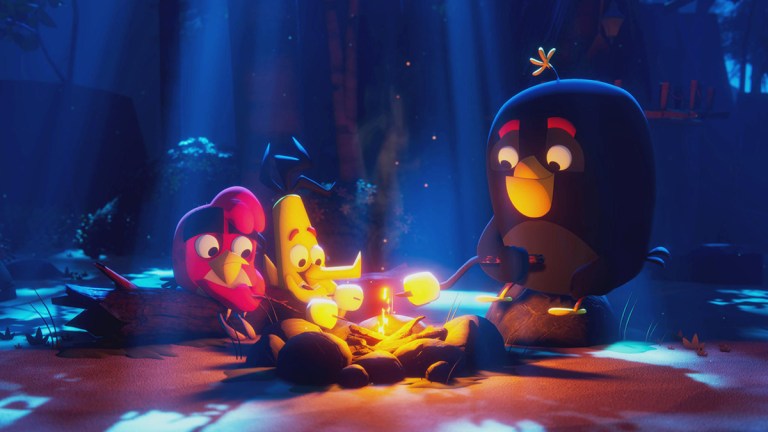 Angry Birds has already slingshotted itself to just about every aspect of the multimedia realm with the exception of top-tier television. However, the ubiquitous app-game-spawned franchise will soon check off that crucial box, thanks to a deal with streaming giant Netflix.
Game maker Rovio Entertainment will team with Netflix and production company CAKE to conjure short-form animated series Angry Birds: Summer Madness. Set to manifest in 2021 with 40-episodes at 11 minutes each, the series will continue to showcase the exploits of its game-inspired idiosyncratic avian projectiles, as depicted in its animated features, 2016's The Angry Birds Movie and 2019 sequel The Angry Birds Movie 2. Indeed, the series will draw direct inspiration from the humor and tone of the films, but is also promising a fresh new look, as exemplified by a teaser image (seen in the article's header).
As Netflix's official logline for its Angry Birds television series reads:
Angry Birds: Summer Madness sees much-loved birds Red, Bomb and Chuck, as well as a cast of brand new feathered friends, as tween birds at summer camp under the questionable guidance of their counselor Mighty Eagle. Explosive antics, improbable pranks and crazy summertime adventures see the birds pushing boundaries and breaking all the rules while fending off the brash and obnoxious Pigs on the other side of the lake, who seem hell-bent on causing as much mayhem as possible!
Of course, the Angry Birds franchise launched back in December 2009 with the iOS release of its first game, and struck right when the smartphone iron had first begun to glow white-hot. The addictive game—at one point in time practically synonymous with mobile gaming—led to subsequent iterations, and became a global phenomenon that also spawned an sizable array of merchandise.
Of course, Hollywood, specifically Sony Pictures, came calling, leading to the release of 2016's The Angry Birds Movie, which arrived among a sea of existing animated franchises, managing to gross $352 million worldwide. However, lightning (or, in this case, bodily impact,) would not strike twice for the birds at the box office, with 2019 sequel The Angry Birds Movie 2 going on to earn only about half its predecessor, tallying only $154.6 million worldwide off an underwhelming fourth place U.S. opening weekend. Consequently, with the property still financially viable, a medium migration seemed in order.
As Ville Heijari, CMO, Rovio expresses in a statement of the series order:
"Angry Birds animated content plays a key role in our long-term franchise strategy. After more than a decade in hit games, blockbuster movies and licensed products, this is the Angry Birds' first foray into a long-form series. We're delighted to continue our partnership with CAKE and can't wait to unveil the world of Angry Birds: Summer Madness to viewers on Netflix."
Curtis Lelash, Director of Original Animated Series, Netflix chimes in as well, stating:
"Angry Birds have been a true phenomenon for kids around the world and we're excited to bring them home to the nest at Netflix where they will be angrier and bird-ier than ever."
That is the extent of the details for Angry Birds: Summer Madness, which has yet to confirm a creative team or if the movie voice cast—consisting of names like Jason Sudeikis, Peter Dinklage, Josh Gad, Rachel Bloom, Bill Hader, Leslie Jones, Sterling K. Brown and Awkwafina—will reprise their roles on the series, seeing as the same characters will be represented, albeit in a summer camp scenario.
Angry Birds: Summer Madness doesn't have a specific release date as of yet, but Netflix is touting a global premiere sometime in 2021.