Features
Indiana Jones 5 Box Office Crash Reveals New Danger for Raiders of Nostalgia
Disney turned Indiana Jones and the Dial of Destiny into one of the most expensive movies ever made. So why do audiences seem fairly ambivalent?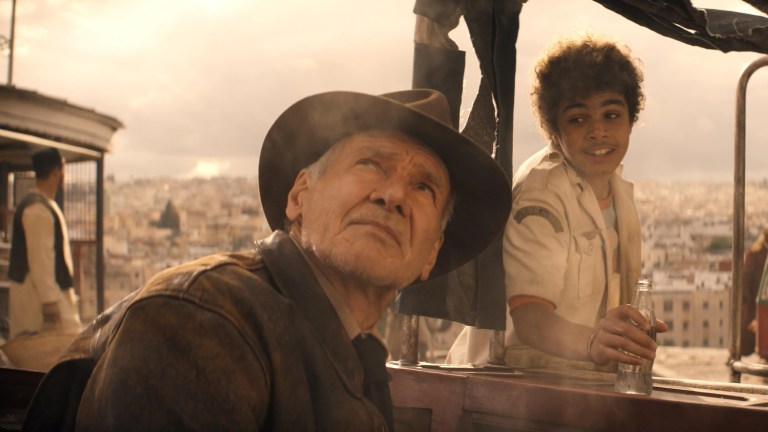 I dug Indiana Jones and the Dial of Destiny. It feels appropriate to preface this article with that because so much of the initial critical buzz (including on this site) was negative enough that it colored what I found to be a sweet-natured if flawed farewell to Harrison Ford's hero—and one with a pretty perfect ending for a franchise film where the lead actor is 80 years old. You can tell it meant something for the star and the character.
Yet the age of that star and the increasingly distant legacy he represents should be on many a studio exec's mind after this weekend, which saw Indiana Jones and the Dial of Destiny open at number one in the domestic and global box office but still attract an aura of disappointment around its numbers. The movie, in fact, debuted on the rock bottom end of its studio's projections for the first three days, grossing an estimated $60 million domestically.
To be sure, it's a hefty sum of money, but also uncomfortably below 2008's Indiana Jones and the Kingdom of the Crystal Skull, which opened at $100 million 15 years ago. It's also exceedingly soft for a film that cost a reportedly eye-watering $295 million to make, and that does not include massive global marketing costs and a sure-to-be pricey world premiere at the Cannes Film Festival last month.
While Indiana Jones 5 still has the rest of a four-day weekend Stateside thanks to the Fourth of July to strengthen those numbers, as well as next weekend pretty much to itself in terms of blockbuster competition, the film's "B+" CinemaScore historically suggests most audiences will not be raving about it to their friends before the triple-car pile-up that is Mission: Impossible 7, Barbie, and Oppenheimer later this month. For context, The Flash earned an even more tepid "B" CinemaScore, which previewed that film's disastrous 72.5 percent fall in its second weekend. That was additionally on the heels of an even more grisly opening weekend of $55 million.
So the question becomes what went wrong for Indy's last hurrah?
There will be plenty of blame to go around for the disappointment, not least of which includes the general dissatisfaction audiences had with the last film. Sure, Indiana Jones and the Kingdom of the Crystal Skull opened a whopping 19 years after the previous Indy flick, 1989's Indiana Jones and the Last Crusade, but that turned out to be a feature and not a bug back then.
For the core demographic of summer blockbusters in 2008—teenagers and young adults roughly between the ages of 15 and 34—Crusade and all the other Indy films were viewed as veritable classics. That audience and their parents showed up in droves to Crystal Skull, but its "B" CinemaScore suggests, even then, many left sorely disappointed. That perception has only worsened with time.
While no one who worked with Lucasfilm back then has ever come out and officially said it, the tenor of the marketing around Dial of Destiny seemed to suggest this would be a make-up for the 2008 film—a second attempt to say goodbye to the character. However, the perception of that mea culpa was badly damaged when Disney boldly decided to premiere Dial of Destiny at Cannes where the press at that elite festival largely tore the movie to shreds.
The irony of this is that when a larger cross-section of film critics saw Dial of Destiny with their own eyes, its reception became a lot warmer, with the film's Rotten Tomatoes aggregated score lifting from the low 30s to 68 percent "fresh" on Indy 5's opening day.
So the film's world premiere a month before its opening did Dial no favors; it even likely muted a fair amount of the hype around the picture. Nonetheless, between the consecutive underperformances of Indy 5 and The Flash—two movies marketed on an anticipated nostalgia that comes with seeing Ford in a fedora and Michael Keaton in a Batsuit—it feels prudent to acknowledge the elephant in the room. Do younger audiences honestly still care about increasingly old properties and iconographies of previous generations?
As aforementioned, Crystal Skull did capture the audience more prone to spend disposable income on going to the movies in 2008. But even just the 13 to 25 year olds are now 28 to 40 years old, and the youngest members of the audience who saw the original Indy flick, Raiders of the Lost Ark, are at least pushing 50 today. Indiana Jones has always been a retro character, channeling nostalgia for movies and serials from the childhoods of baby boomers Steven Spielberg and George Lucas. But when their generation stopped being the parents of the kids watching Indiana Jones, and Indy stopped resembling those kids' grandparents, and instead became a call back to great-grandparents (or older), it's worth considering if something's been lost over the years.
The opening weekend tracking seems to bear this out. According to Deadline, 42 percent of Indiana Jones and the Dial of Destiny's opening weekend audience was over the age of 45. That would be a problematic number even before the COVID-19 pandemic made large numbers of the 50-plus crowd showing up elusive unless your film stars Tom Cruise. For context, 48 percent of Guardians of the Galaxy Vol. 3's audience was under the age of 25, with its largest demo being between the ages of 18 and 34, who made up 58 percent of the audience. Meanwhile 61 percent of Spider-Man: Across the Spider-Verse's audience was between the ages of 18 and 34. That film is indeed the highest performing movie of the year with Gen-Z (young people between the ages of 11 and 26).
In other words, Indy's most loyal audience is on the older side, and as when WB's marketing asked audiences if they remember growing up with Michael Keaton as their Batman, a lot of Gen-Zers, the youngest of millennials, and literal kids just shrugged at seeing Ford don the fedora one last time. Many, it would seem, never saw him put it on the first time.
When contextualized with the rest of the industry, it is fair to wonder if audiences are reaching a tipping point from being inundated with movies that target our nostalgia—or at least the nostalgia of those who grew up in the '80s or shortly afterward in the '90s. Consider that the end of Ford's original Indiana Jones trilogy and Keaton's debut as Batman both came out in 1989. Someone born that year will soon be 35.
Meanwhile Disney's kitchen sink approach to exploiting '80s nostalgia with the most popular film franchise of that era—Star Wars—has hit notorious snags as of late. It's fair to point out that development of Dial of Destiny began back when Lucasfilm saw billion-dollar successes with Star Wars: The Force Awakens (2015) and Rogue One: A Star Wars Story (2016), both of which leaned hard into nostalgia for the original Star Wars trilogy. Heck, The Force Awakens was marketed around Harrison Ford saying, "Chewie, we're home."
But by the end of that decade, and after three more Star Wars movies in consecutive years, the fanbase became wildly divided over the new films' quality, culminating in the critically reviled Star Wars: The Rise of Skywalker (2019), which while grossing $1 billion also earned a staggering 50 percent less than The Force Awakens of just four years earlier. Disney and Lucasfilm have pivoted for the time being to producing Star Wars content exclusively for Disney+ as a result, but that novelty has seemed to likewise worn thin, with the viewership numbers dropping dramatically between the first and third seasons of The Mandalorian.
Unlike Indiana Jones, Star Wars offers a whole mythology to get lost in, and therefore has already proven to enjoy a more durable elasticity in terms of popularity. But there does seem to be cultural barriers to even that, with the excitement for Star Wars in the U.S. failing to transfer to Asian markets in the same way Marvel superheroes have. And after nearly a decade of so much Star Wars content, it's viewed less as sacred geek culture or seminal film history. Now, it's just one more brand in Disney's arsenal.
And these brands seem to be hitting a point of diminishing returns, even the seemingly unstoppable Marvel Studios has struggled in recent months with Ant-Man and the Wasp: Quantumania underperforming this past spring.
Is making an endless supply of more movies and TV shows for what Gen-X and older millennials are nostalgic about transferring to interest from Gen-Z and younger? In the case of Indy and the Keaton/Tim Burton era of Batman, it seems like it hasn't.
If this is the beginning of a trend, it could be a major problem over the next few years with studios' plans for more Star Wars, Marvel, DC, and apparently a Transformers and G.I. Joe crossover (among other studio projects). Of course other than Jurassic Park, Scream, and Disney's remakes of renaissance era animated classics, the tapping into '90s and 2000s nostalgia has barely begun. Then again, it's an open question if 2000s franchises like Avatar, Lord of the Rings, Spider-Man, Harry Potter, and Batman ever really went away….