Features
Transformers: Rise of the Beasts' Ending Just Set Up the Crossover of Your Dreams
Transformers: Rise of the Beats sets up an absolutely CRAZY Hasbro crossover. Yet there is more precedence for it than you realize. Spoilers ahead...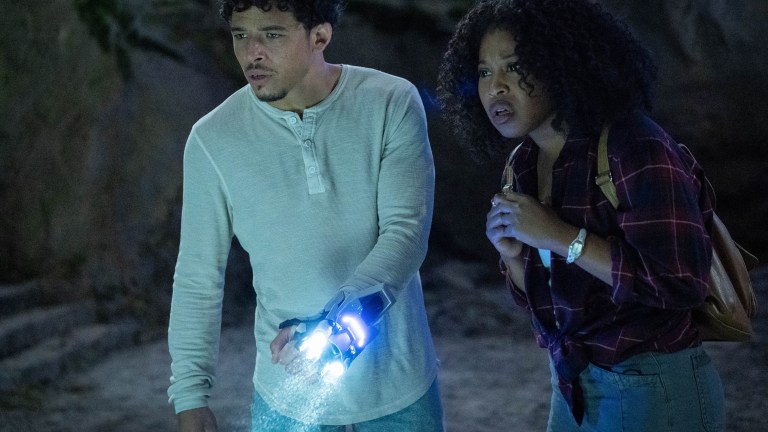 This article contains spoilers for Transformers: Rise of the Beasts.
When we first meet Noah Diaz (Anthony Ramos), he's a tech genius struggling to find a job and a purpose. By the end of Transformers: Rise of the Beasts, he's found a purpose by playing an important role in helping the Autobots and Maximals stop the Terrorcons from bringing the planet-destroying Unicron to Earth. But he still doesn't have a job. That is until he's approached by a man who knows what Noah has done for the planet and wants to recruit him. The name on the man's business card? G.I. Joe.
By this point, shared universe teases such as these have become commonplace in blockbuster films, often pointing to larger franchises that nobody really wants (R.I.P. Dark Universe). But the G.I. Joe reveal in the latest Transformers might have a better chance than most MCU wannabees, as the two franchises have a long history together.
The Transformers began as the Diaclone and Micro Change toy lines, produced by Takara in Japan, but when Hasbro bought the U.S. distribution rights in 1984., they rebranded the figures as Transformers, dividing them into heroic Autobots and evil Decepticons, and giving them a shared history on the planet Cybertron. The acquisition of the Transformers helped Hasbro bolster its action toy line, which already had a longstanding hero in the form of G.I. Joe. That American hero toy brand first appeared in 1964 as a line of military-themed dolls action figures. Think Barbies with bazookas. In 1982, G.I. Joe relaunched in its most successful form of smaller figures with more detailed lore. Drawing from a pitch for a Nick Fury spinoff called Fury Force, legendary writer Larry Hama changed S.H.I.E.L.D. to G.I. Joe and Hydra to Cobra, and the modern G.I. Joe mythos was born.
The two lines ruled toy aisles of the 1980s thanks in large part to their syndicated animated series: G.I. Joe: A Real American Hero, which ran from 1983 to 1986 while The Transformers ran from 1984 to 1987. But despite their shared parent company, the two franchises only made winks to one another, with elderly versions of Joes like Snake Eyes and Flint showing up in the 2006 setting of The Transformers.
However, comic books made the connections far more explicit. Marvel obtained the comic rights to both franchises in the 1980s, and first brought them together in 1986 for G.I. Joe and Transformers, a four-part miniseries that began with the Joes murdering Bumblebee and later teaming with the Autobots to keep an atomic base out of the hands of Cobra and the Decepticons. Seven years later, Marvel introduced the Generation 2 Transformers into continuity through a story arc in the G.I. Joe ongoing, which spun off into a Transformers series.
Eventually, the licenses went on to other comic book companies, including Devil's Due and IDW. Knowing the value of the properties, these publishers regularly brought the two toy lines together. But as much as the settings and tones changed, the basic premise remained the same: The Joes used Autobots as weapons to defend Earth/America/oil Interests, and Cobra used Decepticons as vehicles for terrorism/destruction of the Earth.
Even a 2004 miniseries from Dreamwave Publishing—featuring a script by John Ney Rieber and moody visuals from penciler Jae Lee, inker Rob Armstrong, and colorist June Chung—followed the basic plot beats, despite taking place in the 1930s with the Joes as the Allies and Cobra as the Axis. Comic runs from current rights-holder IDW Publishing have been more playful in their approach, including the 13-issue Transformers vs. G.I. Joe series by John Barber and Tom Scioli, which takes the form of an early Silver Age comic.
Despite the ubiquity of G.I. Joe and Transformers crossover comics, it's surprising that the two properties haven't yet properly crossed over in movies, especially given Hasbro's many attempts at breaking into Hollywood. In addition to the Michael Bay-produced Transformers movies and the (underrated!) G.I. Joe movies, Hasbro has made films out of board games Clue, Battleship, and the Ouija board. They've also brought toy lines Jem and the Holograms and My Little Pony, as well as licensed properties Power Rangers and Dungeons & Dragons.
But the attempts to make a shared universe have largely faltered, including a never-produced toy-centric franchise that brought G.I. Joe together with M.A.S.K., Visionaries, ROM, and the Micronauts. More recently, Hasbro's movie studio (which has gone by Hasbro Studios, Allspark, and now Entertainment One) has fallen on hard times, and has been restructuring its properties internally since the end of last year.
With the surprise popularity of Dungeons & Dragons: Honor Among Thieves, Habsro movies have a bit more traction than they had before. Will Transformers: Rise of the Beasts continue that momentum, building toward a shared universe that only '80s kids will understand? Or will Noah Diaz go the way of Headman, Huffer, and other forgotten G.I. Joe and Transformers characters?
Transformers: Rise of the Beasts is in theaters now.