News
How Viola Davis Became A Blues Legend in Ma Rainey's Black Bottom
Ma Rainey's Black Bottom director George C. Wolfe describes how Viola Davis channeled the pioneering blues singer in the new Netflix film.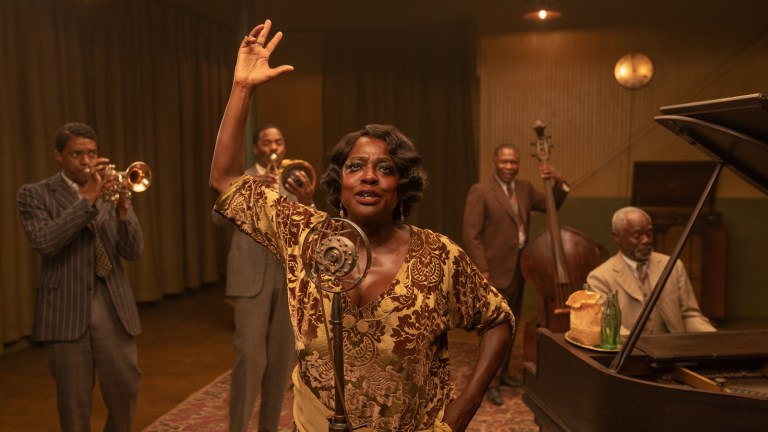 Premiering on Netflix this week, Ma Rainey's Black Bottom is a film adaptation of the award-winning 1982 play of the same name by August Wilson. The stage version was part of Wilson's 10-play Pittsburgh Cycle, which acted as a chronicle the African American experience in the 20th century. And in the Ma Rainey's Black Bottom portion of that cycle, events take place over the course of a single recording session in 1920s Chicago. There a fictionalized version of real-life blues singer Ma Rainey (played in the film by Viola Davis) and the members of her band–including the ambitious and hot-headed Levee, portrayed by the late Chadwick Boseman in his final screen appearance–record Rainey's legendary ode to the Black Bottom dance.
This is Davis' second screen adaptation of a Wilson play in five years, following her performance as Rose Maxson in the 2016 film Fences, opposite Denzel Washington (the pair played the roles on Broadway as well in 2010). In real life, Ma was one of the earliest professional blues singers to record, as well as a trailblazing free spirit in terms of the way she lived her life and owned her enigmatic sexuality. And while she is not always onscreen in the film, Davis' Mother of the Blues is a powerful presence throughout every scene of the picture.
Considering how Davis prepared for and immersed herself in the role, director George C. Wolfe tells us, "She is such a smart, skilled actor and with a huge emotional reserve that she just brought this ferocity and a clarity and understanding. Viola did extensive amounts of research about Ma Rainey and the details about her, about her makeup, about her size. So she had that template to play with, combined with her truth and her understanding of her as an artist, as a woman, as a Black woman, all those details."
Like many pioneering artistic figures of her time, Ma Rainey (born Gertrude Pridgett in 1886) remains a woman cloaked in a certain mystique, whose raw, unbridled talent was almost spiritual in nature. The lives of Ma and her fictionalized bandmates in the play and movie are also incisive representations of the Black experience during the era in which Ma made her music, when record labels–almost all White-owned–were just learning how they could exploit the talent they had. The characters of Ma and Levee deal with this reality from different perspectives, which fuels much of the tension inherent in the text.
"[Ma] was fighting so many systems at that time, being a woman, being a gay woman, in a male dominated industry," says Colman Domingo, who plays Ma's trombonist Cutler. "She's a true champion. She had to really take some knocks for all these other people who now think they've got it so easy, but they need to go back to Ma. Ma did at first. Ma did it for everyone else. There always has to be those pioneers, and I think it's great to have more of those stories in the cinema, so we can really see ourselves reflected."
Wolfe adds that Davis and Boseman prepared for their roles in similar fashion, getting inside the characters and providing their own personal touches, which made watching them work together a seminal event. "It was just a glorious experience watching them layer in these personal details and truths, which shattered the sort of artifice that somebody else had written this character," Wolfe elaborates. "And all of a sudden with that artifice being shattered, they were fully inside of those truths, as if were living them in the moment that they were experiencing."
Ma Rainey's Black Bottom premieres this Friday, Dec. 18 on Netflix.