Features
Guardians of the Galaxy 3 Star Reveals the Most Emotional Scene to Shoot
Pom Klementieff looks back at the evolution of Guardians Vol. 3 and the character of Mantis, while pondering a post-James Gunn future.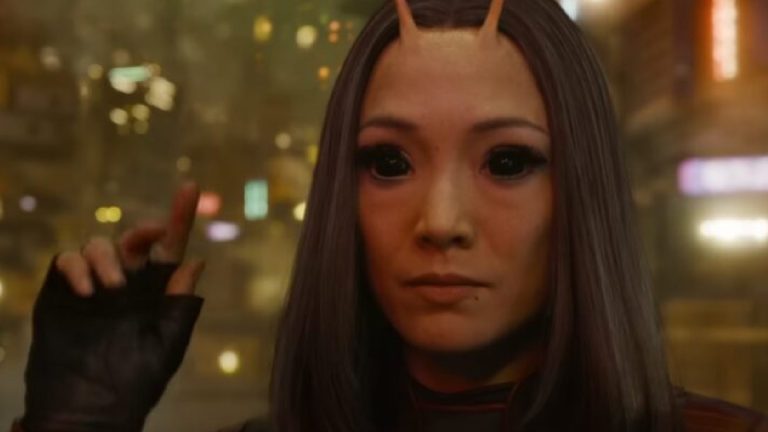 Back in the dark days of July 2018, when writer-director James Gunn was fired from Guardians of the Galaxy Vol. 3 after right-wing scoundrels unearthed old, wildly offensive jokes that Gunn had tweeted years earlier (and later removed and apologized for), there seemed to be little hope for either MCU fans or the core members of the cast that the Guardians trilogy would successfully stick the landing.
Perhaps the one slight consolation for the cast – if any – was that, according to the Hollywood Reporter, Marvel head honcho Kevin Feige had committed to still using Gunn's script for Vol. 3, and in fact distributed it to the cast not long after Gunn was dismissed.
Now, five years later, long after Gunn was reinstated as director (and main creative visionary) of the now-completed film, actor Pom Klementieff – who plays the humanoid/alien empath Mantis – says that Gunn did make some adjustments to the script in the intervening period.
"I don't remember exactly," she says when asked what those were. "But there were some changes. I think there's more of Gamora in the new version of the script, which is great. She's amazing in the movie."
The relationship between Gamora (Zoe Saldana) and Peter Quill/Star-Lord (Chris Pratt) is one of the primary subplots of Guardians of the Galaxy Vol. 3, since this is an alternate timeline version of Gamora who was never in love with Quill (that version, of course, was flung to her death by her father, Thanos, in Avengers: Infinity War).
But all of the Guardians – including Mantis, Drax (Dave Bautista), Nebula (Karen Gillan), Groot (Vin Diesel), and especially Rocket (Bradley Cooper) – have significant moments to shine in Guardians Vol. 3 as well. For Klementieff, seeing the naïve, sheltered Mantis that we first met in Guardians Vol. 2 begin to come into her own over the course of her (so far) six appearances in the MCU was especially rewarding.
"I mean, it's such a rich character," Klementieff says. "I think what surprised me the most is her evolution, you know, [and] how she stands up for herself finally in this movie — I mean, she did also in [The Guardians of the Galaxy] Holiday Special (laughs). James was able to write a character with so many emotions and so much comedy, and also, I got to kick ass as well. I love playing this character."
Building the MCU version of Mantis
As Marvel Comics fans know, the Mantis of the MCU is quite a different character from the one first introduced in the pages of the comics back in 1973. Looking back, Klementieff says that she did check out some of the comics when she was first cast in Guardians of the Galaxy Vol. 2, but was eventually instructed by Gunn to follow a different path.
"I did some research," says the French actor. "I read about the character. I didn't actually read all the comic books about Mantis. I remember when I got cast, I asked James if I should read everything about Mantis, and he said that the character that he wrote was pretty much very different from the comic books, and that she was more inspired by a bug, and there was way more weirdness to it."
Klementieff says that she loves the fan response to this version of Mantis, even if it's quite divergent from the original character. "I love meeting little girls dressing like Mantis," she enthuses. "It's so cute. There are also some people who feel a strong connection to the character — people who are shy, or autistic, who really relate to the character of Mantis and also Drax. So I think it's really beautiful."
In the MCU, Mantis is introduced as a sort of pet and servant to Ego the Living Planet (Kurt Russell), who claims to have adopted her. It's later revealed in the Holiday Special that she is actually Ego's daughter, making her half-sister to his other offspring, Peter Quill.
While that relationship is only just beginning to be explored in Vol. 3, it's Mantis' longstanding, almost sibling-like connection and rapport with Drax – the two of them not being the brightest bulbs on the team – that has provided the Guardians narrative with one of its most heartfelt emotional centers.
"I mean, it's just beautifully written, you know," Klementieff says about her character's interaction with Dave Bautista's Drax. "The dialogue is so good, and it's so funny. And then, of course, I have so much fun working with Dave. It's such a cute relationship, and Dave is awesome."
The future of Mantis and the Guardians
Much has been made about this being the end of this particular storyline, with Gunn completing his Guardians trilogy and now heading up DC Studios ("Of course, in a heartbeat," says Klementieff when asked if she'd go work for Gunn across the street). At least one actor, Dave Bautista, has also said that he's done, and the movie certainly leaves the Guardians' future up in the air to some extent.
Klementieff says that the emotions involved with this being the last Guardians movie directed by Gunn, and possibly the last time that this group of actors will all be together onscreen, spilled over into the actual filming as well.
"There's a particular scene towards the end of the movie where we're all in a circle," she says. "That was pretty emotional to shoot, because we thought that it will be maybe the last time that we play the characters together, and the emotions were real."
As for whether she'd like to continue playing Mantis (and that's not a spoiler, seeing how the MCU can move backward or forward in time, or across universes), Klementieff is not entirely sure that it would feel the same for her.
"I mean, I love playing this character," she says. "But at the same time, the character is always linked with James. So I don't know what's going to happen. Every word that I said as Mantis, either he wrote it or he supervised it and he made sure that it was still Mantis-y. So I don't know what's going to happen."
Guardians of the Galaxy Vol. 3 is out in theaters now.