Features
Did The Marvels Trailer Kinda Spoil Secret Invasion?
How well is Marvel's Secret Invasion keeping its secrets?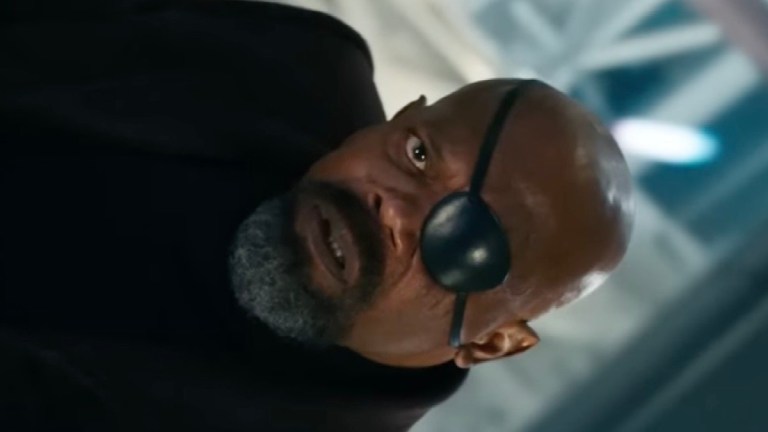 The Marvel Cinematic Universe is back in business, and from our first look at Nia DaCosta's The Marvels, it's a woman's world. Well, a woman's cosmos. The sequel to 2019's Captain Marvel brings Brie Larson back as Carol Danvers, while WandaVision standout Monica Rambeau (Teyonah Parris) and Cap superfan Kamala Khan (Iman Vellani) from Ms. Marvel are along for the ride.
Donning his eyepatch for more, Samuel L. Jackson returns as Nick Fury, and as the bald badass played a crucial role in Danvers' origin story, it's only right he's back by her side. It's a big year for Jackson, and after leading Secret Invasion in June, he's blasting off into space for The Marvels in November. While the many time jumps, Blips, and the Multiverse have confused the timeline, some fans think The Marvels just spoiled Secret Invasion.
Kyle Bradstreet's Secret Invasion loosely adapts the 2008-2009 comic arc of the same name and focuses on the Skrull invasion of Earth. While the Skrulls of Captain Marvel were misunderstood refugees, these ones are a rogue sect trying to infiltrate our planet at the highest level. The first trailer featured a grizzled Fury preparing for "one last fight," but if you do some sleuthing, that might not be the case at all.
Even though Disney hasn't revealed whether The Marvels takes place after Secret Invasion, the synopsis for the latter (via Disney) confirms it's set in the "present day" MCU. The timeline is ahead of us, but with Ms. Marvel taking place in the year 2025 and The Marvels picking up directly after it, DaCosta's movie and Secret Invasion are both set in 2025. Even before The Marvels was delayed, its original July release would've been after Secret Invasion, so why would Kevin Feige and co. confuse us further by airing them out of order?
Secret Invasion has done a bang-up job of making it look like this is Fury's final rodeo – even foreshadowing his death by showing his faux tombstone. The inscription reads, "Greater love hath no man than this, that a man lay down his life for his friends," which also sounds like an ominous warning, but we're not buying it. Posting on Twitter, @MotheStreamer deciphered that Fury's look in the final episode of Secret Invasion matches his role in The Marvels. Digging into the files, this strong and eyepatched Fury comes from Secret Invasion Episode 1×06, seemingly confirming that some version of Fury will continue in the MCU.
We say some version of Fury because Maria Hill actor Cobie Smulders told TV Line to look out for the "twists and turns" along the way, leading us to suspect that literally anyone could be a secret Skrull – we're looking at Martin Freeman's Everett Ross. The Skrulls led by Kingsley Ben-Adir's Gravik are clearly out to cause trouble, suggesting that if our Fury is replaced by a Skrull going into The Marvels, it would be one of the good guys like Ben Mendelsohn's Talos. Then again, we've been there before, thanks to that whole Talos being Fury in Spider-Man: Far From Home twist. More likely, Fury makes it out of Secret Invasion alive.
The difference between the bedraggled Fury of Secret Invasion and his usual no-nonsense self in The Marvels should be easy to untangle. Jackson explained why Fury doesn't wear his eyepatch in Secret Invasion and told Variety, "He just doesn't wear the patch. The patch is part of who the strong Nick Fury was. It's part of his vulnerability now." Fury has been off-Earth and mourning the loss of Iron Man (Robert Downey Jr.) and Black Widow (Scarlett Johansson) since the events of Avengers: Endgame, while a newspaper in Secret Invasion asking where Earth's Mightiest Heroes are implies that Fury is still wary of calling in the supes.
Going with the idea that the Skrulls are bested in the Secret Invasion finale, picture the scene where Fury puts on his eyepatch and steps back aboard his S.A.B.E.R. space station to tackle more otherworldly threats. This all lines up with the series' events snapping him out of his funk and him willing to work with Rambeau and the rest in The Marvels. With Jackson's next two roles as Fury taking him comfortably to the most MCU appearances (14 ahead of Don Cheadle's 11), were we really supposed to believe the OG of the MCU was going anywhere?
Jackson playing Fury in The Marvels seemingly takes the character being in any real danger off the table, and even if we're meant to believe Nicholas J. could kick the bucket (again), the MCU isn't exactly known for keeping its characters dead. Whether The Marvels features plain ol' Nick Fury we first met in Iron Man, a Skrull doppelganger, or one of the many Multiversal avenues, we guess Jackson will one day appear in a Logan-inspired Old Man Fury movie. Either way, it looks like Secret Invasion is about as good at keeping spoilers as Tom Holland is.