Features
Neill Blomkamp's Gran Turismo Is Not Just Another Video Game Adaptation
Exclusive: District 9 director Neill Blomkamp is braving the world of video game movie adaptations. He tells us what makes Gran Turismo stand out from the crowd!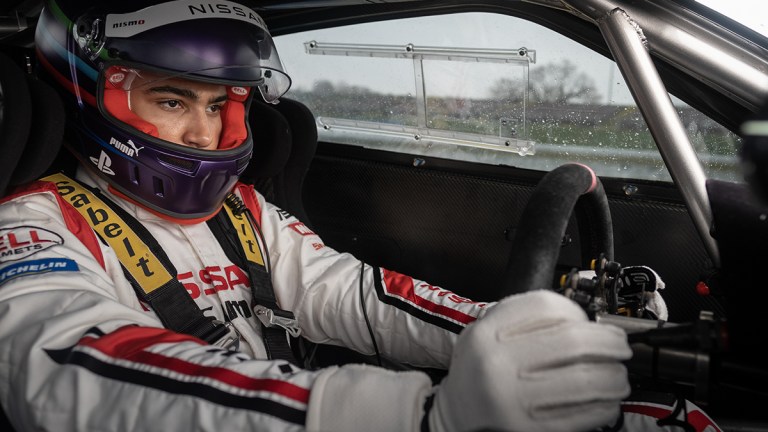 This article appears in the new issue of DEN OF GEEK magazine. Get your copy here.
How do you adapt a racing simulator to film? When Neill Blomkamp was approached by Sony to direct Gran Turismo, he was skeptical about the project, to say the least. "My initial response was, you can't make a movie out of that," he tells Den of Geek magazine.
But when Blomkamp read the script, he quickly realized that the film would be unlike any video game adaptation he'd ever seen—and unlike any movie he'd ever made.
"I never imagined myself directing a car movie or a sports movie. It's continually surprising to me that I made this," he says with sincerity.
The peculiar thing that inspired Blomkamp to take on the project is that the film isn't actually based on the game at all. It's inspired by the extraordinary real-life story of Jann Mardenborough, an avid Gran Turismo player who, at age 19, out-raced 90,000 entrants in a competition called "GT Academy," which earned him the right to hop into the cockpit for real, racing for Nissan at the Dubai 24 Hour race in 2011. Remarkably, he placed third and continues to lead a successful pro racing career to this day.
Blomkamp knew that Mardenborough's story was the key to bringing the story-less game to the big screen. While the PlayStation classic is integral to the film, its involvement is exclusively in a real-world context, which gave Blomkamp the freedom to tell a story that is intrinsically human.
Blomkamp developed a deep respect for Mardenborough and his accomplishments, and involved him in the filmmaking process as a stunt driver and as the ultimate reference for the film's narrative.
"As a professional race car driver, he could tell us what we were doing right and wrong and tell us how real the racing scenes felt," Blomkamp explains. "And on the personal side of things, I could ask him about his family and what his aspirations and fears were at the time."
In 2015, Mardenborough endured a horrific crash that sent his car airborne, tumbling violently off-track at The Nürburgring in Germany. While he sustained no serious injuries, one spectator was killed. The tragedy is covered in the film, and it was of utmost importance to Blomkamp that the incident and its fallout be represented with stark honesty.
"There was no need for embellishment," says Blomkamp of the way the dark chapter in Mardenborough's life is portrayed in the film. "The assumption by some was that we would Hollywood-ize the tragedy, but we don't Hollywood-ize it at all. It's one hundred percent truthful to what Jann went through."
Blomkamp's commitment to authenticity can be felt in the movie's blistering race scenes as well. Unlike much of his prior work, Gran Turismo has a heavy focus on practical effects and capturing all of the high-speed action in-camera. "Every single shot in the movie, of any of the actors inside cars at high speed, is real. There is not a single VFX, fake shot of high-speed driving," Blomkamp explains, adding that from day one, he insisted on shooting the movie with IMAX screens in mind.
This posed a staggering logistical challenge for the production, as bulky IMAX cameras and ultra high-speed chases don't typically mix well. To capture the races the way Blomkamp envisioned, he and his crew came up with creative solutions, like a pursuit vehicle with front and rear-mounted cameras on remote arms that could lead or tail the cars and track their movement and FPV drones fitted with high-resolution, IMAX-approved sensors that could follow the cars in close proximity at speeds of 150–180 kph.
"Cinematic drones have been used for about a decade, where we've been mounting cameras on drones and getting dramatic shots that you may have used helicopters to get before," Blomkamp explains. "But FPV drones are relatively new. They've been used in sports more than cinema, and I wanted to capitalize on that and bring some of the photography angles I had seen in rally and motocross into the way that our cars were filmed. I'm pretty sure there are no race films that have used drones in the way we've used them."
Another thing that makes Gran Turismo unique is that the cars are depicted not just as beautiful racing machines, but as monstrously powerful metallic beasts that require an intense level of physicality to control.
For Blomkamp, capturing the intensity of the sport was crucial. "Race cars are really gnarly metals and gears and burning petroleum and exhaust heat," he says. "We filmed clutch plates, brake pads, transmission systems, and the inside of engines so that we could cross-cut those shots with the on-track shots to create a visceral feeling for the audience."
The film's attention to detail largely stems from Blomkamp already being an avid car enthusiast prior to signing up to direct. The movie features a fleet of stunning sports cars including the Chevrolet Camaro GT3, Lamborghini Hurcan GT3, and Nissan GT-R, all of which were hand-selected by Blomkamp, who tried to fit as many insanely tricked-out vehicles into the movie as possible. "I could not have been more explicit about the cars that I wanted in the movie," he recalls. "But you have to match that up to what the studio is willing to spend. So, the cars in the movie are one hundred percent curated by me… but I didn't get everything I wanted."
"It's the creative wishlist mixed with the thermodynamic reality of what is actually achievable," Blomkamp continues, explaining that the way the film was made—with real cars shot on real race tracks—resulted in the production being something of a logistical nightmare. The film features over 20 race teams and pit crews, which meant that in addition to transporting a fleet of expensive race cars from track to track across the globe, dozens of extras and stunt drivers would need to be transported as well. "It was not uncommon for us to have an entire plane—pretty much a 747—filled with extras who would move with us from track to track."
The exorbitant travel costs, souped-up cars, and expensive drones make Gran Turismo both a feat of modern moviemaking and an homage to how films were made pre-CGI, when cinema was an event to be fully immersed in rather than a casual distraction one flicks on and glances at while doing laundry. Blomkamp conceived Gran Turismo as a theatrical experience first and foremost, and Sony Pictures is backing him up all the way, pushing the film's theatrical release in hopes of capturing the same box office success as recent releases like Top Gun: Maverick and Spider-Man: Across the Spider-Verse.
"Sony really doubles down on theatrical releases, which is becoming more and more rare," Blomkamp says. "I really appreciate how Sony is approaching this film as far as making sure it's on a lot of screens. I didn't realize how important that was to me… but it actually is very important."
Gran Turismo opens in theaters on Aug. 11.