Features
From The Last Dance to Gods of Snooker: The Best Sports Documentaries on TV
Here are some of our favorite sports documentaries that television has to offer.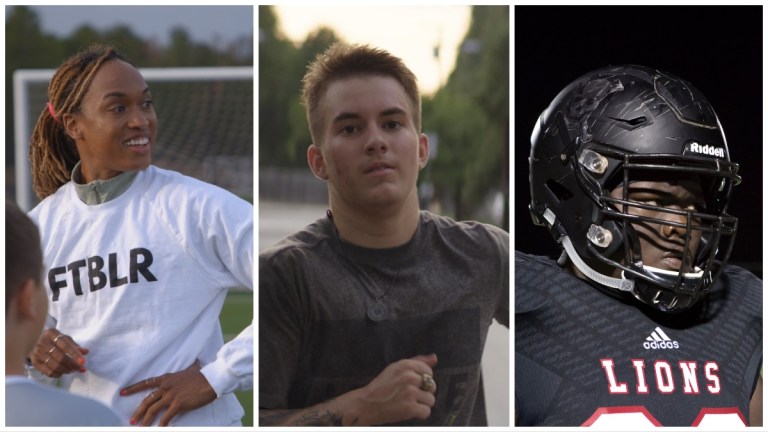 "Wait, the name at the top of this website reads 'Den of Geek' and now they're talking about sports? Don't they know I'm gangly and uncoordinated?"
Yes, dear reader, we know that. Truth is, we're all gangly and uncoordinated as well. But that doesn't mean that we geeks can't occasionally get together and enjoy the dramatic majesty of competitive sports. Sports documentaries have always been a part of the entertainment ecosystem. Of late, however, it seems as though there's more of them for the casual sports fan or even fully sports-phobic TV-watcher to enjoy.
ESPN's "30 for 30" sports documentary initiative kicked off a new era of TV sports documentaries in 2009. And since then, the offerings have only gotten better. With streamers like Netflix fully into the fray there have never been as many compelling sports stories being told as there is right now. With that in mind, we decided to document some of our favorites. Here is a list of some TV sports documentaries and docuseries that we've enjoyed, regardless of our athletic capabilities.
Baseball
Stream on Prime Video (U.S.)
Though he's one of the most successful documentarians in the medium's history, Ken Burns' name and brand are often associated with staid black and white imagery and monotone narration. There's a certain kind of modern viewer that is just never going to be able to go along with that. And that's a shame because Burns' docuseries Baseball is nothing less than the riveting, definitive history of America's pastime.
First airing on PBS in 1994, Baseball tells the story of the hallowed game in nine episodes, each representing one of the sport's nine innings. From the game's urban 1800s origins, through two World Wars, several scandals, and one Curse of the Bambino, Baseball tracks its titular subject with great expertise and care. It doesn't shy away from the seedier aspects of the story either – devoting time to the effects of gambling, the labor political nuances of free agency, and the shameful disallowment of Black players in Major League Baseball until Jackie Robinson broke the color barrier in the 1940s. In fact, episode 5 is devoted almost entirely to the story of The Negro Leagues and is some of the best research on the subject ever presented to mainstream audiences.
Burns even returned to produce another "inning" (making up two episodes) in 2010. With more than a decade of baseball history having passed since then we're overdue for at least one more. – Alec Bojalad
Changing the Game
Stream on Hulu
Changing the Game tells the story of three trans teens across the U.S. and their successes and struggles with participating in youth sports. Sarah is a skier based in New Hampshire, who uses her free time to champion the rights of trans youth. Andraya is a track star from Connecticut who is openly competing on the girls' track team at her high school. Mack Beggs is a wrestler from Texas who wins the Texas State Championship after being forced to compete for the girls team, even though he wants nothing more than to compete for the boys team.
Changing the Game argues that trans youth aren't trying to cheat at sports or make things "unfair" for cis-gender people, but rather that they just want to exist as normal kids doing normal kid things. This documentary takes place before states like Florida, Texas, and Oklahoma passed anti-trans laws banning gender affirming care for youths under 18, but that just makes Sarah, Andraya, and Mack's stories even more relevant. Trans youth like Sarah, Andraya, and Mack are who these laws affect. They aren't political actors or trained activists, they're just kids who want to play sports without having their existence or bodies policed by weirdo adults. – Brynna Arens
Cheer
Stream on Netflix
This Netflix cheerleading documentary became an unexpected word-of-mouth hit in early 2020, and for very good reason. Cheer's combination of gravity/health and safety-defying athletic feats with personal drama made for gripping TV, as recognized by that year's Emmy awards. The young flyers, tumblers and stunters of Navarro College, Texas had difficult backstories, poignant struggles, dramatic injuries, and – thanks to the high standards of head coach Monica Aldama – killer routines.
Then, the doc series' reputation was understandably eclipsed by the arrest of former fan favourite Jerry Harris for production of child pornography, and by allegations of a sexual assault cover-up on the squad. The question was raised – as in this SNL parody – as to how far these young athletes were being given an opportunity, and how far their safety was being compromised in the race for another national championship win. Decide for yourself with these two seasons. – Louisa Mellor
The Class of '92: Out of Their League
Buy 2 series on Amazon
The Class of '92, for the football/soccer uninitiated, refers to the six Manchester United footballers who started as young players at the club in 1992 and went on to become national (Nicky Butt, Ryan Giggs, Gary Neville, Phil Neville and Paul Scholes) and global (David Beckham) stars. In 2014, Scholes, Butt, Giggs and the Nevilles bought Salford Football Club, a lower league club based in the North West of England. In 2019, obviously not wanting to be left out, David Beckham got involved too.
The lads really must have felt like Welcome to Wrexham stole their thunder, as in a very similar way The Class of '92: Out of Their League series follows them trying to improve the club from the ground up and get Salford promoted. Unlike Ryan Reynolds and Rob McElhenny, (and no offence to them) these men live and breathe football – it has been their lives' work and their complete passion. The show's main focus is on the ambitious and no nonsense Gary Neville, and aside from meeting all of the passionate Salford fans and club workers, a highlight of the show is seeing his and his brother Phil's family lives, where they just seem like nice guys (and this is coming from a Liverpool fan…). Final shout out to Paul Scholes who absolutely does not want to be on camera but still is one of the most entertaining parts of the show. – Elizabeth Donoghue
Freddie Flintoff's Field of Dreams
Stream on BBC iPlayer, UK only
In 2004, "Freddie" was around the 90th most popular boys' baby name in the UK. Since 2005, it's been a top 10 regular. What changed? In 2005, Andrew "Freddie" Flintoff helped to secure England's first win over Australia since 1987 in cricket's annual Ashes series. As a result, he won Man of the Series, BBC Sports Personality of the Year, and the Freedom of Preston (and with it, the right to drive a flock of sheep through the town). Freddie Flintoff is famous.
So when he returned to his Lancashire hometown to film a three-part BBC documentary series about starting a local youth cricket team, why had none of the kids there heard of him? Partly because they hadn't been born by 2005, but mostly because in the UK, cricket is for rich kids at private schools, not the working class.
That social divide is only getting bigger – eight out of the starting 11 in a recent England test side went to fee-paying schools. Flintoff didn't, which is why he addresses the issue in this excellent three-part doc. As much about class and politics as it is about sport, this series finds real stories, like wayward Sean, and talented asylum seeker Adnan, and asks why their opportunities have narrowed and what urgently needs to change. Series two is on the way. – LM
Free Solo
Stream on Disney+
Free solo climbing is a form of rock climbing where the participant climbs without ropes or any other form of protective gear, their fate solely resting on their skills, climbing shoes, climbing chalk, and whatever deity they may choose to pray to. For those scared of heights (like myself) Alex Honnold's journey in Free Solo is part thrilling documentary and part horror movie as we watch him attempt to free solo the 3,000 foot tall rock wall of El Capitan in Yellowstone National Park.
At the time of filming, no one had successfully completed this climb due to its difficulty and the level of danger a climber would face. A lot of the documentary is just watching Honnold train for the climb, both with ropes and without, and it's often hard to breathe knowing he could seriously injure himself or even die at any moment. Free Solo took three years to film, and directors Jimmy Chin and Elizabeth Chai Vasarhelyi spent much of that time questioning the ethics of their project and how to tell this story without encouraging Honnold to recklessly endanger his life. Free Solo is definitely not a cozy or chill sports doc – it will leave you on the edge of your seat waiting to see whether or not Honnold will accomplish this historical feat of athleticism. – BA
Full Swing
Stream on Netflix
When it comes to documentaries, there's one thing that all the talent and money in the world can't buy: timing. Sometimes otherwise great sports documentaries wilt away into obscurity merely because reality doesn't cooperate and provide them a compelling storyline in a timely fashion. That is, uh … not the case for Netflix's golf docuseries Full Swing.
Created by the folks behind the equally brilliant Formula 1: Drive to Survive, Full Swing is an intimate, insightful look into life on the PGA (Professional Golfers' Association) tour. Season one of the show also just happens to document one of the most turbulent times in the sport's centuries-old history. In 2022, the Saudi Arabian-government backed PGA competitor known as LIV Golf started up its own tour and pried away some huge names in golf from the PGA thanks to the Saudis' untold riches. Full Swing captures the internal turmoil this caused and, based on real life headlines, we can only imagine its second season will be even more intense. – AB
Gods of Snooker
Stream on BBC iPlayer (UK only)
Even if you've never previously cared about snooker, this three-part doc series from Louis Theroux's Mindhouse Production company, will make you – which is about as good a recommendation as can be given. It combines talking heads of players and figures from the time and contemporary footage, tracking the UK's 1980s snooker boom with clear-sighted fascination.
Starting with the rise of televised snooker (thank you, colour TV), the miniseries traces the public fascination, money – so much money -, hedonism, and personal dramas behind the game from superstar players including Alex "Hurricane" Higgins, Steve Davis and Jimmy White. And if you liked that, hunt down 2016 BBC dramatisation The Rack Pack afterwards. – LM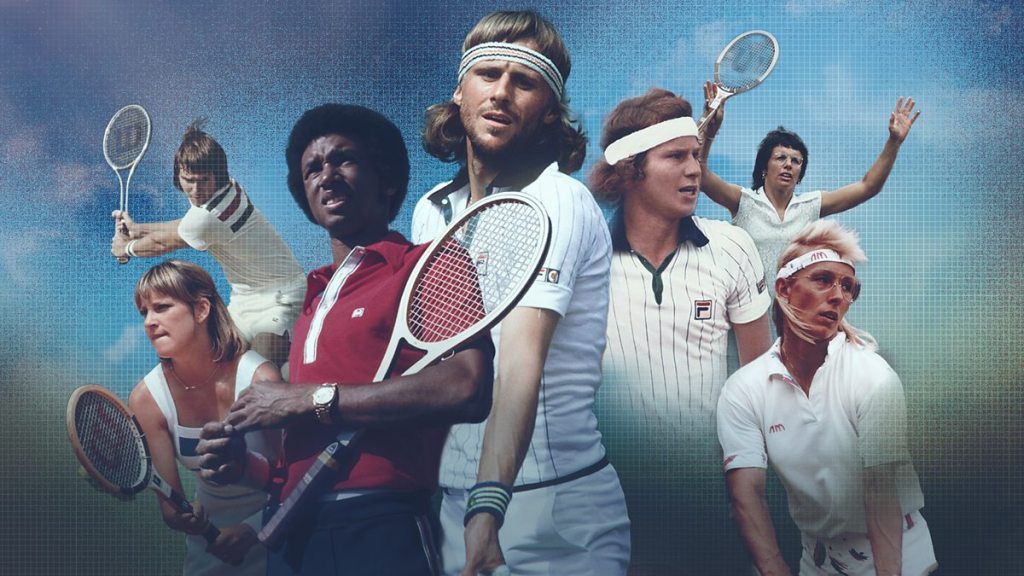 Gods of Tennis
Stream on BBC iPlayer (UK only)
A follow-up series to 2021's acclaimed Gods of Snooker from the same Louis Theroux-backed producers, Gods of Tennis applies the winning formula to the world of professional tennis. This one has a wider scope, and as a result, a slightly looser focus but is still a must-watch.
Over three episodes, the public side of professional tennis is revisited with talking head insights from those who were there at the time. Things start with Billie Jean King, Björn Borg and Arthur Ashe in the 1970s, and move through the John McEnroe era up to the present day, dipping into the sexism, racism, and homophobia experienced by players, as well as behind-the-scenes dramas. From tabloid scandals to mega-money sponsorship deals and bad behaviour on the court and off, it's a whistle-stop tour of the game's story over the last 50 years. – LM
Last Chance U
Stream on Netflix
What does the path to the NFL look like? For some American football players it's more circuitous than others … like way more circuitous. Netflix's superb docuseries Last Chance U follows the stories of amateur football players who are well and truly on their last chance. For the uninitiated: before football players are drafted to the NFL to play professionally, they typically must play for a collegiate team. But not everyone is able to immediately hack it physically, academically, and behaviorally at a four-year institution. Some find their way down to smaller community colleges where they hope to get their grades up and their careers back on track.
Through five seasons set at three different schools, Last Chance U documents this thrilling, yet often exploitative process. It's hard not to get swept up in the excitement of "last chance" college football even as you ponder "hey, why do these large, undereducated men need to go through this song and dance before they get a paycheck anyway?" – AB
The Last Dance
Stream on Netflix
Michael Jordan is undeniably the most famous basketball player of the 20th century, but for many non-US based, non-basketball following people, he was the guy in Space Jam with his own trainer line. The Last Dance gives context to the basketball ignorant (me) and shows how Jordan and his Chicago Bulls team became the biggest basketball stars on the planet.
Focusing on the 1997–98 Chicago Bulls season, The Last Dance includes interviews with players Jordan, Scottie Pippen, Dennis Rodman, Steve Kerr, and coach Phil Jackson. It is incredibly accessible and completely gripping; Jordan is an astonishing character whose ambition and drive won't make him anyone's best pal, but will win championships. Dennis Rodman is a one-off maverick who was so good he could basically do whatever he wanted (great goss from him in the series) and Scottie Pippin is an incredible player who would have been the star on any team that Jordan wasn't on, but was destined to stay in his teammate's shadow. Relationships and rivalries are explored with a deft touch and all the action on court is presented in such an exciting way, even the most sport allergic will be looking up how much an ESPN subscription is. – ED
LFG (2021)
Stream on Max
LFG follows the U.S Women's soccer team's ongoing fight for equal pay that began with a lawsuit against the U.S. Soccer Federation in 2019. This documentary weaves their legal battle with teammate interviews and behind the scenes footage of their record-breaking 2019 World Cup victory. Through teammate interviews with players like Megan Rapinoe, Jessica McDonald, Becky Sauerbrunn, Kelley O'Hara, Samantha Mewis, and Christen Press we get to see how some of the players struggle to make ends meet in the off-season despite being world-class athletes as well as how this lawsuit catapulted many of them into the spotlight.
It's inspiring not only to see these women crush it on the soccer field, but also to see them fight for something that could have an impact on all women's sports in the future. But this documentary isn't all "rah rah, girl power, women can do anything." LFG's ending leaves a lot still left to be resolved and proves that the fight for equal pay for women's sports is just getting started. – BA
O.J.: Made in America
Stream on Sling TV and Spectrum (U.S.)
We mentioned in the intro how ESPN's 30 for 30 filmmaking imprint forever changed sports documentary storytelling on TV. Truth be told, there are so many great 30 for 30s that this list could be made up almost entirely on them. For simplicity's sake, however, we're only including the best of the best. And that's the epic O.J.: Made in America.
Dropping in 2016, the same year as FX's dramatized (and also excellent) The People v. O.J. Simpson, O.J. Made in America tells the full, definitive story of Simpson's rise, fall, and the role American society itself played in the whole affair. Most are probably familiar with the true crime particulars of the O.J. Simpson case (he almost certainly murdered his girlfriend Nicole Brown and innocent bystander Ron Goldman) but the events that led up to that grisly crime are far more complicated than they first appear. O.J. Simpson is forever tied to America's intersecting narratives about sports, pop culture, and race. Made in America's five episodes do a marvelous job at unpacking it all. – AB
Welcome to Wrexham
Stream on Hulu (U.S.) and Disney+ (U.K.)
Football a.k.a. soccer a.k.a. futbol a.k.a. "The Beautiful Game" has been growing steadily in popularity in the U.S. for a while now. Two recent TV hits, however, have thrown gasoline on that fire in a major way. The first was Apple TV+'s charming comedy Ted Lasso. The second is Welcome to Wrexham, a thrilling FX docuseries about the titular little Welsh football team that could.
Welcome to Wrexham tells the real life story of the ancient Welsh soccer team AFC Wrexham. Mired in mediocrity for years, and stuck in the United Kingdom's fifth level of competitive football, Wrexham's hopes turn around when it's purchased by two famous North American (one's from Canada) actors: Rob McElhenney (It's Always Sunny in Philadelphia) and Ryan Reynolds (Deadpool).
Bear in mind that this list is devoted to real life documentaries, not fictional stories. That means that yes, Rob and Ryan (or Wrob and Wryan as the Welcome to Wrexham poster dubs them) really did buy a professional football club. And it turns out they're pretty good at running it! We won't spoil the results of Wrexham's attempts to get promoted to League Two but we will say you're definitely gonna want to watch the second season of this excellent series when it comes out. – AB
Other Sports Documentaries: 100 Foot Wave, Break Point, Dark Side of the Ring, Formula 1: Drive to Survive, Icarus, Tour de France: Unchained