News
Coming 2 America Trailer Shows a 2020 That Looks Like 1988
The trailer for Coming 2 America has arrived, showcasing a long-awaited sequel in which time seems to have stood still.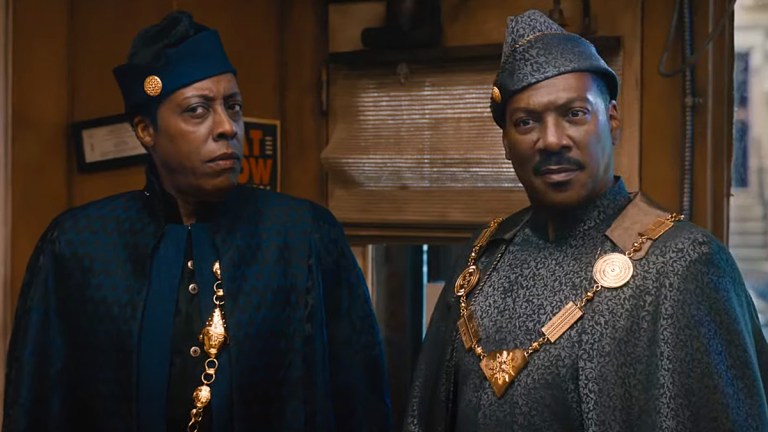 Amazon has started to lay down the proverbial rose petals on which its high-profile pandemic-era theatrical refugee, Coming 2 America, will eventually walk; namely the first trailer for the 30+ years-awaited sequel to Eddie Murphy's 1988 comedy classic.
The Paramount-produced film, once scheduled to hit theaters in August 2020, met a fate typical of the year 2020 this past October when the studio sold distribution rights to Amazon, which, after a recent delay, has scheduled the film to stream in March. Interestingly, the just-dropped trailer seems to indicate that the America to which Murphy's Prince Akeem Joffer will once again come seems familiar—and by "familiar" we mean virtually unchanged from the first movie. Ironically, the intrinsically-2020 rollout of the film will contrast with an extremely-1988 aesthetic.
With that set, check out the Coming 2 America trailer just below.
The trailer for Coming 2 America starts by taking us back to the fictional African nation of Zamunda, this time with modern CGI helping to depict new aspects of the sprawling splendor we saw in the original film. After some scenes that clearly bear thematic influence (to the point of parody,) from a property that popped up during the years since the first movie, The Lion King, the clip starts serving its first helping from a basket brimming with juicy member berries, with a voiceover from James Earl Jones's returning King Jaffe Joffer. The apparently deathbed-ridden sovereign provides the film's exposition, sending his imminently-throne-ascending son, Akeem, back to America—this time not to "sow his royal oats," but to gather the purported fruit of his royal loins, since it is believed he sired a son there.
With that set, we see a montage showcasing updated looks at some of the film's returning characters (including the ones played incognito by Murphy and Hall,) and cast members, notably Shari Headley's Lisa Joffer (née McDowell), who—after marrying Akeem at the end of the first film—seems far removed from her upper-middle-class upbringing in Queens, NY, looking quite comfortable with a crown, sitting on a throne like the Queen of Dragons, minus the abrupt, fiery genocide. We also see some of the film's newcomers, notably what seems to be a fantastically frenetic performance from Wesley Snipes as General Izzi; a performance that seems destined to steal the show like his Major League character, Willie Mays Hayes, stole bases.
Once the clip has Murphy's Akeem and Arsenio Hall's faithful sidekick Semmi back in America, we witness an aspect of the film that could end up being both its greatest strength and weakness: a Queens setting that's partying like it's 1988. Indeed, the door though which Akeem and Semmi step might as well be a time portal, since it takes them to a barber shop setting untouched by the 32 years that have gone by since their last visit, showcasing the same worn-out fake-wood walls and perforated paneling covered with the same pictures. Plus, the familiar, now-iconic, imagery of the Soul Glo poster seems to have never left its door spot from the first film, now bearing no feasible purpose as an advertisement, since the days of the Jheri curl were waning even by '88. Moreover, the same can be said for the establishment's occupants—owner Clarence (Murphy), barbers Morris (Hall), Sweets (Clint Smith) and customer Saul (Murphy)—who look a little older, but wear the same wardrobe, likely having spent the last decades engaging in the same fantasy debates about boxing.
"What I love most is we didn't lose the main agenda, the humor. It's a funny fucking movie, and I'm proud that we hit all those bumps and checked all those boxes," Hall explained in a recent interview with Complex." However, he also hints that the film has more to offer than a nostalgia trip, explaining, "It's funny—it does everything you need it to do, but it's also funny, and I think people will love the additions to it. There are some surprises here that will surprise people who don't get surprised."
Indeed, the trailer's displayed barrage of uncanny vintage uniformity might not be a bad thing. Director Craig Brewer, who had just directed Murphy to tremendous acclaim in 2019 Netflix movie Dolemite is My Name, clearly went into this sequel realizing that the franchise's bread needs to be buttered with an unapologetically heavy helping of pure nostalgia. Coming 2 America's story was developed in its early stages by veteran screenwriters (and original Coming to America scribes,) Barry W. Blaustein and David Sheffield, before the script was put in the hands of Kenya Barris (Black-ish), indicating that the film is a proper ode to a pop-culture-influencing classic, albeit injected with a tinge of modern relevancy. Thus, it does seem that Coming 2 America has no potentially-disastrous aspirations to be anything other than a funny movie; one that could also prospectively play on the original film's supply of memorably earnest heartstrings.
Coming 2 America will boldly shout "Good morning, my neighbors!" to Amazon Prime Video members when it premieres on the platform on Friday, March 5, 2021.