News
Coming 2 America to Stream on Amazon Prime Video Per Paramount Deal
Amazon has acquired Eddie Murphy's long-awaited Coming to America sequel, which will soon arrive on its streaming platform.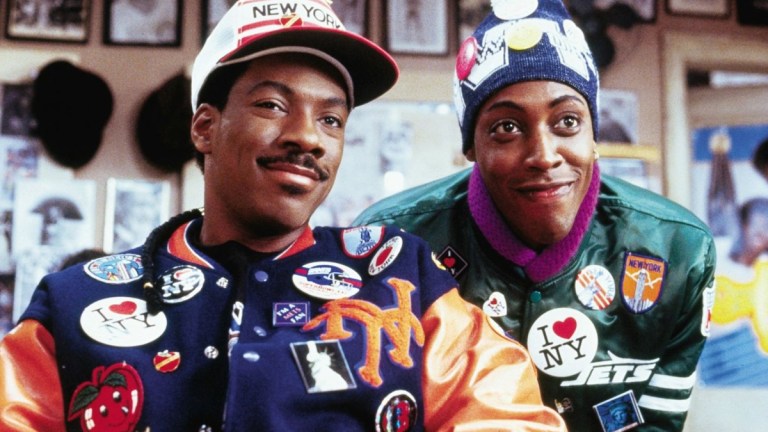 Coming 2 America is set to sow its royal oats on Amazon Prime Video.
Paramount has sold the distribution rights to the film, a sequel to star Eddie Murphy's 1988 signature comedy hit, Coming to America, to Amazon Studios for around $125 million, as sources tell Variety. With the deal reportedly locked, the film is now expected to premiere on the retail giant's streaming platform, Amazon Prime Video, on December 18. The move, of course, is a response to the stagnant state of a pandemic-era global box office. Indeed, the sequel was originally slated to hit theaters on August 7, 2020 before a Christmas release window was considered.
Besides being a very-2020 development, the sequel's acquisition by Amazon will see it join a growing lineup of COVID distribution refugees such as the October 23-scheduled Borat sequel and Michael B. Jordan-headlined Tom Clancy adaptation Without Remorse. However, Coming 2 America's transition from the screen to stream bears a unique complication: marketing commitments. While the Amazon deal is essentially sealed, details are reportedly still being finalized regarding commercial tie-ins for the film's now-nixed theatrical release, specifically with Crown Royal whiskey and McDonald's, with the latter seemingly telegraphing a plot point in the film, since an ongoing joke in the original Coming to America was that Cleo McDowell's (John Amos) Queens fast food joint was essentially a bootleg of the Big-Mac-slinging global chain. The commericial deals are expected to transfer to the film's Amazon streaming premiere.
The sequel movie, which wrapped filming back in November 2019, was directed by Craig Brewer (Empire), who worked off a screenplay by Kenya Barris (Black-ish). It also happened to served as a quick reunion with star Eddie Murphy, who Brewer directed in Netflix's biographically-based 2019 comedy, Dolemite is My Name. The team will soon see audiences caught up with the ongoing exploits of Eddie Murphy's Prince Akeem of fictional African nation Zamunda some 30 years (per the actual passage of time,) after the events of Coming to America.
However, while the first film concluded with the happily-ever-after ending of Akeem returning to Zamunda from his American sojourn to a surprise wedding to his wife of choice, American Lisa McDowell (Shari Headley), the sequel seems to center on the claim that said sojourn saw Akeem unknowingly sire a child, who's now a street-wise N.Y. native played by Superior Donuts' Jermaine Fowler. Thus, we'll see Akeem and his longtime best friend/servant/sparring partner, Semmi (Arsenio Hall), come to America once again, facilitating the onscreen returns of just about every Queens-based character from the first film, notably the ones played incognito by Murphy and Hall. Additionally, the sequel will also see Wesley Snipes field the role of a new character named General Izzi, who rules a nation that neighbors Zamunda, joined by other notable newcomers to the franchise such as Tracy Morgan, Leslie Jones, Rick Ross and Jay Pharaoh.
The original Coming to America, released on June 29, 1988, grossed $288.7 million worldwide, and is widely regarded as one of Eddie Murphy's best films; an entry emblematic of his '80s heyday as a box office king. While we'll never know how sequel Coming 2 America would have performed with a similar theatrical distribution, the sequel's endpoint as an Amazon Prime Video streaming release is nevertheless a major coup. Yet, it's also a move that mirrors last year's (pre-pandemic) news that Murphy's developing Beverly Hills Cop 4 will eventually manifest as a Netflix exclusive.