News
Coming 2 America: Is Comedy's New Home Streaming?
The Coming to America sequel's move to streaming (now for 2021,) seems to reflect how comedies are thriving outside of theaters.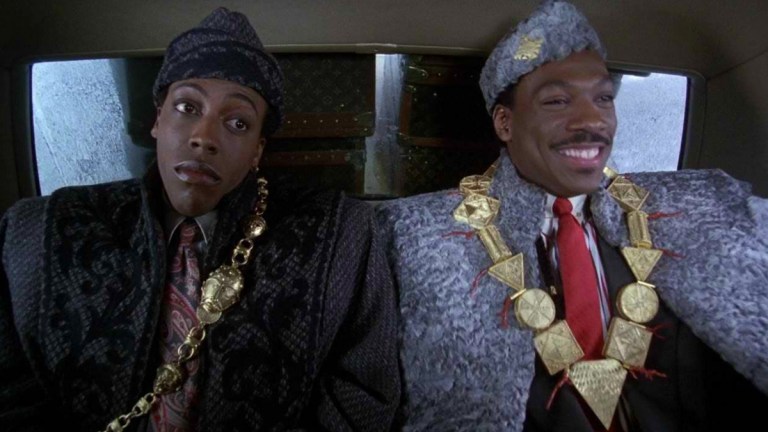 The recent announcement that the three-decades-awaited film follow-up, Coming 2 America, will bypass its theatrical release plans to stream on Amazon Prime Video may not have been surprising in a 2020 world, but it was indicative of an intriguing trend for the comedy genre that predates the pandemic.
The Paramount-hailing, Eddie Murphy-starring sequel's December 18 release date has just been shifted all the way to March 5, 2021; an understandable retreat in reaction to a monumental move for the industry made this week by Warner Bros. to shift its biggest tentpole picture of the year, Wonder Woman 1984, to a Christmas Day streaming premiere on HBO Max. However, Paramount's move—first motivated by a pandemic and later seemingly by a cinematic juggernaut—may prove serendipitous for the Craig Brewer-directed Coming 2 America, since comedy movies have found surprising success and visibility in streaming rather than theaters.
It's an odd notion that the surreal arrival of a sequel to director John Landis's 1988 film, Coming to America—one of the top films of that year with $288 million worldwide, widely renown as a quotable comedy classic—might be seen as a risky proposition. Yet, that indeed is the state in which comedies have found themselves in recent years—to reiterate, even before the pandemic. While the success of comedies have historically been belied by their financial performances the phenomenon has only become more complex in recent years. After all, the all-time highest-earning pure comedy movie (outside of comedic-themed action, romantic or animated offerings,) to this day is 2011's The Hangover Part II, which earned an astounding $586 million worldwide, but doesn't exactly enjoy widespread staying power in the pop culture ether (at least compared to its predecessor).
The only subsequent offering to have come close to that film were 2012's Ted (#2 with $556 million), followed by frequently-derided threequel The Hangover 3 (#11 with $362 million). In fact, it does seem that 2011 stands—at least for now—as the long-gone financial zenith of the comedy genre, seeing as it also produced Bridesmaids, which, with its $288 million worldwide earnings, was an unprecedented success for an all-female ensemble film, and was arguably the last major comedy to have made a significant widespread cultural impact. Consequently, while Coming 2 America may have nostalgia on its side, its initial theatrical release plan was far more tenuous than it seemed, since moviegoers these days seem more inclined toward being awed by superheroes and animated remakes on the big screen, rather than straightforward laughs.
Nearly a decade later, comedy has mostly ceded its once-lucrative box office fortunes to the enduring comic book movie and animated genres, with the most successful "pure" comedy movie of 2019 being coarse kids ensemble piece Good Boys, which resides all the way down at #69 in the worldwide box office that year with $111 million. While that number seems to reflect a bleak state of affairs (one that's only worsened in 2020), it actually only tells half the story, since comedies have found a more welcoming home in the streaming sphere, and comedies that were anemic at the box office such as director Olivia Wilde's crude critical darling, Booksmart, have been able to cement a place in pop culture by way of streaming and VOD. Auspiciously, Coming 2 America's new home of Amazon Prime Video recently released a comparable long-awaited sequel to a cinematic hit of yesteryear in Borat Subsequent Moviefilm, which managed to dominate the global conversation—perhaps mainly due to its signature showcasing of prominent figures in unforced errors—and has attained a level of visibility analogous to a theatrical release.
However, in what has become a common observation of streaming releases, the monetary metric of hard cash has given way to nebulous notions like "viewing minutes," as notably exemplified by the aforementioned Borat sequel's recent cracking of Nielsen's Streaming Top 10 at #8 with 1,570 minutes—a success, but hardly the dominant position one might have guessed, given its ubiquity throughout the October news cycle. Yet, it has become apparent that comedies now thrive by playing the long game, and Paramount's move of shifting Coming 2 America safely away from the inevitable theft of Christmas oxygen by Wonder Woman 1984 to the first quarter to 2021 seems to reflect that notion.
Thus, freed from the performance pressures typical to theatrical distribution, the March-scheduled streaming release of Coming 2 America will give the film time to organically build a wider audience of curious newcomers and nostalgic nerds who still karaoke "The Greatest Love of All" with Randy Watson's Sexual Chocolate swagger. That, of course, is a good thing.