Features
Christmas Movies on Disney+ Streaming Guide
If you are ready to ring in the holiday season with Mickey Mouse, here is a guide to the Christmas movies on Disney+!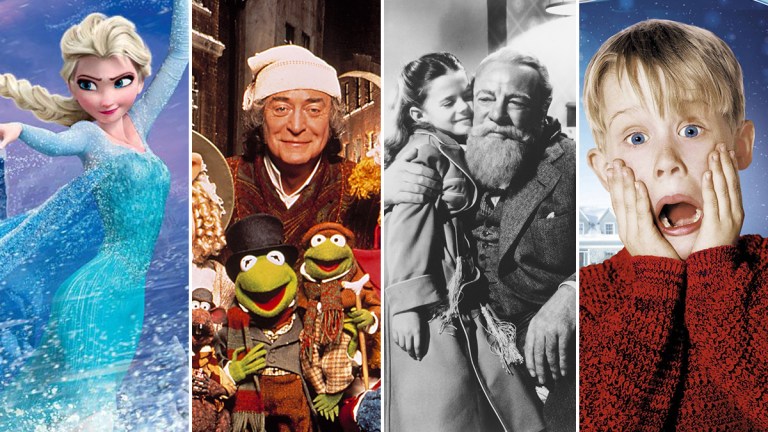 Like frozen fractals spiraling all around, winter is here once more, and with it is the most wonderful time of the year. Tinsel is being strung around trees, cookies are in the oven, and millions are practicing the hazardous art of exterior illumination. When the days are short, and the nights long, it's the perfect time to lean into family tradition, and maybe watch a traditional classic movie or two.
Of course with everyone glued to the nostalgia emanating from what is sure to be a new family tradition—Disney+—you might be wondering what holiday gems are hidden in its streaming bag of goodies? Well, we're here to answer that question and offer you a recommendation on the best holiday cheer to be had in the Mouse House.
Miracle on 34th Street (1947)
The original (and best) version of Miracle on 34th Street is not technically a Disney movie. At least not initially. Produced by 20th Century Fox and released in the height of summer for some inexplicable reason, Miracle on 34th Street soldiered through its odd rollout to become one of the greatest Christmas movies of all-time. Centered around the eccentric premise of a mall Santa Claus believing he actually is Father Christmas, this family dramedy is aided invaluably by Edmund Gwenn's grandfatherly, if hardly absent-minded, Kris Kringle.
He is here to turn the lives of Macy's executives upside-down and teach them the meaning of Christmas. And at the top of his Naughty-to-Nice reclamation projects is Maureen O'Hara's Doris Walker, who is teaching her wee small lass of a child, Susan (Natalie Wood), to grow up never believing in Santa Claus. Well, Mr. Kringle has plenty to say about that, and more when he is taken to court and nearly committed for believing he's Santa. But whether you buy his act or not, there's plenty of magic already there, like in the scene when he sings in Dutch to a little girl orphaned in the war.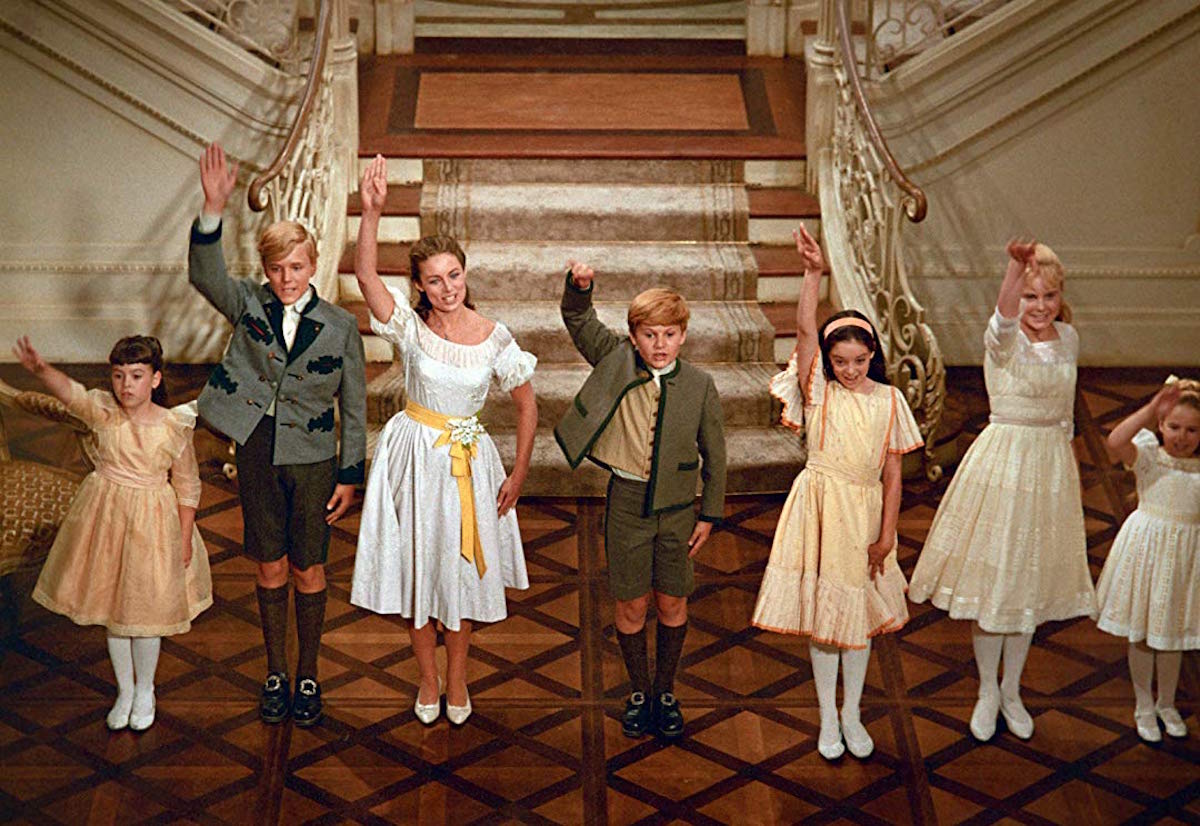 The Sound of Music (1965)
A movie that has sold more tickets than almost any other film ever made—only Star Wars and Gone with the Wind were seen by more people in theaters—The Sound of Music is a musical epic that's as endearing as it is saccharine. With a sweeping plot that documents in the rosiest of tints, the Von Trapp family growing up on the eve of World War II in the Austrian Alps, this is an all-time classic from 20th Century Fox because of its wholesomeness, and because of its many great songs belted by Julie Andrews.
read more – Christmas Movies: A Complete Streaming Guide
In fact, one of them has become a Christmas classic. "A Few of My Favorite Things" is actually sung by Andrews' Maria during a thunderstorm, and not Christmastime. But her inflections about "girls in white dresses with blue satin sashes, snowflakes that stay on my nose and eyelashes" are so joyous, it could only live on during the most joyful month of the year. And the movie does indeed mark the holidays, and every other major event in the lives of the Von Trapp family's six children that sees a nun go from being their nanny to their new stepmother, spiriting them away from the Nazis. Happy holidays, kids!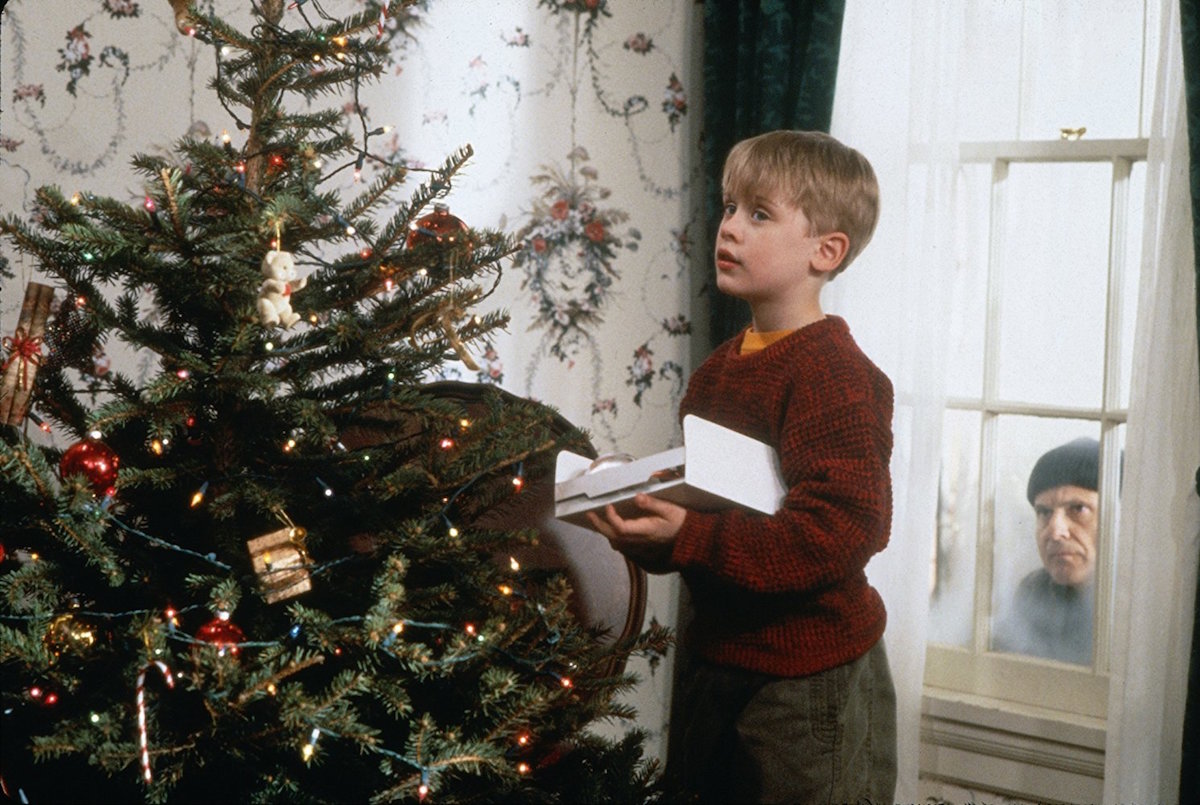 Home Alone (1990)
Another holiday classic from Fox, Home Alone remains a millennial touchstone for this time of year, and a gift that keeps on giving. Yes, everyone remembers the end where Macaulay Culkin tortures two bumbling goons (Joe Pesci and Daniel Stern) as if they're Elmer Fudd, but the movie has a lot more going for it than just slapstick sociopathy. Indeed, when Kevin McCallister isn't being a sadist, this film has an earnest appeal about celebrating the fantasy of a kid living by himself at home.
When his parents leave Kevin McAllister home alone for Christmas—it was an accident!—he has a luxury house to himself that he lounges about as if it were a giant playground with free ice cream, pizza, and R-rated movie viewing parties. Things go a little pear-shaped though when crooks try to rob the joint, but he handles that in glib fashion, all while sweetly pining for his mother. In fact, as you get older, Catherine O'Hara's trials and tribulations to get back home to her baby boy in time for Christmas are as amusing as Kevin's hijinks. (John Candy! Polka music!! Polka Christmas music!?!) But probably the reason this is a real classic has a lot to do with John Williams' eternally heartwarming score.
Home Alone 2: Lost in New York (1992)
A prime example of a sequel just doing the same thing again but to lesser results, Home Alone 2 is nowhere near as good as the movie that spawned it. However, Lost in New York has its charms. For starters, once Kevin accidentally gets on the wrong flight in a sequence that is sweetly dated to pre-2001, he winds up checking into the Plaza Hotel. This leads to a mirthful new subplot involving Kevin outwitting hotel management, including a movie-stealing Tim Curry as the concierge. The film is also responsible for the groovy Darlene Love holiday standard, "All Alone on Christmas."
read more: The Best Christmas Movies on Netflix
Otherwise, yeah, it's pretty much the same movie with Kevin being even more sadistic on the crooks… even as he lets the biggest criminal of them all escape his grasp during Donald Trump's cameo.
The Muppet Christmas Carol (1992)
Michael Caine revealed the secret of playing Ebenezer Scrooge against Muppets is to act as if you're doing Shakespeare in the Park. By playing his humbugging, anti-Christmas malcontent completely straight, he gives a whiff of legitimate menace to a Dickensian adaptation that features Kermit the Frog and Miss Piggy as struggling Victorian parents.
read more: A Christmas Carol – The Best and Worst Adaptations
Okay, so it's not the best adaptation of Charles Dickens' timeless classic, but it is a sweet one with a nice message and a few good songs to accompany its silliness.
The Santa Clause (1994)
Tim Allen really was on top of the world in the 1990s, wasn't he? The star of ABC's popular Home Improvement sitcom, and just a year away from becoming a Pixar legend in Toy Story, Allen could get any family entertainment greenlit. Thus enters Disney's The Santa Clause, a movie that posits "what if Tim Allen became Santa?" That's pretty much what happens when Allen's schmo-y Scott Calvin inadvertently is responsible for the death of the previous Santa who slips off his roof.
Read more: Why 2003 Was the Last Great Year for Christmas (Movies)
The consequence of Scott's mistake is he puts on the red and white outfit to finish Santa's sleigh ride that night, much to the delight of his son Charlie (Eric Lloyd). Little does he know that by donning the suit, he has entered into a "Santa Clause" which means he becomes the big guy—literally so as he gains 100 pounds of weight and a white beard overnight. It's still amusing now, but our favorite bit will always be David Krumholtz as the no-nonsense North Pole elf from Brooklyn.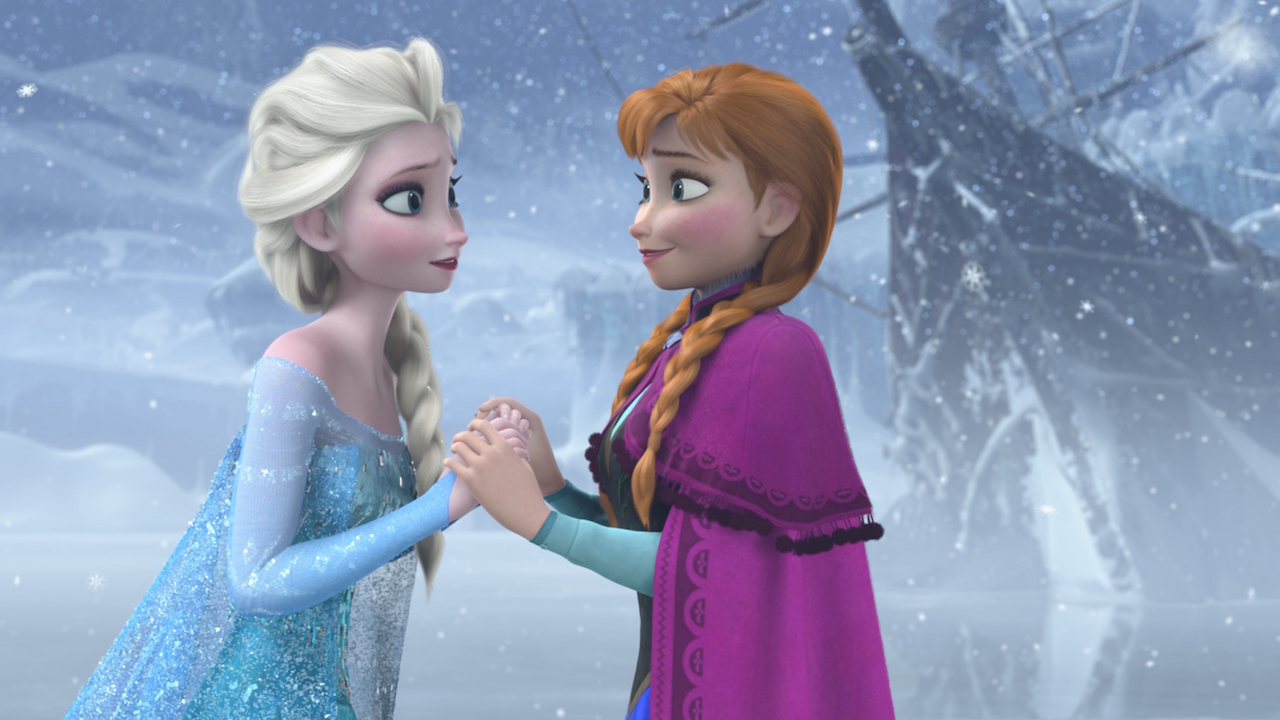 Frozen (2013)
Frozen, an animated movie you might have heard of, technically takes place during summer. But it sure doesn't feel that way after Queen Elsa freezes the fjord and belts songs about the snowmen she and her sister want to build. Indeed, there is hardly a more festive film for the holidays than this celebration of self-love and familial love. Rather than being the story of a princess falling for a prince, Frozen is about the love between two sisters, Elsa (Idina Menzel) and Anna (Kristen Bell), and how that bond can transcend fear, isolation, and lifelong trauma like losing your parents at an early age.
read more: How New Elsa Songs were Crafted for Idina Menzel in Frozen 2
Fairly sophisticated stuff for an animated movie, Frozen became a bona fide classic in large part due to its songbook by Robert Lopez and Kristen Anderson-Lopez, with "Let It Go" standing out as an anthem for self-empowerment and the realization of identity. And if you overlook the fact you heard that song probably five thousand times, it still has that same resonance, which is why children are drawn to its message, as well as Elsa' irresistible ice powers brought to dazzling life. When you factor in Anna's own awkward charm, the power the two radiate together is warming in any season.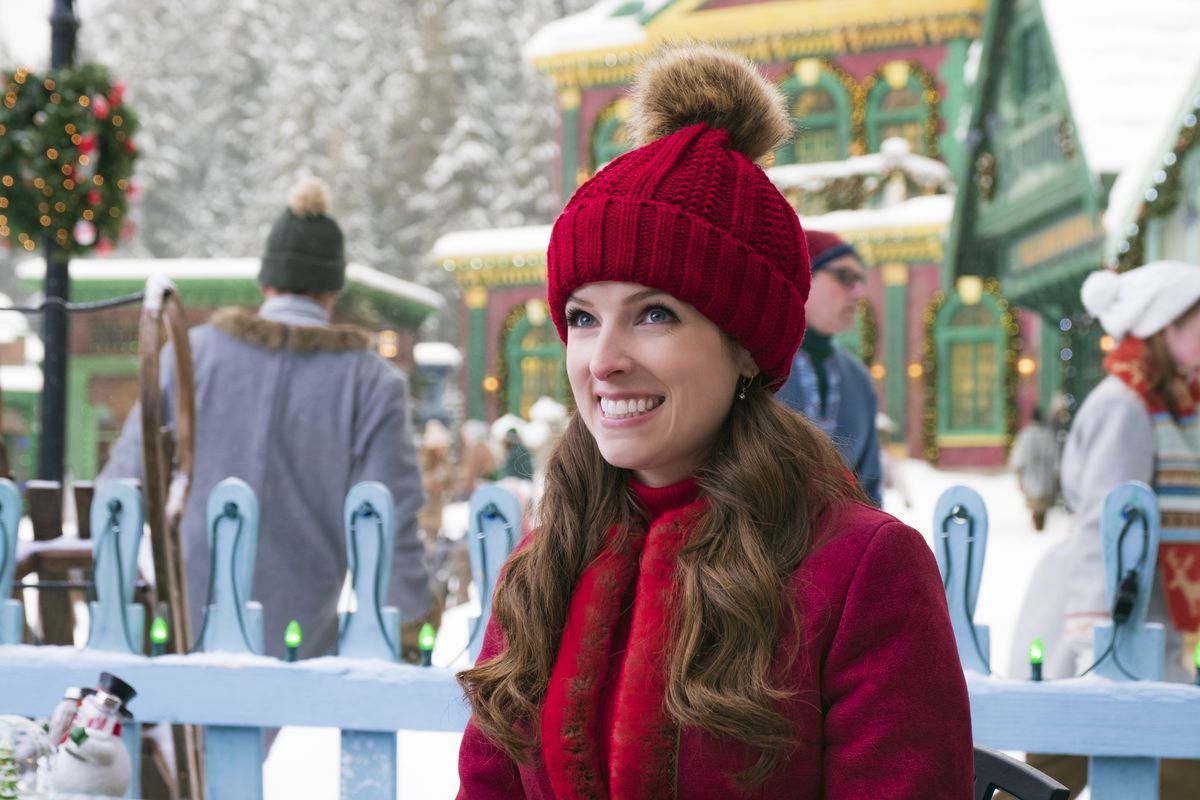 Noelle (2019)
We've seen movies about Santa's wife and Santa's brother, and a trilogy about Santa's murderer claiming his job, but what about one focused on… Santa's children? Such is the appeal of Noelle, one of the first films ever developed exclusively for Disney+. Written and directed by rom-com stalwart Marc Lawrence, this is a film about the difficulties in assuming the mantle of Santa Claus. Ostensibly that duty must fall on the latest Santa's son, Nick Kringle (Bill Hader), but after he goes AWOL, it will become Noelle Kringle's (Anna Kendrick) responsibility to find him and perhaps assume the title of Santa.
Grab a FREE TRIAL of Disney+, on us, right here!
It's a pretty silly premise, but Kendrick and Hader are both winsome personalities who tend to elevate any material they're given, and there might be something refreshing of the North Pole being viewed from the perspective of Noelle instead of St. Nicholas. With that said…. We haven't quite gotten around to loading it up on our Disney+ yet either.
Other Christmas Movies on Disney+
Beauty and the Beast: The Enchanted Christmas (1997)
Home Alone 3 (1997)
Mickey's Once Upon a Christmas (1999)
'Twas the Night (2001)
The Santa Clause 2 (2002)
The Chronicles of Narnia (2005)
The Santa Claus 3: The Escape Clause (2006)
Santa Buddies (2009)
The Search for Santa Paws (2010)
Santa Paws 2: The Santa Pup (2012)
David Crow is the Film Section Editor at Den of Geek. He's also a member of the Online Film Critics Society. Read more of his work here. You can follow him on Twitter @DCrowsNest.