Features
Chris Pine on Dungeons & Dragons and Playing "Real Humans Trying to Do Big Things"
Exclusive: The heartthrob and action star-turned writer/director talks joining a band of heroes for Dungeons & Dragons: Honor Among Thieves, Star Trek, and much more.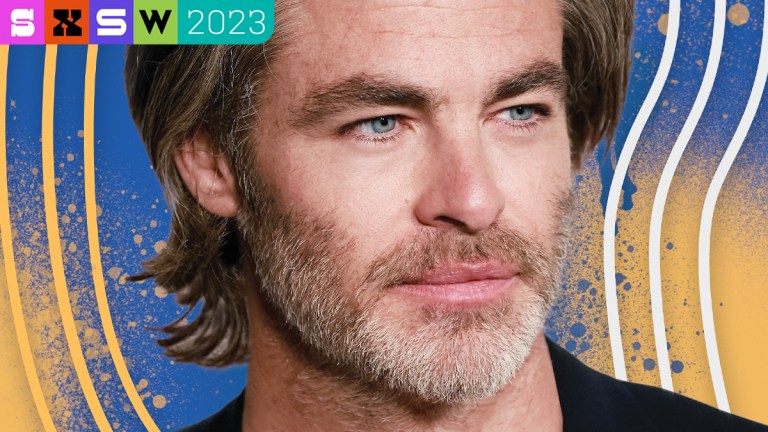 Chris Pine is not who you think he is. Sure, he's the handsome, blue-eyed actor famous for roles combining action, intensity, and charm in Star Trek, Wonder Woman, and Into the Woods. But beneath the movie star is a man who grew up with deep insecurities. He loves his job and talking cinema but doesn't enjoy talking about himself and would rather be drinking coffee and reading than being interviewed.
It is Valentine's Day morning when we speak via Zoom, just a few days shy of the 20th anniversary of the E.R. episode "A Thousand Cranes," Pine's 2003 onscreen debut where he played a guy who got drunk—at a blow-out Valentine's party. The publicity machine is revving up for Dungeons & Dragons: Honor Among Thieves, his action-adventure vehicle based on the tabletop fantasy game, but he's also thinking of his directorial debut Poolman, which consumed much of 2022 and left him "wonderfully spent." He becomes excited discussing a screening of the "thought-provoking, brave, multi-layered" Tár he attended the night before with a panel including star Cate Blanchett, writer-director Todd Field, and Los Angeles Philharmonic conductor Gustavo Dudamel.
Pine's passion for acting might surprise those who relegated him to rom-com himbo status after his first film, The Princess Diaries 2: Royal Engagement (2004) or Blind Dating (2006), and before his star-making role as James T. Kirk in J.J. Abrams' Star Trek in 2009. It is also surprising, considering Pine wasn't even interested in acting before attending University of California, Berkeley, even though it runs in the family.
Pine was born in Los Angeles in 1980, the son of two actors. His dad, Robert "Buzz" Pine, is a character actor best known for co-starring in the late 1970s series CHiPs. After two decades of work, his mom Gwynne Gilford retired from acting and became a psychotherapist in the late 1980s. Her mother, Anne Gwynne, was an early scream queen in the 1940s, acting alongside Boris Karloff, Bela Lugosi, and Abbott and Costello.
Yet Pine suffered from debilitating acne as a teen, was shy, felt alone, and dealt with years of feeling "not being good enough." Before graduating in 2002, Pine found a community in the Berkeley theater department. He was told he had talent, and as his acne cleared up, people called him handsome, which was edifying—even though it felt "so odd." He viewed the rom-com jobs as ridiculous considering when he first began, he thought he'd be playing "wacky, fun, creative characters," which he eventually did with action comedy Smokin' Aces in 2007.
However, 10 years after The Princess Diaries 2, Pine slipped back into royalty as the good-natured but womanizing Prince in the 2014 musical fairytale send-up Into The Woods, the same year he appeared in action thriller Jack Ryan: Shadow Recruit and comedy Horrible Bosses 2.
By the time he took a supporting role as Steve Trevor in the Gal Gadot-starring Wonder Woman in 2017, Pine had been established as a leading man. He says he tends to gravitate towards "real humans trying to do big things" and has made interesting career choices, such as with Oscar-nominated crime drama Hell or High Water. And he continues to balance thrillers like All the Old Knives and psychological dramas like Don't Worry Darling—where he plays a charismatic villain—with blockbusters like Dungeons & Dragons.
Twenty years after that E.R. debut, Pine discusses the roles that shaped him, who first took notice of his range, and what he's looking to tackle next.
Den of Geek: You've played characters that are charming and maybe a little cocky. If you played them just slightly askew, they would be unlikable or arrogant. Is that a skill you actively tapped into, or did it come naturally?
Chris Pine: I wish I could say I'd spent more concerted time thinking about it. Why it works, I'm not sure. I think, like most things, humor oftentimes is used as a deflection or the weapon of people who are insecure. It is a good crutch. Maybe it's because it comes from my own years of insecurity and dealing with my own feelings of not being good enough.
What did you take away from working in the rom-com genre early in your career?
It was so early in my career; it was mostly just getting used to working. I wasn't even actively thinking about romantic comedies, other than I was so new to working on a film set. I think the first couple of jobs, I was just getting used to the giant machine. What is the day like on the set? What's expected from you? That's what I was most worried about. In hindsight, I guess what I learned? They are based on two things: the chemistry between the two leads romantically and comedy. So I can't do much about people buying the romantic chemistry, but I certainly can do something about the comedy of it. I think in those early couple of films, I was probably exercising. Having watched a lot of Cary Grant growing up and thinking [about] what physical comedy looks like, what beats look like, how to play a moment, and comic timing.
Did you encounter a director early on who saw your range and potential and knew you weren't going to be relegated to that genre?
That's a good question. I hadn't thought about it. I guess my gut would say, "Not really." You know, in those early films, I think I was being cast because I probably looked the part, which is so odd to me because I was very insecure about my looks growing up. So to be cast as the handsome prince or whatever was ridiculous to me. I think the first person that took me seriously as someone that could act or do different things was probably [director] Joe Carnahan in the film Smokin' Aces, where I just got to play what I always thought I'd be playing when I got involved in the business, which is wacky, fun, creative characters instead of the more bland milquetoast version of a human being.
You were still getting the rom-com roles, so did you think Smokin' Aces—where you play one of these tweaker neo-Nazi hitman brothers—would put you in a different direction?
I had to fight for the part, which I loved. I love that I had to prove to Joe I could do it. I was so thankful at that point to just get to play something interesting and use my imagination to create a character. And yeah, maybe I thought people would see it and say, "Hey, that guy can do X, Y, and Z."
That definitely didn't happen, but it didn't take away from the fact that I fucking loved playing that part. It was a real chance to disappear. When you're playing opposite Lindsay Lohan or Anne Hathaway, part of the work is you just have to show up and be handsome or something. As I said, since I didn't feel that inside of myself, I felt like a fraud. Whereas, you know, when you get to shave your head, put on tattoos, and play a fucking freak that was like, "Oh, well, that feels more like me. That's something I can do." I had great joy doing that.
Two and a half years after Smokin' Aces, Star Trek opens. That had to be a radical shift and unlocked the ability to move back and forth between comedy, action, and drama.
I think the big learning lesson of a film like that was—and interestingly I talked to Kevin Costner about this years later when I did Jack Ryan with him—is kind of the art of the leading man. It is in the same archetypal landscape as the romantic foil in a romantic comedy, but the biggest gift you can bring a part like that is bringing yourself to the part. I'm not creating a character so much as bringing myself to bear on the character, and so that requires a pretty, in many ways, a brave form of relationship with the camera where you're not hiding behind anything. It is a movie star role, and I had to learn how to do that and be comfortable doing that.
It ended up being a critical and commercial success, but stepping into an iconic role made famous by William Shatner had to be a challenge. Is fear a motivating factor for you?
Yeah, I guess so. I mean, you're touching on the old adage of whatever scares you is the thing you should do. I guess I would view it more as a challenge. I just co-wrote, acted, and directed in this film [Poolman], and I wasn't scared of it. I was invigorated by the prospect of doing something different. I guess I wouldn't look at it as fear so much that motivates me as much as I can feel if it is going to be something I want to dive into.
With Wonder Woman, you played a heroic character with Steve Trevor but didn't diminish the protagonist of Gal Gadot's Diana. What did you take away from the job?
There were definitely moments in the first one where I would be kind of on a rant, asking or getting into Steve Trevor's psyche or what was going on and realizing—from the impatient look in Patty Jenkins' eyes—that the movie is not Steve Trevor's film. The movie is Wonder Woman's film. Having been the lead of films myself, I could see my ego was coming out. I was kind of unwilling in those moments to let go of the fact I was not the first banana but the second banana. There was great humility in learning the joys of being number two and the joys of supporting someone else's journey and flight.
In many ways, Steve is a version of Kirk, and these characters I like to play. In an era of superheroes, I have found my niche playing characters that aren't fabulously successful or aren't incredibly, supernaturally talented. They're fallible, normal human beings trying to be extraordinary.
You starred in, and executive produced with Patty Jenkins, the television miniseries I Am The Night. Is TV something you'd be willing to do more of?
Yeah, I'd have no problem doing that if something was good and interesting with a filmmaker I enjoyed. Just like cinema projects, I hope it would be shot on film instead of digital. I'm still a romantic at heart when it comes to being an actor on the big screen, especially having seen Tár last night at the Geffen Theater at the Academy Museum, which just reminds you of the power of the projected face on the screen. I don't want to give up on that.
You joined Dungeons & Dragons: Honor Among Thieves in December 2020 and filmed Spring and Summer 2021. What was it about this big-budget film that drew you in?
I respected the guys, [directors Jonathan Goldstein and John Francis Daley]. I liked the story [by Chris McKay and Michael Gilio]. I knew this character played to some strengths that I have. And knowing I was going to work opposite Michelle Rodriguez was exciting. And so in terms of how it's going to be perceived, I have definitely learned after my time doing bigger budget things you can't control that.
How does the Dungeons & Dragons role fit within the scope of other characters you've played?
It seems to fit in nicely with the kind of characters I seem to like to play, which are normal dudes that task themselves with doing big things, even though they may not be good at it, or don't have special powers, or don't believe in themselves all that much. I haven't ever played a character with extrasensory, special powers. I seem to like playing real humans trying to do big things. So I think it's all in line.
What challenges are you still seeking?
I have to say, I really enjoyed my time directing. I enjoyed writing. And I began the year maybe in a sort of post-movie depression, having finished my film, which took up all of last year and left me feeling wonderfully spent but spent nonetheless. I'm looking for something that requires the same kind of focus and drive and is close to what I just came out of. And I don't know if that's going to be writing something or directing something, but if I'm going to act in something, I'm going to have to want to do it with an actor or artists I want to work with.
Does that mean you see a path where you'd be ready to transition entirely to writing and directing?
No, I actually can't. I can't see myself just directing. I had a lot of fun doing both. And I think I liked it because there was no chance to sit down. If you're acting, you're waiting a lot. If you're directing, you're waiting a lot. But if you're acting and directing, you're not waiting at all. I really, really loved it. But I love my job too much. I'm not ready to give up acting, and I want to act for the rest of my life.
Dungeons & Dragons: Honor Among Thieves opens in theaters on March 31.