Features
Why D&D: Honor Among Thieves Is Ditching Tolkien for Princess Bride
Exclusive: Chris Pine, Sophia Lillis, Hugh Grant, and the rest of the cast and crew explain how Dungeons & Dragons: Honor Among Thieves is trying something different with fantasy.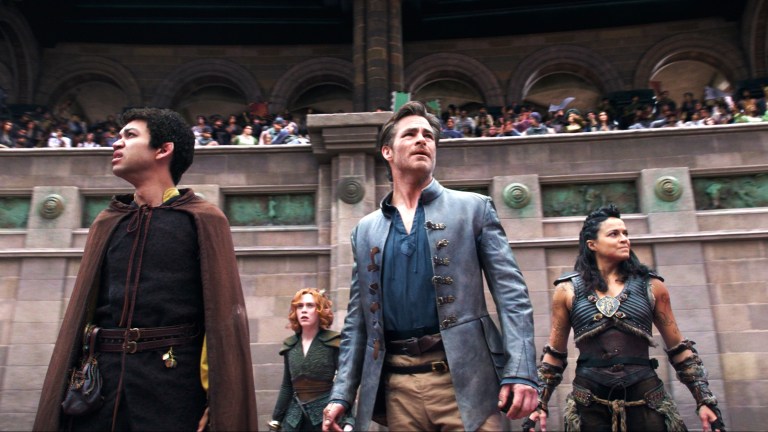 The first time producer Jeremy Latcham came to San Diego Comic-Con, alongside Kevin Feige and the rest of the early Marvel Studios team, he wasn't even allowed inside of Hall H. None of them were. In that strangely arcane moment from recent pop culture past, Marvel Studios' gambit to go it alone was dubbed by the trades as "Marvel's B-Team" in San Diego—a studio that wanted to make solo movies about Iron Man, Captain America, Ant-Man, and the Hulk looked pretty silly back when SDCC's biggest stage was reserved for the likes of Spider-Man 3.
The reaction that Latcham saw then, before going on to help produce much of Marvel's first and second phases, looks very little like the reception Dungeons & Dragons: Honor Among Thieves received in 2022. With SDCC finally back to in-person gatherings, Hollywood's first seriously budgeted attempt at a Dungeons and Dragons movie brought the big guns: stars like Chris Pine (Star Trek, Wonder Woman), Michelle Rodriguez (Fast and Furious), Regé-Jean Page (Bridgerton), Sophia Lillis (It), and Hugh Grant (every one of your favorite rom-coms from the '90s, and probably the 2000s too) were on hand to join the producer and writers-directors John Francis Daley and Jonathan Goldstein in revealing Dungeons and Dragons: Honor Among Thieves to the world.
If you've seen the trailer (viewable below), you can already tell it's a departure from what is the current high fantasy zeitgeist, which can best be described as the self-seriousness of J.R.R. Tolkien's Lord of the Rings and the bleak funereal quality associated with George R.R. Martin and Game of Thrones. According to the Dungeons & Dragons filmmakers, who Den of Geek interviewed backstage after the SDCC panel, this was by design.
"If you look at all those things, they're very set in stone," Latcham tells us. "You're not going to change Lord of the Rings. It's been written by Tolkien and it's done. This is it and this is what happened and this is the story and these are the beats. There's not much malleability there… So I think the thing that makes us different is we get to tap into that but we don't have to go, 'Well this is what happens and we have to speak exactly in this way and exactly in this kind of cadence and this kind of version of the English language. We can make people talk like they talk today, because people were playing D&D yesterday on a new campaign, and they talk like a kid from Jersey, and they talk like a kid from California, and they talk like a kid from Oklahoma."
Multiple generations of kids have grown up gathering around the table and creating their own adventure—many of them going on to become their own storytellers and even filmmakers. Take the D&D directors Goldstein and Daley, for instance. Each grew up playing Dungeons & Dragons as a child—although much to Goldstein's chagrin, his older brother would always go out of his way to kill him off in the first 30 minutes of the campaign. Nevertheless, it was a cornerstone of their sensibilities as storytellers, including when they wrote the screenplay for Spider-Man: Homecoming (2016) and directed Game Night (2018).
Yes, they have a deep affection for D&D and want to bring back some of the mischievousness of sitting around a table at 3am with your friends. When we also note they grew up during a time when high fantasy looked more like The Princess Bride than Lord of the Rings, Daley agrees.
"I think finding levity in these situations is the best," the director says, "especially when the stakes are so high. Giving the audience permission to laugh and catch their breath is something that's really important to us without undermining the stakes or taking the piss out of the genre, because that was very important to us as well."
We saw those dueling yet complementary extincts at play in the clips that were screened exclusively for the Comic-Con faithful in San Diego Thursday afternoon. In the first Hall H clip, the film's central heroes are led by a dashing Pine as the campaign's leader. This collection of rogues has just arrived to a spooky cemetery where the dead from a nondescript battle were left to rot for centuries. The atmosphere is drenched in dread when the wizard-like member of the group (Justice Smith) tells the others that the dead hold the secrets they need—but each corpse they unbury and raise from his eternal rest with a spell will answer only five questions.
"Why five?" asks Lillis' elvin character, cutting the tension to ribbons. "Seems arbitrary." Indeed, the perfunctory nature of necromancy proves to be a wellspring for humor. Each dead body they exhume rattles off answers about the battle in which they died—many of them put to the sword after the sight of a dragon breathing hellfire from above (as hinted in the trailer). Still, the first one barely answers any meaningful questions as Pine, Rodriguez, and Smith squabble among themselves, confusing the poor corpse like it's an Abbott and Costello routine and no one knows who's on first.
The second undead zombie? He died five seconds into the battle. So, as a courtesy, they put him back to rest by asking obligatory icebreakers such as do you like cats? "Not really." What's two plus two? "I was never good at math." And so it goes.
But lest you think this is pure comedy, the second sequence screened only for Hall H attendees features a villainous Grant feeding our hapless heroes to a gladiatorial arena that should look very familiar to old school D&D players. From the arena floor rises a dense maze swarming with griffin-like fantasy creatures—panthers with tentacles each featuring a gaping mouth on the end. Men, women, and so many red shirts die brutally before these creatures' claws. Meanwhile Lillis' heroine finds a chest and opens it, discovering a helpful sword item. Conversely, Rodriguez is in greater peril than ever when she does the same and discovers a monstrous tongue.
Such designs speak to a true universal affection for the mechanics of D&D role playing. Lillis, for one, recounts how she loved playing Dungeons and Dragons in her first high school so much that after she transferred, she continued returning to her original alma mater to roll the dice of fate once more.
"I would take a 20-minute transit… to play D&D with everyone and my lab teacher," Lillis said at the panel. "And that was one of the most fun things I did in high school."
Meanwhile Pine confessed to Hall H that he waited until the ripe age of 42 to try Dungeons & Dragons out. After receiving initial overtures to do this movie, he contacted his D&D-obsessed nephew who loved the game and led the whole extended family on a massive campaign.
When we met Pine after the panel he adds, "We played for like four hours until my father had to leave for something. We had great fun, we laughed a lot, my nephew got frustrated because we weren't playing it correctly." While Pine hasn't planned his next family quest yet—he quips he just spent four months on a pretty serious D&D quest in Northern Ireland—he also suggests it's one game that everyone should try out.
"If there's one game that should be played in every high school across America, it's D&D," says Pine. "Because you can get the bully and the jock, and of course I only speak in John Hughes terms… but within 20 minutes they'll just forget who they are and have a laugh."
Still, laughter remains key, clearly, to Dungeons & Dragons: Among Thieves. As Grant confesses to us, he initially had little interest when he was sent the script and saw the title. And yet, as the actor notes, "It was so funny, and it's a proper piece of Monty Python [like] humor. Very British humor, I thought."
When we ask if the Monty Python tone is something he always wanted to do, Grant says, "Yes. I was raised on Monty Python. We used to set our clocks by it and repeat every sketch at school the next day, so that's all sort of deep in my DNA, and I feel like it must have been a very influential thing on the Jonathans who wrote and directed this film. I mean that dead bodies clip we played, you can't get more Monty Python than that."
Yet the appeal of this movie might be that we can't recall the Monty Python sketch where the chatty corpses were victims of astonishing dragon attacks, or served as catalysts to a story of sincerely epic journeys. In other words, there's still only one D&D.
Dungeons & Dragons: Honor Among Thieves opens on March 3, 2023.