Features
How the Bloodshot Cast Embodied Their Enhanced Characters
The supporting cast of Bloodshot say they'd love to keep exploring their technologically upgraded characters in a sequel.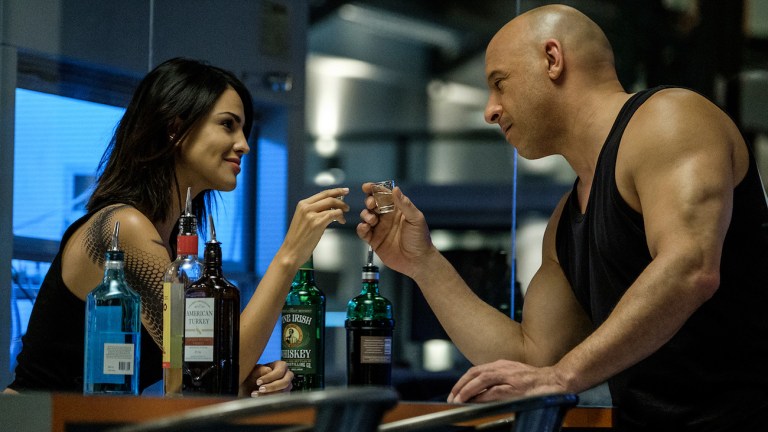 In the new superhero action film, Bloodshot, Vin Diesel plays Ray Garrison, a soldier who watches his wife die at the hands of brutal terrorists before he himself is killed—or so he thinks. But Ray is resurrected as a super-soldier thanks to "nanites," microscopic intelligent machines that have replaced his bloodstream and altered his memories. This process is thanks to Dr. Emil Harting (Guy Pearce) and his Rising Spirit Technologies.
Part of Harting's team at RST are his previous experiments—an enhanced combat unit consisting of Jimmy Dalton (Outlander's Sam Heughan), KT (Eiza Gonzalez of Baby Driver) and Tibbs (Alex Hernandez). When Ray breaks away from the control of Harting and RST, with the others in pursuit, he enlists the help of Wilfred Wigans (Lamorne Morris), a socially awkward but brilliant hacker who helps Ray in his quest to learn the truth about his past and take control of his life.
Den of Geek sat down with Heughan, Gonzalez, and Morris recently to discuss their roles in the film, which is based on the long-running Valiant Comics book. While Heughan's Dalton and Gonzalez's KT are original to the film, they are loosely inspired by Chainsaw, a relentless RST combat team in the comics.
"I based Dalton, the look and the feel of him, on some of the original Bloodshot pictures," says Heughan, who suggests that his character and Bloodshot are more similar than they may want to admit. "I wanted him to be almost of the same ilk, that he has this rage… the reason he's so angry with everyone and with Ray is that he's a great soldier, he's a Navy SEAL, and he's lost his legs, and he feels like he's been passed over. So yeah, he has a lot of rage about it, a lot of anger."
For Heughan and Gonzalez, the roles may not have required extensive research into the comics canon but they did demand a lot of physical training.
"Prior to going to South Africa I started training," says Gonzalez. "I had always been really physical. Even when I'm not working, I like martial arts. I like being dynamic and physical, and just challenging myself. It creates a really good discipline within my persona. So I dived into a couple of versions of it."
Gonzalez added that her fight scenes were different from the norm. "Funny enough, stunts for me, and especially in my fight scene if you see, it's more of a dance than actually like a fight," explains the actress. "So that was a tricky part. And then the jiu jitsu underwater, I had to really train with this incredible female [stunt person] who is a diver. She would do all the jiu jitsu underwater, and I eventually did it as well, and had to go underwater. So it was exciting. I learned a lot of different things that you never expect to learn in an action film."
Heughan's role also involved extensive visual effects that gave him both mechanical legs throughout the movie and additional robotic arms that sprout from his back. Of course on set Heughan is wearing special coverings on the bottom half of his legs ("the frog legs," Gonzalez calls them) that will allow them to be replaced via CG in the movie. "Yeah, I miss the green socks, actually," says Heughan. "But it was so funny, because Dalton thinks he's really cool, but really deep down, he's got green socks on."
The actor admits that seeing his finished cybernetic form onscreen is still a jolt: "Yeah, when it's all put together, that is the challenge of doing an action movie," he says. "You're in these fight sequences and you have to imagine these arms coming out, and you have to respond. When you hit someone and then react to it, and it's all happening super fast, you're in this fight sequence and you're imagining it, so it's crazy to get your head around. But once you've got it, it's so fun to play with."
While not all of the cast survive the movie, Bloodshot is of course based on a comic book; that means anyone can come back at any time. To a person, Heughan, Gonzalez, and Morris say they'd love to come back and explore their characters further if there's a sequel or even a Valiant Cinematic Universe. "I think that was the intention when we came into this project, was to expand this universe and find where it could go to," says Gonzalez. "Because you do see a little bit of our characters throughout the movie, but not the full effect."
She adds, "We would love to find and really make our characters our own and really find their own lives and inspire people, because I think, beyond anything, what I feel like people will relate to when they watch it, is that these characters feel like real people. It's a story of these ex-soldiers that came back to life. What does that mean? It's just not competing against superheroes; it's about what humans would be with an upgrade. I feel like that's a fascinating story to tackle."
Bloodshot is out in theaters now.
A quick note from our video partners at Soundstripe: All music in the Bloodshot video above is licensed from Soundstripe.com, which provides stock music for creators, with plans starting at $11.25 / month. For 10% off, use coupon code "DENOFGEEK10" at checkout.