Features
Why Bloodshot is Vin Diesel's First Starring Superhero Role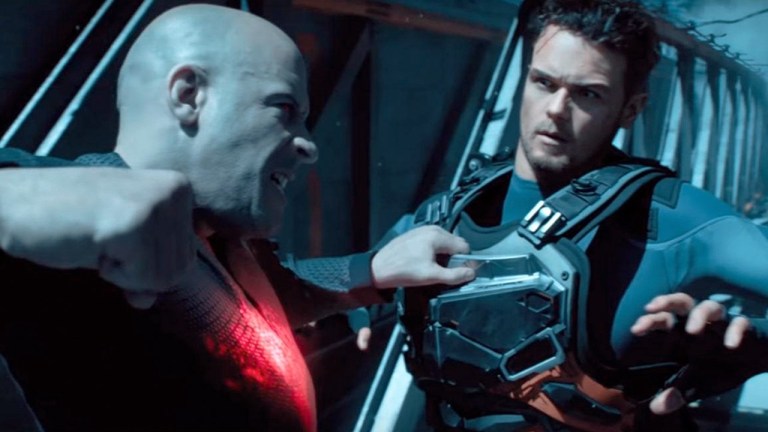 With a number of successful film series on his resume – the Fast and Furious movies, the Riddick trilogy and even a couple of xXx entries — Vin Diesel is practically a franchise unto himself. Yet, his voice work as Groot in four Marvel Cinematic Universe movies aside, Diesel has somewhat surprisingly never played a lead superhero in a movie ripped right out of the pages of a comic book.
Until now. Diesel stars in Bloodshot, an action thriller based on the Valiant Comics title about a technologically enhanced super soldier who struggles to remember his past life and keep himself from being manipulated by those who created him. The character and Valiant itself, while not quite having the cultural footprint of either the Marvel or DC rosters, have had a loyal following for years and may launch the next significant onscreen comic book universe if Bloodshot is a success.
Diesel himself acknowledges that his portrayal of a comic book superhero has been a long time coming. "You're right," he says. "It's only the second pre-existing character I've ever played. The diehard fans of Valiant comic books know why it's been awarded a New York Times best seller. The story is compelling in a way that is fresh in the superhero genre. It's such a fresh take on the superhero genre that it doesn't even qualify with our normal concept of superheroes."
The actor elaborates on what sets Bloodshot — whose real name is Ray Garrison — apart from his caped contemporaries. "Superheroes are usually from a planet of superheroes, or they wake up with some altruistic desired to save the world," he says with a laugh. "That's not Ray Garrison. Ray Garrison is living in a world, an imperfect world. Not just a flawed character, but an imperfect world. What is his heroism at the end of the day? It's simply trying to break free from outside manipulation and control."
As we mentioned earlier, Diesel is known for two of the most iconic action heroes of recent years: Dom Toretto from the Fast and Furious movies and the title character in the Riddick films. When asked how playing Bloodshot/Ray Garrison pushed him in a way that was different from playing Toretto or Riddick, Diesel's response was immediate.
"Those characters, both Dom Toretto and Riddick, we all appreciate that they're three steps ahead of everyone," he says. "This is not the case with Ray Garrison. He's the last to know anything. He is so in the dark. He can't even understand what's real and what's not real. He doesn't even know who's manipulating him. He doesn't even know that he is being manipulated. He's just going through a daily form of torture, in that he's reliving the most horrific moment of his life every single day."
That horrific moment, which opens the movie, is the kidnapping of Garrison and his wife by a band of brutal terrorists, a scenario which leads to both of them being killed. But as Garrison finds out when he wakes up again in the secret laboratories of Rising Spirit Technologies, his own death and that of his wife are part of a larger plan to control Garrison's mind and body.
"And what we learn is what it's in service of, but isn't that tragic?" Diesel says about the true driving force behind Bloodshot. "To be motivated to kill, all by pulling the heartstrings and breaking your heart every single second. That makes for a very vulnerable character. One of the things that was so interesting about playing the character, first coming and reading the script, was this kind of unique composition of a character that both evokes fear because of how formidable he is, but equally evokes empathy because of how vulnerable he is… the wish fulfillment is fun and exciting and rewarding, but you go through this movie and you start feeling so much for this character."
That, emphasizes the actor, is really what sets Bloodshot apart in the larger universe of comic book heroes.
"You're not going to superhero movies feeling empathy for them, but that's exactly what happens with Ray Garrison," he says. "Does it play with post-traumatic stress? Of course. Does it ask the question, are our soldiers sometimes overlooked and discarded? Does every soldier come home hoping that someone loves him? Hoping someone recognizes their sacrifices? Of course. These are real themes that are maybe not the most popular themes to talk about in society, and they live in this film. The testament to this film is that it's such an enjoyable experience, while giving you something to reflect on when you leave the theater."