Features
Deep Water: The Wildest Thriller Movies to Watch Next
They rarely make movies like the Ben Affleck-led Deep Water anymore, but erotic thrillers used to be big business at the multiplex.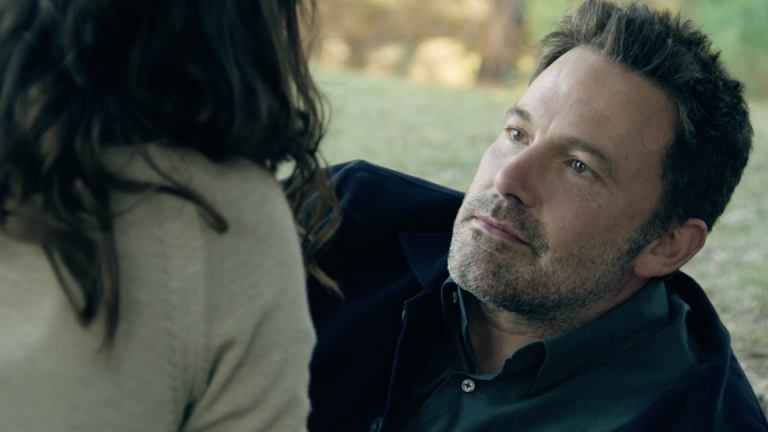 The Ben Affleck and Ana de Armas-starring Deep Water definitely feels like a throwback to a different time – one that specifically hit its peak before erotic entertainment was easy to access online. Erotic thrillers used to be a dime a dozen in the 80s and 90s, and they would often make a significant amount of cash at the box office, as audiences filled seats upon the mere suggestion that they would get to see notable movie stars doing salacious things to each other onscreen. But this type of project is now a very rare event in the mid-budget arena, and Deep Water has certainly got people reminiscing about the way things used to be.
Deep Water itself is helmed by Adrian Lyne, famous for the likes of 9½ Weeks, Fatal Attraction, and Indecent Proposal, and he shepherded it into fruition after a twenty year absence from the director's chair. If the film has got you feeling misty-eyed for a time of preposterously glossy lifestyles, heavy breathing, and very-much-requited sexy feelings, we've got a list of the best erotic thrillers to watch next!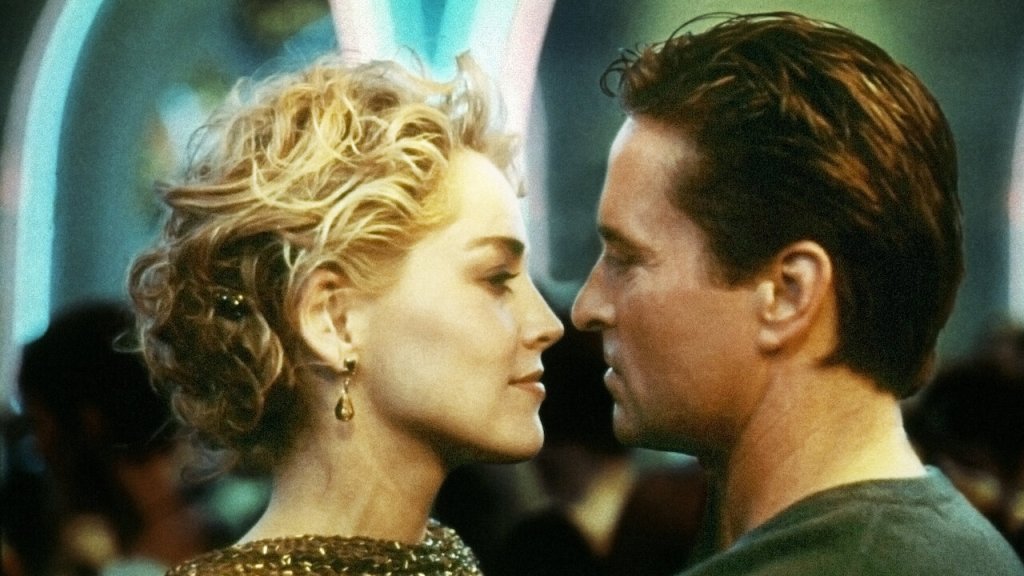 Basic Instinct
Paul Verhoeven and Joe Eszterhas' 1992 tale of a cop on the edge who gets involved with a sex-positive pulp author initially received mixed reviews from critics who thought the controversial movie's writing and character development were bad, but since bad writing and character development are par for the course in a solid erotic thriller (it's all just vibes!), Basic Instinct turned out to be a global smash hit.
Starring Michael Douglas in one of the most uncool roles of his long career (he wears a V-neck sweater to a nightclub at one point) and the refreshingly outspoken Sharon Stone, Basic Instinct tells the story of Stone's enigmatic writer – who may or may not be responsible for a string of violent murders – as she reels in Douglas' investigating former coke-fiend cop with her blunt feminine wiles. The film has since been declared a neo-film noir masterpiece by its fans, and a belated sequel arrived in 2006. Sadly, the erotic ship had already sailed.
Dressed to Kill
A quasi-love letter to Alfred Hitchcock's Psycho, Brian De Palma's Dressed to Kill hits all the notes: it's got sexual frustration to spare, beautiful people dodging blades, and it's problematic as hell.
The film starts out by following horny housewife Kate Miller (Angie Dickinson), who is trying to work out the root of her problems with psychiatrist Dr. Robert Elliott (Michael Caine). Well-worn tropes were still abundant in 80s era thrillers, so Kate is soon punished for her sexual promiscuity. We are then introduced to a new female character in sex worker Liz Blake (Nancy Allen), who finds Kate's body and catches a glimpse of the murderer, placing her right at the top of their kill list.
It should be noted that the film has not aged particularly well in the way that it treats its characters, and it also perpetuates transphobic myths. Retrospective thoughts surrounding Dressed to Kill have since led to De Palma himself reappraising its themes.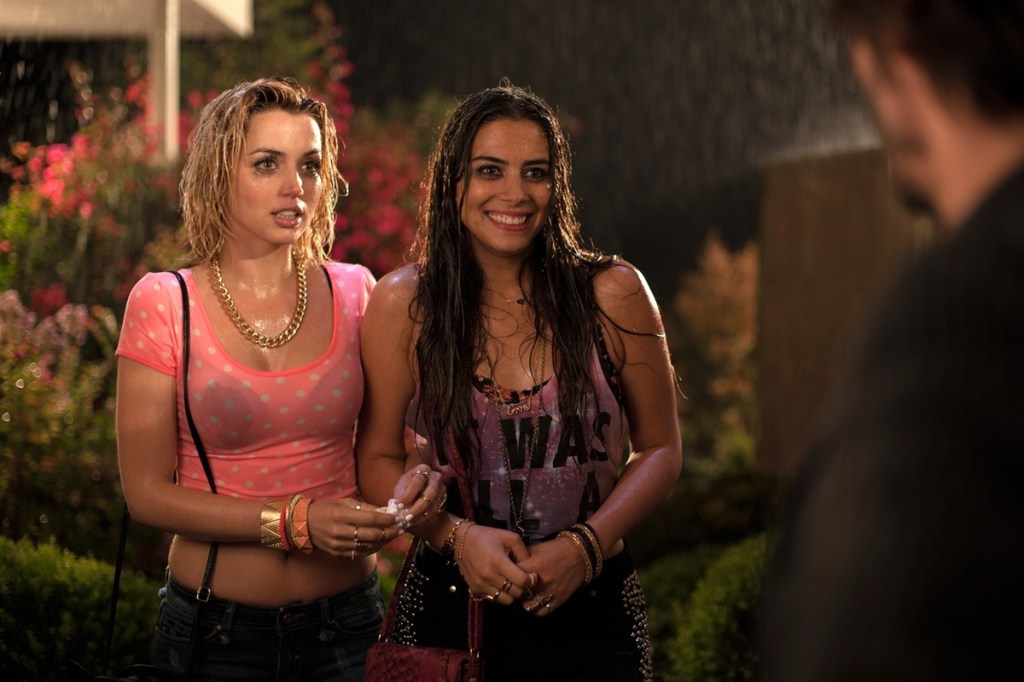 Knock Knock
Though Keanu Reeves has become known as an actor who can reliably carry a blockbuster action franchise in the likes of The Matrix and John Wick, he occasionally chooses challenging roles to mix things up, and Eli Roth's erotic thriller Knock Knock became one of them in 2015.
Co-starring Deep Water actress Ana de Armas and Roth's now ex-wife Lorenza Izzo, Knock Knock features the seductive pair rocking up to Reeves' house one night in dire need of assistance. The happily married architect is kind enough to help them, but eventually caves to their demands for a threesome while his family is out of town, and things soon get very, very ugly in the midst of his post-nut clarity. The film is a really fun watch from Roth, who was still largely associated with the often-turgid torture porn genre when it was released.
Fatal Attraction
Adrian Lyne's iconic 1987 erotic thriller Fatal Attraction was critically lauded (it became a rare erotic thriller to make the shift to positive awards season chatter) but also mired in controversy, which naturally made it a blockbuster at the box office. A movie filled with frantic sex, cries for help, and attempted murder, Fatal Attraction introduced the term "bunny boiler" into the lexicon, and for that it can never be forgotten or forgiven.
In this one, we have our happily married man Dan (Michael Douglas again, he must have loved doing this kinda nonsense) seduced by beautiful blonde Alex (Glenn Close). Dan and Alex's fling turns out to be anything but when she becomes obsessed with him and appears dead set on ruining his life. Though the movie has been a thorn in the side of anyone called "clingy" in a relationship since, it's still got the thrills to pay the bills 35 years on.
Bound
The Wachowskis made their pre-Matrix directorial debut with this sexy thriller starring Chucky franchise alumna Jennifer Tilly as Violet, a woman who is fed up with her mafioso boyfriend Caesar (Joe Pantoliano) and is desperate to escape his world, so when ex-con Corky (Gina Gershon) enters the picture, the two women are soon getting steamy and plotting to steal millions on their way out the door.
Though accused of having a superficial plot and using excessive violence (this is an erotic thriller people, what did you expect?) Bound was a stylish critical hit and is still a rare depiction of a realistic lesbian relationship within a mainstream movie. It also forged several key industry friendships, as cinematographer Bill Pope was hired to create the slick look of Bound for the budding Wachowskis after the original director of photography quit in protest, and he would continue working with the duo as they moved on to create the first three Matrix films.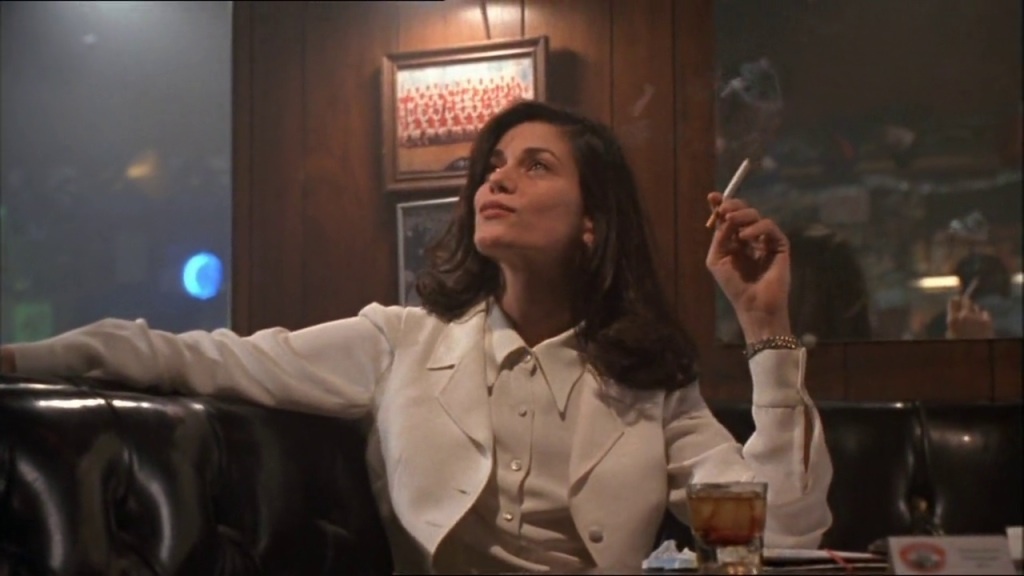 The Last Seduction
1994's critically acclaimed The Last Seduction was a super low budget affair and is yet another problematic erotic thriller to add to your list, albeit one that rather fantastically chose to forego picking a male lead during a time when that was the norm for the genre, and instead pitted the convention-free Linda Fiorentino against the world in a way that will make your teeth hurt for a long time after the credits roll.
The plot is complex and rooted in the neo-noir oeuvre, but it essentially frames bored telemarketing manager Bridget Gregory as the villain of her own story as she lies, cheats, and manipulates hapless men to achieve her financial goals. Bridget is disturbingly intelligent, sexy, and willing to pull out all the stops when screwing over her husband (Bill Pullman) and the rando she meets at a bar after stealing his money (Peter Berg). She is diabolical, and doesn't feel the need to reform either. The Last Seduction never blinks, and neither does Bridget.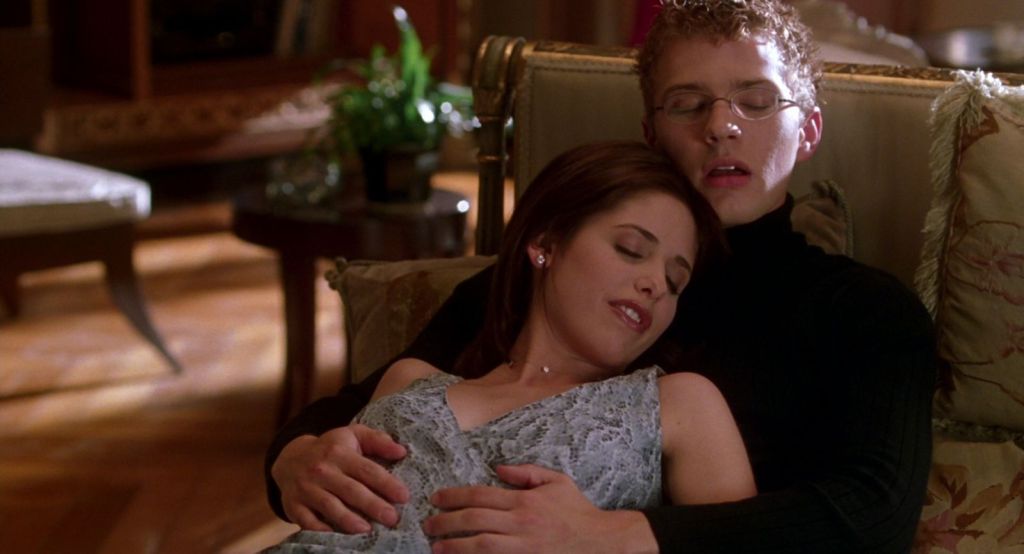 Cruel Intentions
Spawning a surprising amount of sequels, Cruel Intentions offered late-90s audiences a concept they couldn't resist: Buffy the Vampire Slayer herself (Sarah Michelle Gellar) getting raunchy in an updated adaptation of the 1782 novel Les Liaisons dangereuses. This updated version of the story features a gaggle of wealthy New York teens (Ryan Phillippe, Reese Witherspoon, and Selma Blair amongst them) who easily looked to be in their mid-20s at the time of filming.
In the movie, coke-sniffing prep school socialite Kathryn (Gellar) challenges her fuckboy step-brother Sebastian (Phillippe) to seduce the naive Cecile (Blair) in an effort to get revenge on her ex, promising him that if he manages it, she'll finally let him have sex with her. Yes, I did just say they were brother and sister – we can probably just blame the late 18th century French for this sort of plot outright.
Though Sebastian would rather go after his planned trophy of headmaster's daughter Annette (Witherspoon) he finally agrees to Kathryn's terms, sealing his own fate. What transpires next is hugely entertaining and extremely ridiculous Hollywood titillation of the highest order.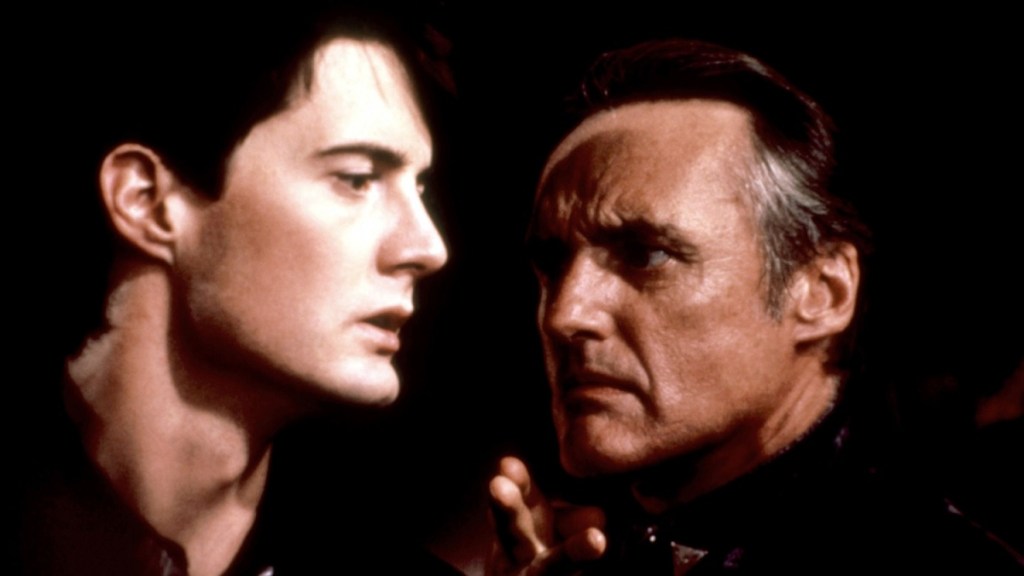 Blue Velvet
It's hard to think of "Blue Velvet" the song and not immediately think of Blue Velvet the film, as the two have become so inexorably linked since David Lynch's ground-breaking neo-noir thriller was first released in 1986. Anyone who still hasn't had the pleasure of viewing the cult classic, painted with Lynch's distinctively surreal brush, is still in for a real treat, as the film is as disturbing now as it ever was.
Starring Kyle MacLachlan as a good-natured boy called Jeffrey Beaumont, Blue Velvet is a potent, violently sexual film that follows Jeffrey's investigation into the appearance of a severed human ear found in a vacant lot, and descends into real nightmare territory as he begins to trace the mystery of the ear back to lounge singer Dorothy Vallens (Isabella Rossellini) and her unhinged lover Frank Booth (Dennis Hopper).
Pulling no punches, Blue Velvet spins a tale about the twisted, rotten underbelly of twee Americana, and is a masterpiece of cinema that won't be soon forgotten.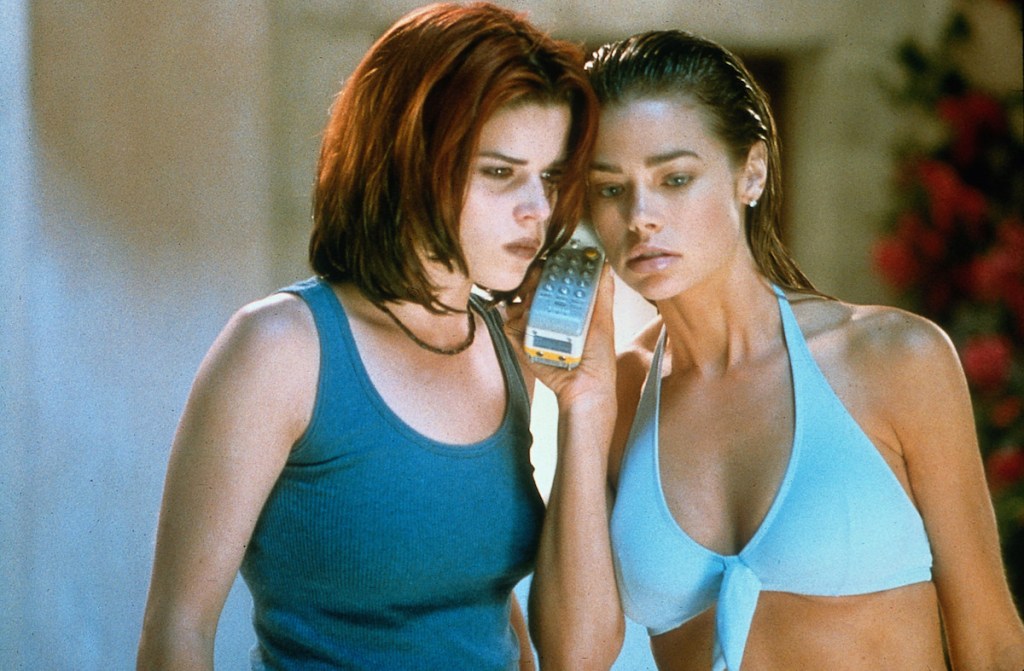 Wild Things
When guidance counselor Sam Lombardo (Matt Dillon) is accused of rape by two of his female students, he immediately hires a lawyer (a scenery-chewing Bill Murray) to refute the claims. The girls are a troublingly suspicious pair: wealthy, popular Kelly Van Ryan (Denise Richards), and poor, anxious Suzie Toller (Neve Campbell) both seem to be hiding something major about the incidents and, spoiler alert, they are!
Wild Things is filled with so many twists and turns that even star and producer Kevin Bacon described the project as "the trashiest thing he had ever read" but when you're looking for an erotic thriller to watch, those aren't exactly fighting words – they're more of an endorsement. Even Bacon concluded upon reading the script further that "every few pages, there was another surprise", which is exactly what you're signing up for here.