Features
Black Panther VFX Supervisor on Biggest Challenge for Modern Blockbusters
Weta VFX supervisor Chris White has some insight into what can make working on big movies even better.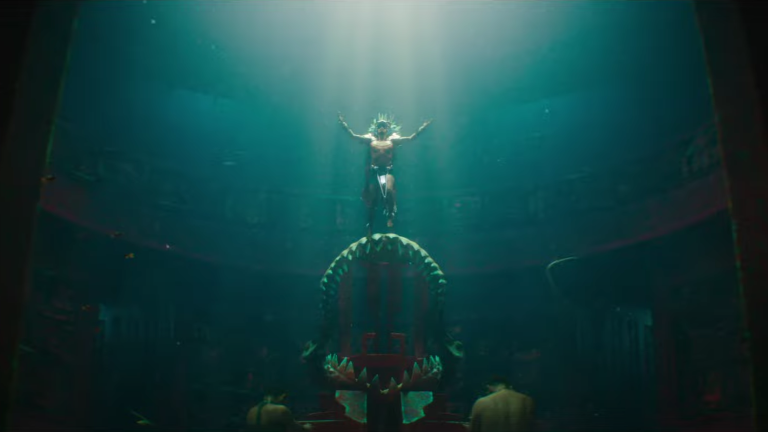 You may recall that there was a flurry of news stories and online chatter last summer about the state of the visual effects industry in general and its relationship with the powerful Marvel Studios specifically. Major outlets like CNET and Vulture published detailed reports in which VFX workers—most of them speaking anonymously for obvious reasons—talked about the brutal hours and stress-inducing deadlines that the neverending flow of Marvel product engendered, with many of them admitting that they were burned out, on the verge of leaving or already departing a field that they loved.
There's no question that a number of Marvel properties, ranging from Shang-Chi and the Legend of the Ten Rings to She-Hulk: Attorney at Law, have clearly suffered from distinct drops in quality visuals, a problem that has plagued many MCU titles. On the other hand, the latest MCU offering, Black Panther: Wakanda Forever, has some of the best VFX work seen in a Marvel property in a long time.
It should be noted that the problem isn't just with Marvel Studios, although that company is front and center because of the sheer volume of content it has generated over the last few years. Other films have suffered from the same issues.
Then there is something like Avatar: The Way of Water. James Cameron's newly released sequel to his already groundbreaking 2009 box office champ easily sets a new benchmark in terms of immersive and incredibly realistic CG work. Although some may quibble over certain creative choices, like shooting at a higher frame rate, The Way of Water inarguably makes the viewer feel like they've truly been transported to the moon of Pandora and are watching real inhabitants.
Chris White, a VFX supervisor at the legendary Weta FX in New Zealand, founded nearly 30 years ago by Peter Jackson and partners under the name Weta Digital, has had the good fortune career-wise to find himself working on both The Way of Water and Wakanda Forever over the past few years (he was involved primarily in all things Talokan and water-related on the latter).
"I was working on Avatar for years, doing all the development work, and then came to [Wakanda Forever]," White tells Den of Geek. "I'm very big into doing development as well as supervising shots. So I've been doing a mix of that for years. As a house, we geek out on the details, and all these projects want us to do that. So it's a similar thing of just digging in and understanding it. There are a lot of similarities in that sense."
While choosing not to delve into the issues that other visual effects craftspeople have raised regarding Marvel, White does say that working on blockbuster movies that are heavily reliant on VFX to tell their stories can be a demanding process.
"It can be intense, in the sense that there's lots of different stuff we're trying to do, where we are making creative changes to make it the best film that we can," White explains. "My personal experience, that I think was a good part of it, was that it was very collaborative in that sense. I was pitching ideas of how we could go through some of these shots and through some of these scenes, so while you do have that intensity [because] there's a lot of stuff you're trying to get done, you don't feel like those are just being sent to you to be done—you're actually in the process of it."
White credits Wakanda Forever director Ryan Coogler and Marvel visual effects supervisor Geoffrey Baumann with fostering a collaborative atmosphere, and adds that both Coogler and James Cameron are filmmakers who are looking to push their movies as far as they can go in terms of breaking new ground both narratively and visually.
"It's always good working with revolutionary directors who want to do that, and who are looking at every aspect of the experience," White explains. "We're doing effects, but they're looking at every little bit and every nuance. That's where you learn. With all of these projects, whether it's with Jim or Ryan, you learn and grow a bit more, because there's something that they point out that you might not have seen or thought about."
In the end, however, when asked how both studios and filmmakers can make the process of creating these wildly imaginative movies easier for the VFX houses and perhaps less stressful for the hundreds (if not thousands) of talented artisans who work on them, White says the answer comes down to one simple factor.
"I've been doing this a long time, since the '90s, and the collaborative process does help," he says. "[But] time is always the challenge. You just kind of run out of time. There's always more that could be done. So to make the process easier, I think it's always going to be related to time. How do we slice up our time? How do we divide up those questions and how do we find the answer we're looking for earlier? That's the thing I'm always looking at. It's like, what explorations can we do early on to solve those problems earlier? That's always the challenge. It's always time."
Black Panther: Wakanda Forever and Avatar: The Way of Water are both in theaters now.