Features
11 Modern Irish Masterpieces to Watch This St. Patrick's Day
This St. Patrick's Day watch some actual Irish movies made in this century!
When the Oscar nominations came out earlier this year, we saw the literal luck of the Irish (at least in terms of nods). For starters, British-Irish filmmaker Martin McDonagh's acclaimed black comedy The Banshees of Inisherin garnered nine nominations including Best Picture, Best Actor for Colin Farrell, and Best Original Screenplay. Additionally, the in-demand heartthrob Paul Mescal earned a Best Actor nomination for Aftersun while The Quiet Girl represents Ireland in Best International Feature, becoming the country's first film to do so.
It was a good day in January for Irish representation, although how things shook out later on Oscar night might be the flip side of that luck.
Nonetheless, to mark this particular occasion, along with St. Patrick's Day, below is a list of eleven recommended modern films that are at least co-produced by Ireland and which chiefly take place on the Emerald Isle for those who want to see more greatness that Irish cinema has to offer. If you're seeking a multitude of genre options to watch on the famed Irish holiday, safe to say you're in luck.
Calvary (2014)
If you thought Brendan Gleeson was terrific in The Banshees of Inisherin, be sure to see him in top form in Calvary, a different character study by a McDonagh brother equivalently about the theme of communication. Only instead of being the one confessing to a priest, this time around, Gleeson gets to play the priest.
Gleeson plays Father James, a priest whose world gets put into a tailspin when one day, an unseen man goes to confession and informs James of his plans to assassinate him, giving James a week to get his affairs in order. Since that fateful encounter, Father James attempts to connect to the townspeople for which he's meant to serve as an act of guidance, as well as his estranged daughter Fiona (a heartbreaking Kelly Reilly).
In its own profound and bleakly funny manner, Calvary begs the question of how, or whether, we truly listen when we're hearing someone close to us express their troubles. Along with the seriocomic sensibilities of John Michael McDonagh's screenplay, it is the meticulously layered performance from its leading man that really helps it soar.
Where to Watch in U.S.: Amazon Prime Video (to rent), Apple (to rent)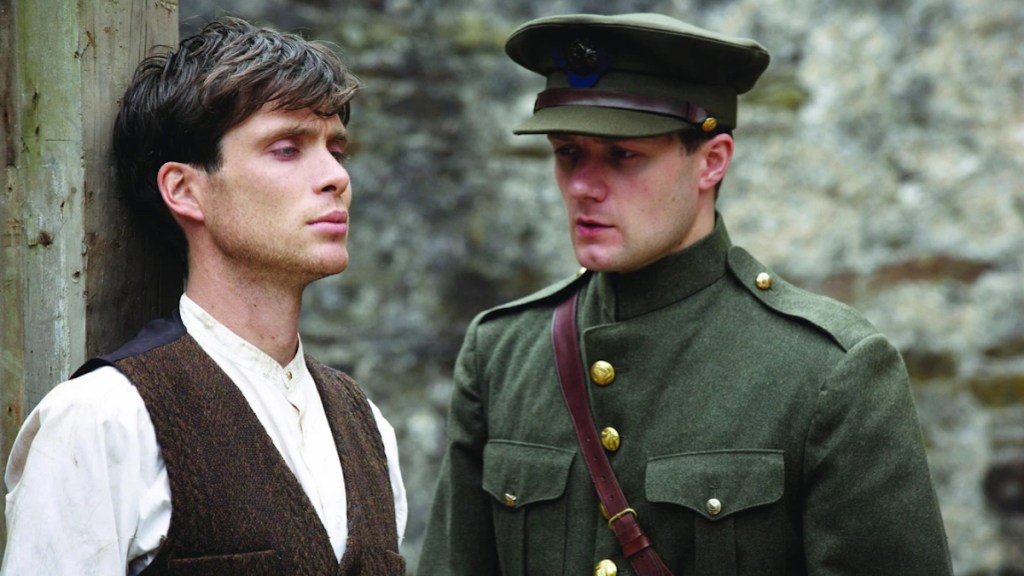 The Wind that Shakes the Barley (2006)
The wait to see Cillian Murphy in the hotly anticipated Oppenheimer is quite strenuous. Especially when considering we'll be waiting to see the Irish acting wonder in a rare leading role in a Hollywood picture. But to bide your time until then, and watch something to tie into the holiday, The Wind That Shakes the Barley is worth a sit.
Inspired by real-life events, the Palme d'Or winner follows two brothers who become torn apart by war. Both Damien (Cillian Murphy) and Teddy (Pádraic Delaney) O'Donovan join the Irish Republican Army (IRA) in order for Ireland to free itself from British rule. Yet when the Irish War of Independence ends and the Anglo-Irish treaty is signed—which forced most of Ireland to remain governed by the British monarchy—a new civil war begins with the brothers finding themselves on opposing sides. Jarring as the battle sequences may be, seeing a loving family bond get crushed in such a way is a painful highlight of the insidious nature of war in Ken Loach's masterwork.
Where to Watch in U.S.: Amazon Prime Video (to rent), Apple (to rent)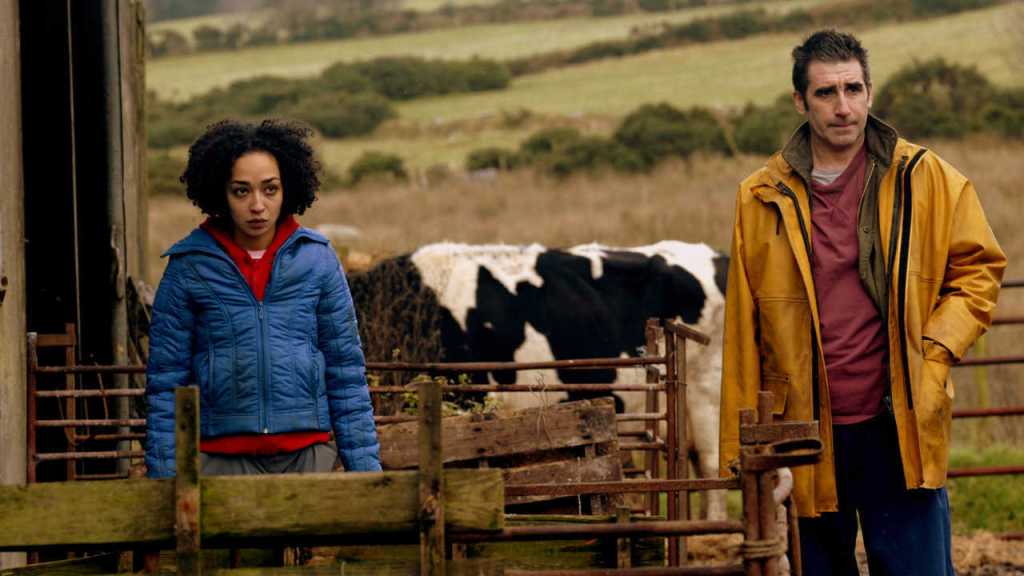 Isolation (2005)
Before hitting it big, some of our most established actors have appeared in low-budget horror films as if it's a rite of passage for stardom. Jennifer Aniston had Leprechaun before becoming Rachel Green while Bradley Cooper starred in Midnight Meat Train shortly before The Hangover made him an overnight sensation. Meanwhile, before earning the title of "Oscar nominee," Ruth Negga had Isolation.
Taking place entirely on a cow farm, Isolation is a dread-filled cautionary tale on the dangers of interfering with nature. After a genetic engineering experiment on the cattle goes wrong, the farm's five inhabitants including Mary (Ruth Negga) and Jamie (Sean Harris), a couple on the run from Mary's family, self-isolate to prevent a contagious parasite from infecting the cattle and themselves. What transpires is a thrilling creature feature in the vein of Alien and John Carpenter's The Thing that does more with less, relying on its claustrophobic setting and constant sense of paranoia to create a haunting effect along with the creature design. Another bonus for genre fans: It features a pre-Babadook Essie Davis.
(As a fair warning, though, this is not for the squeamish.)
Where to Watch in the U.S.: Tubi
Sing Street (2016)
Sing Street is like a catchy earworm. Even if its boy-meets-girl storyline is rather simple, it still ends up stuck in your head thanks to the beat of its light, whimsical charms and an actual earworm song from the film's soundtrack: "Drive It Like You Stole It." The scene where the song is performed is a hallmark moment thanks to its homage to the ending of Back to the Future and juxtaposition of fantasy and reality.
Unlike the songs from two of John Carney's other films, Once and Begin Again, "Drive It Like You Stole It" failed to earn an Oscar nomination. But given how the film inspired its own stage musical, the tune to Sing Street, and its coming of age romance set in the rougher side of '80s Dublin, still carries on even without such awards recognition.
Where to watch in the U.S.: Tubi, Amazon Prime Video
Calm With Horses (2019)
Barry Keoghan has a seamless ability to play men who are good, bad, and somewhere in between. In his Oscar-nominated role as Dominic in The Banshees of Inisherin, he's shown he can shatter one's heart into a million pieces with just a line reading ("Well, there goes that dream"). Meanwhile Calm With Horses allows him to lean into his more somewhere-in-between side.
In Calm With Horses (Known as The Shadow of Violence in the U.S.), our main protagonist is Douglas Armstrong (Cosmo Jarvis), a boxer-turned-enforcer for the criminal Devers clan. After a hit job goes awry, Douglas finds himself torn between his actual family and the Devers whom he's called family. A tense crime drama about toxic masculinity and torn loyalties, Calm With Horses is guided by a quiet powerhouse performance by Cosmo Jarvis with Barry Keoghan being his impressive equal as the volatile Dympna. Keoghan's piercing eyes convey a sinister veneer even as Dympna shows himself to be a loyal family man and companion for our main hero. Along with Jarvis' performance, Keoghan is a high selling point for this underrated pic.
Where to watch in the U.S.: Amazon Prime Video (to rent), Apple (to rent)
You Are Not My Mother (2021)
Anyone who's a fan of Hereditary might like You Are Not My Mother, another effective folk horror pic that tethers the supernatural to both parental ties and mental illness.
When Char's (Hazel Doupe) mother returns home after suddenly disappearing, she notices sudden changes in her behavior. As Char tries uncovering what might be possessing her mother, she must deal with a group of female classmates who constantly antagonize her. When seeing the methods in which her bullies torment her, things become as unnerving as the mystery that Char aims to unpack in a story that's frightening in a less traditional jump-out-of-your-seat kind of way.
Where to watch in the U.S.: Hulu
Hunger (2008)
Based on a true story, Hunger follows the story of Bobby Sands (Michael Fassbender), an IRA member who led the 1981 Irish hunger strike at Maze Prison in Northern Ireland as a way for prisoners to re-attain political status after it was stripped from the British government in 1976. Once director/co-writer Steve McQueen takes the viewer inside the prison walls, showing the strike as it transpires along with the events leading up to it, he lets the actions taking place do most of the storytelling.
The film relies more on capturing the acts of violence toward the prisoners and their rough living conditions to paint a picture of what they've gone through than expositional dialogue. Although the famous confrontation scene between Sands and Catholic priest Father Dominic Moran (Liam Cunningham) done in one continuous take is a rigid exercise in acting and filmmaking. Fassbender's acting in that scene alone as the charismatic Bobby Sands made it clear that he was signaling the greatness that would eventually come. Same with Steve McQueen. When watching his feature directorial debut, we're seeing the beginnings of a master.
Where to watch in the U.S.: Tubi, Amazon Prime Video (to rent)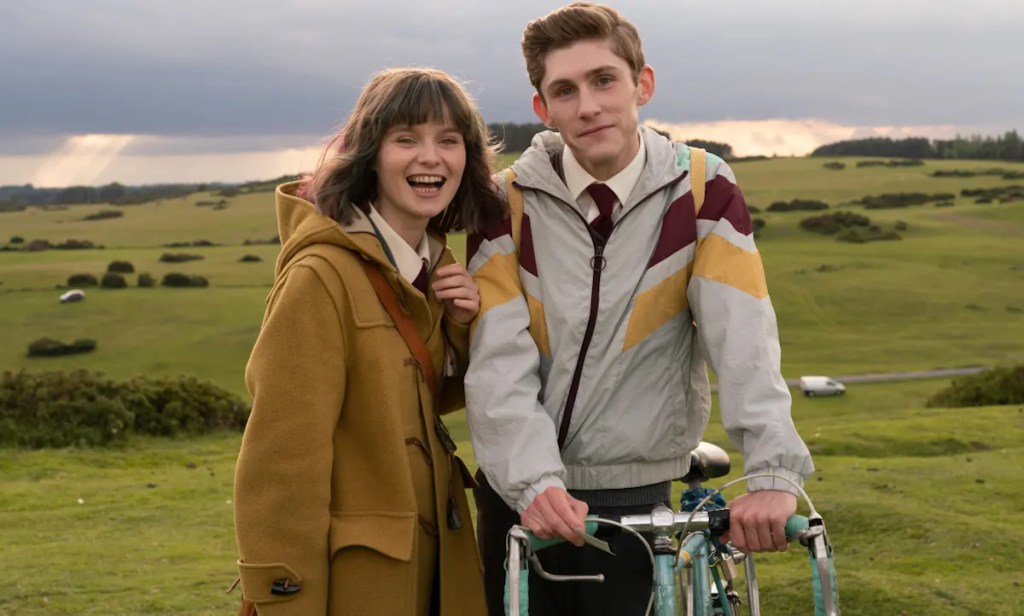 Dating Amber (2020)
Dating Amber is a winning coming-of-age tale that also serves as a slight case of PTSD. Its storyline involving two closeted teenagers, Eddie (Fionn O'Shea) and Amber (Lola Petticrew), having to fake a relationship to get through high school provides painful familiarity for anyone, including this writer, who's had to deal with mockery, as well as hasty assumptions about their sexuality and who they like during their adolescence.
For Eddie, things get more conflicting once he toys with enlisting in the Irish Army, wondering if it'll make him feel more masculine. Once Amber starts crushing on a fellow student, she experiences doubts about continuing their charade. As they go on a tumultuous journey toward self-acceptance, the dynamic performances from the two leads help give the film its emotional punch. Confronting as it may be, Dating Amber remains a bittersweet reminder that while high school may feel apocalyptic, it's not the end of everything.
Where to watch in the U.S.: HBO Max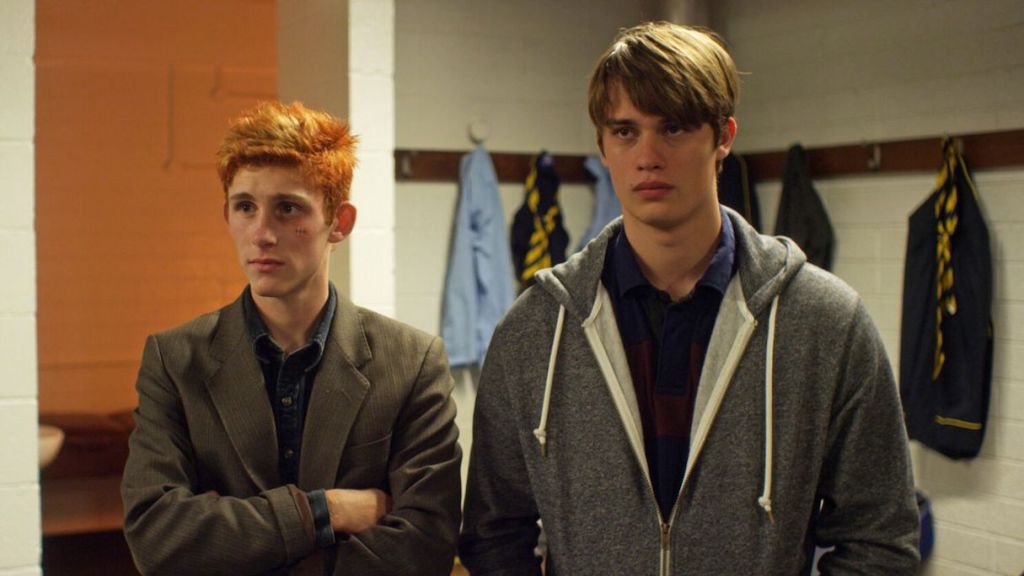 Handsome Devil (2017)
Another title worth recommending is the first half of the unofficial "queer-themed coming-of-age tale starring Fionn O'Shea" two-parter. One that touches on the familiar message of learning to be your best self in its own heartwarming way.
In Handsome Devil, O'Shea plays Ned, a student at an all-boys boarding school ostracized by his peers for his disinterest in rugby and preference for artistry. Things then turn upside down when he befriends his new roommate Conor (Nicholas Galitzine) who not only joins the rugby team but is more concerned with keeping up appearances. As their friendship grows closer, Ned tries taking the closeted Conor on the path toward self-enlightenment. Same with their new English teacher Mr. Sherry who's played by a scene-stealing Andrew Scott. Scott's performance as the earnest professor trying to teach his students to live their best selves is the heart of this unsung gem.
Where to watch in the U.S.: Peacock, Amazon Prime Video (to rent)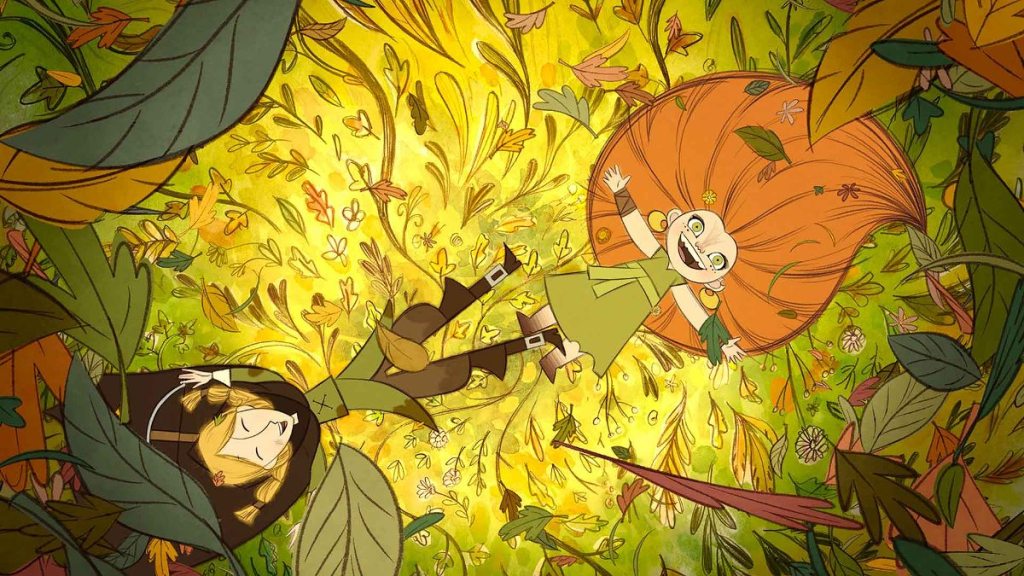 Wolfwalkers (2020)
Cartoon Saloon's Wolfwalkers is an awe-inspiring reminder of the power of traditional hand-drawn animation. Despite the Disney/Pixar behemoth's continued stronghold on the Oscar category for Best Animated Feature, Wolfwalkers being nominated shows there's still a place there for various types of animation from different parts of the world.
The final installment in director Tomm Moore's Irish Folklore trilogy, Wolfwalkers is a story about a loving father and his daughter that blends themes of parental love, Puritanism, and gender roles into a package that's as visually stunning as it is weighty. As the protagonist Robyn becomes one of the titular creatures and forms a bond with fellow wolfwalker Mebh, the story offers a demonstration in queer subtext.
According to Moore, the queer metaphors were unintentional. Yet the concept of two othered beings bonding and Robyn having to conjure up the nerve to say "I'm a wolfwalker" to her father the way children try coming out to their parents offer enough parallels to the experience of real-life queer individuals.
Where to watch in the U.S.: Apple TV+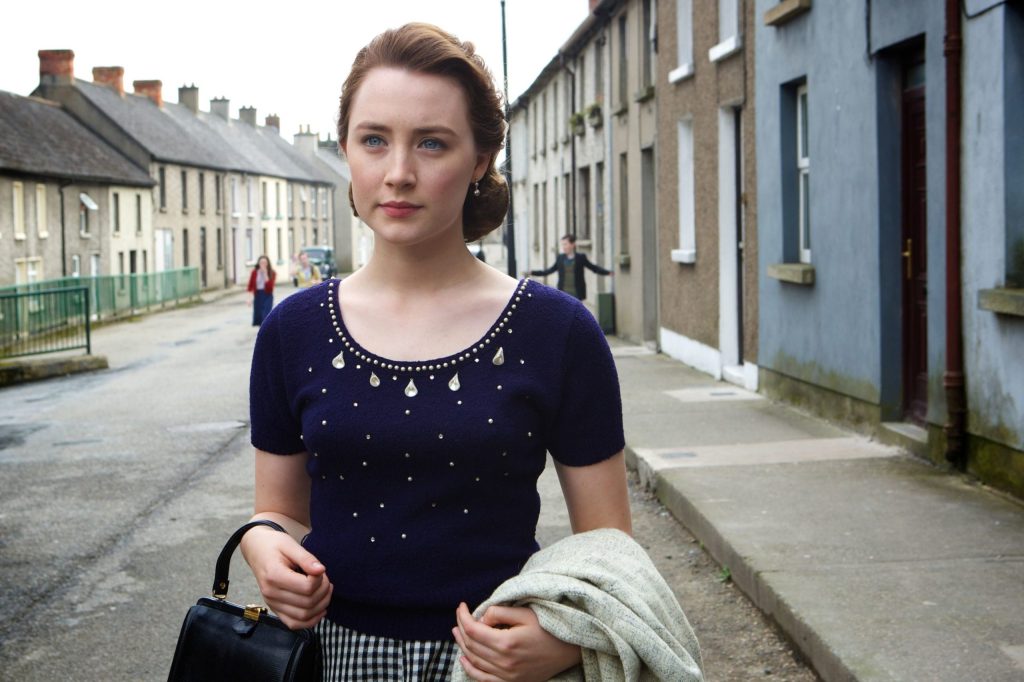 Brooklyn (2015)
The old phrase "Home is where the heart is" is the thesis of the story to John Crowley's Brooklyn. Once Eilis (Saoirse Ronan) leaves her Irish smalltown to start anew in New York City, she wonders whether it's better to decide what's best for herself or retreat back home to be closer to family and get rid of her homesickness. The possibilities of what she can become and achieve in the city that never sleeps are never-ending. Yet the nights of crying on her letters from back home can only take such a toll.
Thanks to the nuances on Nick Hornby's Oscar-nominated screenplay, Eilis' debacle is well-encapsulated in her love triangle between Tony (Emory Cohen), a kindly working-class plumber whom she falls for in New York, and Jim Farrell (Domnhall Gleeson), a bachelor from back home in Ireland who can provide her with financial stability.
Whether Jim can bring her love and happiness creates more of a struggle for our lovestruck protagonist who's played with radiance and depth by lead actress Ronan. While the movie surrounding her is a solid filmmaking exercise, Ronan is why this movie works so well. Bonus points for Julie Walters who is a scene-stealing hoot as Eilis' New York landlady, Mrs. Kehoe.
Where to watch in the U.S.: Amazon Prime Video (to rent), Apple (to rent)