Reviews
Calm With Horses Review: A Bruising Crime Drama
Powerful performances carry Calm With Horses, a grim Irish-set drama steeped in violence that marks a confident debut feature.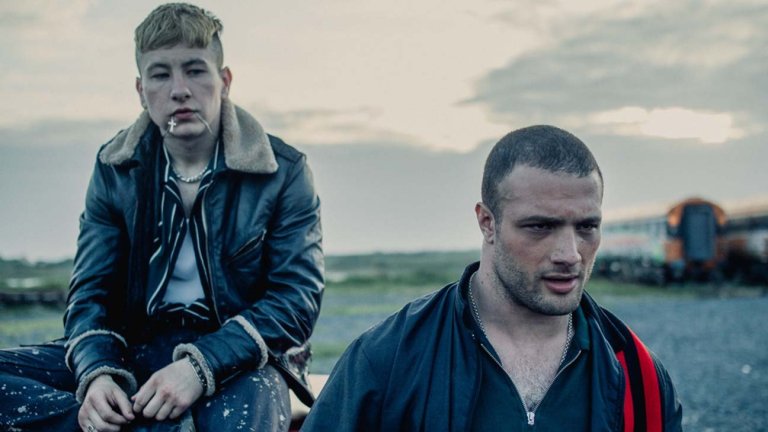 "I don't think violence is the work of hateful men, sometimes it's just the way a fellow makes sense of his world," says Cosmo Jarvis' former boxing-champ-turned-enforcer for the drug dealing Dever family. He's a man whose life has been defined by violence in one form or another and he's at something of a crossroads, torn between his love for his five-year-old son and the obligation he feels to the Devers.
Calm With Horses is a confident, brutal, and poignant feature debut from Brit director Nick Rowland. It's technically impressive, boasting extraordinary performances, although as a crime thriller it's less thrilling and more depressing as the inexorable path of the narrative unfolds.
After a tragedy in the ring, Douglas "Arm" Armstrong (Jarvis) is taken in by the Devers, a grubby criminal clan headed up by the menacing Paudi (Ned Dennehy) and the fractionally more refined Hector (David Wilmot). Arm lives with them and is constantly lectured about loyalty and family though it's quite clear he's not actually treated as blood. Instead Arm is "handled" by the wiry, volatile Dympna (Barry Keoghan). Keoghan is terrific and one of the most exciting young actors around and his manipulative, awful Dympna channels Trainspotting's Begbie as he randomly starts fights for Arm to deal with and coerces him with alcohol and cocaine. Arm is the family's attack dog – we see him doling out brutal punishment with professional polish to a family friend who assaulted Hector's teenage niece. But when the retribution isn't deemed sufficient a revenge tale is put into motion which forces Arm to confront his lifetime of violence and living by the sword.
The title refers to Arm's five-year-old son Jack (Kiljan Moroney) who he has with former partner Ursula (Niamh Algar) who the Devers roundly reject. Jack is austic and finds peace through riding horses, supervised by the gentle Rob (Anthony Welsh) and it's these moments of quiet that are some of the few reprieves in a story heavy with impending doom.
Arm struggles to be a good father, but the intention is there. Scenes where he tries to take care of Jack and freaks him out by trying to get him to shoot in a fairground rifle range are heartbreaking, and it's Ursula's desire to escape the rural Irish town they inhabit to send Jack to a school better equipped to help him – and the money this requires – is one of the driving forces of the plot.
The depravity and ultra-violence of the Devers set against the beautiful Irish landscapes works well, including one high speed car chase through a field of sheep, and a descent into hell nightclub sequence. Soundtrack is important in Calm With Horses with music that often pounds like a headache which adds to the general unease of the film.
Jarvis is brutishly sympathetic here and the movie hangs on him right up to the devastating final scenes. For a debut film Calm With Horses is incredibly assured and Rowland is surely one to watch. It sits well alongside a lot of grim UK and Irish filmmaking and for fans of this kind of carefully told social realism it's a standout. But while there's a dark vein of humour throughout, Calm With Horses isn't ever an enjoyable watch. The movie is populated by so many "hateful men" there's no real joy in spending time with them and the narrative comes with few surprises by the end. It's moving, and a phone call sequence in the final act showcases Jarvis' considerable talents and delivers a hefty emotional punch worthy of Arm himself, but the story isn't unique or different enough to make for a truly satisfying cinematic experience.
With this debut Rowland and his cast and crew prove themselves as exciting voices absolutely worth watching out for – we can't wait to see what he does next. Calm With Horses, though, and the human creatures who inhabit its world, isn't somewhere we'd return in a hurry.
Calm With Horses opens in UK cinemas on Friday March 13.