Features
20 Underrated 3DS Games
The Nintendo 3DS has had a long, healthy life of great games. Here are some games you might have missed for the handheld...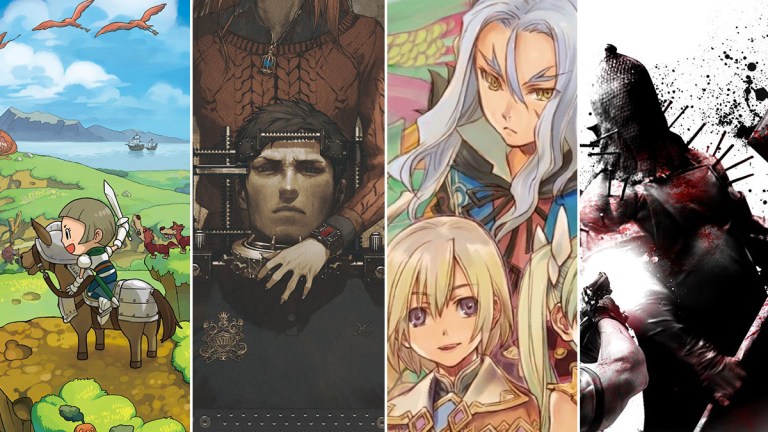 After almost six years on the market, it looks like the Nintendo 3DS's days may finally be numbered, as Nintendo will release the Switch, a console-handheld hybrid, in just a few short weeks. The goodbye will be bittersweet, but there's plenty to celebrate about the 3DS's long life.
As with any Nintendo system, the 3DS has been home to many great  Super Mario, Zelda, and Pokemon games. It's also helped reinvigorate second-tier Nintendo franchises like Kid Icarus, Kirby, and Fire Emblem.
But the 3DS library is much deeper than just those Nintendo favorites. There have been some real gems released for the portable over the last six years that few gamers are familiar with. These are the very best underrated 3DS games:
20. WWE All Stars
2011 | THQ
There have always been few fighting games on portables, and even fewer wrestling games. Thankfully, the sole wrestling game on the 3DS is pretty solid. Foregoing the more realistic gameplay of most WWE games, All Stars is a classic arcade fighting game where larger-than-life versions of WWE superstars jump 30 feet in the air and hit each other clear across the ring. It may not be the deepest game on the 3DS, but it is one of the most fun.
19. Madden NFL Football
2011 | EA Sports
The 3DS's sole Madden game launched along with the system, and while it showed a lot of promise, it admittedly has its flaws. For one thing, there's no real franchise mode, just a basic season mode. And there are zero multiplayer options. Still, the classic Madden gameplay is there in all of its glory, and even six years later the game looks great. If EA had made a sequel, it might have been considered one of the best games on the system. Instead, we'll have to settle for this flawed but enjoyable entry in the series and wonder about what might have been.
18. Pilotwings Resort
2011 | Nintendo
Pilotwings is one of Nintendo's most beloved, yet neglected franchises. Fifteen years passed between the release of Pilotwings 64 and Resort, its sole sequel to date. And while Resort falters in some respects, with only one island and three modes of flying, it still provides a relaxing and beautiful experience on the handheld unlike any other game out there. It's just a shame that it's not a bit longer.
17. Zero Time Dilemma
2016 | Chime
The Zero Escape series (which started on the original DS with Nine Hours, Nine Persons, Nine Doors), isn't for everyone. The puzzles can be downright infuriating without a guide or the patience to solve them. But for the right type of gamer, this is one of the best series around. The story and writing are among the very best in all of gaming, and Zero Time Dilemma is the best version yet of everything the series has to offer. And while the games can be tough, there's nothing quite like the feeling of accomplishment after figuring out a tough puzzle on your own.
16. Mutant Mudds
2012 | Renegade Kid
Nintendo's downloadable-only offerings have long lagged behind the competition, but every now and then an exclusive game hits the eShop that actually makes it worth the hassle to deal with Nintendo's convoluted online system. Mutant Mudds is a retro-inspired game that gets things right.
The platforming controls are tight, and the level design is straight out of the 16-bit era, but the addition of 3D makes the levels look truly stunning. That retro inspiration also means that this can be a tough game in the later levels, but for those who grew up in the NES and SNES era, this one is well worth reserving some space on your SD card.
15. Skylanders Swap Force
2013 | n-Space
Unbeknownst to many gamers (especially those who consider toys-to-life games to be just for kids), Activision released five 3DS Skylanders games with stories and levels completely separate from their console counterparts. While the quality of these games has been hit or miss, Swap Force is easily the pinnacle of the 3DS series.
Probably the most important feature is that you can load as many Skylanders on the cart as you want before transferring your experience back to the figure, which makes it much easier to play on-the-go than its predecessors. Swap Force is also where n-Space seemed to find its groove between tight platforming and satisfying combat. Skylanders can still be a money pit to get into, but if you're at all interested in the series, this is the best 3DS title to check out.
14. Ridge Racer 3D
2011 | Namco Bandai Games
You would think that glasses-free 3D would attract a lot of racing game developers to the 3DS. Sadly, only a handful of racers have hit the portable over the years. Maybe that's because this launch title was so solid. Yes, the handling in Ridge Racer can be a bit too slippery, especially if you're used to more realistic console racers like Forza and Gran Turismo, but the arcade handling can be a lot of fun once you get used to it. Almost six years later, few games on the 3DS create a better sense of speed than when the boost kicks in while in the midst of a close race during a grand prix.
13. Attack on Titan: Humanity in Chains
2015 | Spike Chunsoft
The 3DS's Attack on Titan game has no relation to the Koei Tecmo console game released in 2016. And the critical reaction was also significantly more hostile. Still, Humanity in Chains isn't nearly as awful as most reviews would make you think. The gameplay is actually pretty similar to the console game — if a bit more simplified — and the graphics are among the best on the 3DS. The game is very short, but it's also a satisfying playthrough if you're at all a fan of the anime.
12. Etrian Odyssey IV: Legends of the Titan
2013 | Atlus
While the Etrian Odyssey series has been around for nearly a decade and has received quite a bit of critical acclaim, it's still barely scratched the surface of the mainstream. There's just not much interest in hardcore, old-school-inspired first-person dungeon crawlers. Etrian Odyssey IV doesn't do much to change the core gameplay of the series, but it does add a casual mode that makes the game just a little bit more accessible for newcomers. It's still a very difficult RPG, but at least the adjustments to the gameplay make it worth checking out for gamers outside of a very hardcore niche.
11. Resident Evil: The Mercenaries 3D
2011 | Capcom
The first Resident Evil game for the 3DS wasn't quite what anyone expected, but its aged remarkably well. Rather than focusing on survival horror, this is a fast-paced arcade battle to take out as many zombies as possible. Five years later, these are still some of the best graphics on the 3DS, and pretty comparable to recent console Resident Evil releases. And while The Mercenaries admittedly didn't quite pack enough content to warrant the $40 price tag at launch, it can be found for much cheaper now, making a purchase much more palatable.
10. Dead or Alive: Dimensions
2011 | Team Ninja
The Dead or Alive series has always been known more for its graphics than gameplay, which actually makes it a great fit for the 3DS. While this still isn't the deepest fighter on the market, it is the best looking on the system, especially with the 3D effect turned on. And the lengthy story mode, based on the first four Dead or Alive games, features the best cutscenes on the portable. To top things off, there are even cameos by Samus and Ripley from Metroid, with a playable stage based off of Other M (which is probably the best thing to come out of that game).
9. Pinball Hall of Fame: The Williams Collection
2011 | Crave
Pinball is the perfect genre for handhelds, and while Zen Studios has ported many of its great Pinball FX tables to the eShop, the best pinball experience on the 3DS is easily The Williams Collection. Developer Crave lovingly re-created seven classic pinball tables for this compilation, including fan favorites Funhouse and Pinbot, and they look absolutely stunning in 3D mode. The quest for ever higher scores can easily suck up dozens of hours of your time.
8. Cave Story 3D
2011 | Nicalis
Cave Story started off on PC and has been readily available on several Nintendo platforms, but the 3DS version is easily the best. Cave Story 3D retains the great story and tight controls of its initial release but adds enhanced graphics that make the game look better than ever, easily making one of the best ports on the handheld. Unfortunately, this is still one of the harder 3DS games to come by. Despite an announcement from Nicalis in 2014 that Cave Story 3D was coming to the eShop, that version of the game never appeared, and physical copies can still sell above the retail price online.
7. Final Fantasy Explorers
2016 | Square Enix
Calling Final Fantasy Explorers a Monster Hunter rip-off isn't unfair, but that's also not necessarily a bad thing. This is the same addictive online gameplay and crafting experience that millions of players have grown to love over the years, just with the addition of classic Final Fantasy monsters and some of the best music on the 3DS. The biggest downside of Final Fantasy Explorers is that it's simpler than the Monster Hunter games, but given how astoundingly complex those games have become in recent years, that's also not really a bad thing.
6. River City: Tokyo Rumble
2016 | Million
River City Ransom was originally released for the NES in 1989 with almost no fanfare only to see its reputation greatly improve with age. While it's only been a few months since Tokyo Rumble's North American release, this long-awaited sequel looks to be on pace for a similar fate.
The game had an extremely small initial print run that almost immediately sold out, and barely any outlets have reviewed it. Sadly, that means a lot of people are missing out on a fantastic follow-up that melds the beloved beat 'em up gameplay of the original with eye-popping graphics and some of the funniest writing on the 3DS. If you see this title on store shelves, buy it now before it becomes a major collector's item in a few years.
5. Code Name: S.T.E.A.M.
2015 | Nintendo
Unfortunately, innovation isn't always rewarded in the world of gaming, no matter how much gamers say they want something different. With its mixture of turn-based strategy and third-person shooting in a steampunk-based alternate universe steeped in American history, Code Name: S.T.E.A.M. has innovation in spades.
Sadly, sales have been abysmal. Apparently, America just isn't ready to see Abraham Lincoln fight aliens. But the good news is that the game can be had for dirt cheap now, so there's really no excuse to miss it. If you're at all interested in strategy games, now is the perfect time to pick up Code Name: S.T.E.A.M. Few gamers can put it down once they get into it.
4. Rune Factory 4
2013 | Neverland Co.
Rune Factory is the series for those who always felt that the farming simulation in Harvest Moon was just a little too slow-paced for them. Yes, you're still farming a lot, so if that's a deal breaker for you, you still won't enjoy Rune Factory 4, but there are also dungeons to explore and monsters to fight.
Rune Factory 4 even expands on the earlier games a bit by having your character mistaken for a prince or princess, meaning you can expand your town through royal decrees. If you've finally run out of things to do in Animal Crossing: New Leaf, Rune Factory 4 is great next step.
3. Heroes of Ruin
2012 | n-Space
Heroes of Ruin is basically Diablo for the 3DS. OK, maybe it's not quite that robust, but it's still much better than you're expecting. The four classes are all completely distinct from each other, and fun to play. The loot is plentiful, and the campaign is lengthy. Even better than that, there's four-player online that supports voice chat and offers rare gear you can't get in single-player. Sadly, few gamers picked up Heroes of Ruin, and even at release it was difficult to find others to play with, so it never really developed the community it was built for. This is a game that deserved better.
2. Fantasy Life
2014 | Level-5
The first time someone recommended Fantasy Life to me, they described it as "Skyrim meets Animal Crossing." That's still the most accurate summary of the game I've heard. The world of Fantasy Life is absolutely massive, and you're free to do whatever you choose in it, whether that means following the main quest in the countryside as a paladin or just staying in the city and building your reputation as a cook. It takes a real time commitment to master the 12 different lives you can choose at will, but there's so much variety that it rarely gets boring.
1. Tom Clancy's Ghost Recon: Shadow Wars
2011 | Ubisoft
Shadow Wars might have the Ghost Recon name on the box, but this has nothing to do with the shooters you've played on consoles. Instead, this is the closest thing a Nintendo portable has ever seen to XCOM (and indeed shares the same producer). The action is tense as you move your team of soldiers through levels, setting the perfect traps, and the campaign is lengthy, easily clocking in at more than 30 hours on the first playthrough. While Nintendo's Fire Emblem might get all of the attention as the best strategy series on the 3DS, Shadow Wars provides an even deeper strategy experience for those looking for a game with a modern military edge.
Chris Freiberg is a freelance contributor.