Features
20 Best Wrestling Games Ever Made
Just in time for WrestleMania, here are the 20 greatest wrestling games ever made!
It's WrestleMania season again, which means that millions of wrestling fans around the world are preparing themselves for the greatest spectacle in sports entertainment. Time to don the tights, put on the mask, and shine the championship belt. 
For those diehard fans who aren't quite ready to enter the ring or jump off the top rope, there have always been wrestling games – those digital experiences that allow them to step into their favorite superstar's boots, whether it be the Hulkster or the People's Champion or Stone Cold.
These 20 wrestling games are the absolute best the genre has to offer:
20. WWE SmackDown vs. Raw 2011
2010 | Yuke's | PS3, PS2, PSP, X360, Wii
The final game in the long-running SmackDown series is easily one of the best in the storied franchise, with new physics that make hardcore matches a lot more fun – even if they're not terribly realistic. This was also the first WWE title to feature a Universe mode, which has become a staple of the games to this day, although it does feel rather primitive here. But the biggest issue with the game is that it just feels like it's all been done before, which is not a huge surprise given that this is the 12th game to bear the SmackDown name. SmackDown vs. Raw 2011 is still worth checking out if you've only played a handful of the games in the series, but most other fans have plenty of other favorites ahead of it.
Further Reading: 15 Underrated Wrestling Games
19. Pro Wrestling
1987 | Nintendo | NES
While the WWE (then WWF) and WCW released games for the NES, they were considered to be pretty terrible, even by 8-bit standards. Thankfully, Nintendo was there to fill the void of quality sports entertainment titles. Pro Wrestling doesn't feature any licensed wrestlers, but it does have solid simulation gameplay that even today beats out some other wrestling games on the market.
18. WWE 2K17
2016 | Yuke's | PC, PS3, PS4, X360, XBO
After a disastrous debut on current-gen systems, Yuke's seems to be finally righting the ship with more balanced gameplay, improved triple threat and ladder matches, and the return of favorite match types like backstage fights. The roster of WWE 2K17 is also massive, featuring tons of current stars and fan favorites, though there are some notable omissions like Hulk Hogan. But what really holds the game back is the dearth of modes.
The MyCareer mode is uninteresting, and WWE Universe has barely changed in recent years. Showcases were removed, with only a Hall of Fame showcase available as DLC. While the gameplay is on the right track. Yuke's needs to add something more to the series in the next few years to make it a championship contender.
Further Reading: The Shortest Matches in WrestleMania History
17. Saturday Night Slam Masters
1994 | Capcom | GEN, SNES
Capcom has always made great fighting games, but to date, Saturday Night Slam Masters is its only foray into the world of professional wrestling. Characters are larger than life, featuring the art of Fist of the North Star creator Tetsuo Hara, and the action is fast and furious, featuring special moves and finishers. It kind of feels like Street Fighter, but you have to pin or submit your opponent. There aren't any other wrestling games out there quite like it.
16. WWE Day of Reckoning 2
2005 | Yuke's | GCN
Before THQ started putting the SmackDown series on every platform known to man, the once great publisher had different WWE franchises on each console. While the PS2 was home to the SmackDown series, the GameCube received a pair of WrestleMania games and two Day of Reckoning titles. Day of Reckoning 2 is easily the best of those titles, with a smooth grapple system, some of the best graphics of the era, and a story mode that's just plain fun.
Further Reading: The History of WrestleMania Battle Royals
15. WWF WrestleMania: The Arcade Game
1995 | Midway | GEN, SNES, SAT, PSX, 32X
Picture Mortal Kombat with the WWE license. That's basically WWF WrestleMania: The Arcade Game. The title features the same digitized graphics as the early Mortal Kombat games, but instead of bleeding (which would actually fit the game just fine), random objects associated with each wrestler fall out of them when they're hit. Bret Hart "bleeds" hearts. Seriously. WWF WrestleMania is a rather goofy relic of the '90s that holds up remarkably well. Just be warned that this was a period when the WWE roster was extremely light on talent. Legends like The Undertaker and Shawn Michaels are joined by questionable additions like Bam Bam Bigelow and Doink the Clown.
14. WWF Wrestlefest
1991 | Technos Japan | Arcade
With home consoles lacking any serviceable wrestling games in the early '90s, WWF fans had to head to the arcades to scratch the video game wrestling itch. WrestleFest had bright, cartoony graphics, perfect for the era. And while the roster was small, it was damn near perfect, with legends like Hulk Hogan, the Ultimate Warrior, and Mr. Perfect to choose from.
The grapple-heavy gameplay could also lead into a variety of different moves, a precursor of wrestling games to come. THQ released a remake of the game with a modern WWE roster on the iPhone in 2012. Console versions were planned, but sadly these were scrapped when the company filed for bankruptcy.
Further Reading: Why WWF WrestleFest Is the Best WWE Game You'll Never Play
13. WWE SmackDown vs. Raw 2007
2006 | Yuke's | PS2, PSP, X360
The 2007 edition of SmackDown vs. Raw took a hard turn toward simulation, with a mandatory stamina bar that required players to take breaks after several big moves. That actually didn't take away from the fun though, as this version also added the ability to take matches into the crowd for some hardcore action. While the gameplay has its fans and critics, it's hard to argue with the quality of the roster in this edition. It's the last WWE game to date to feature Kurt Angle, who will be inducted in the WWE Hall of Fame this year, and it's probably the last WWE game that will ever feature Chris Benoit.
12. Tecmo World Wrestling
1990 | Tecmo | NES
Early video game consoles had a lot of trouble simulating pro wrestling, but Tecmo World Wrestling came pretty darn close to feeling like a modern wrestling game. Each of the ten characters, mostly based on Japanese professional wrestlers, had more than 20 moves at their disposal, and particularly powerful moves were featured in cinematic replays. An announcer at the bottom of the screen even provided pretty solid commentary. More than 25 years later, Tecmo World Wrestling remains the best option out there for old school gamers looking to get in the squared circle.
11. Virtual Pro Wrestling 2
2000 | AKI Corporation | N64
AKI's N64 wrestling games are held almost universally in esteem by gamers. But what few North American gamers know is that Japan actually received completely different versions of these games, with Virtual Pro Wrestling 2 easily being the best. The title features no WCW or WWF license (although a few of the wrestlers will be recognizable to western fans), but has more moves and customization options than what was available in the North American N64 games. The language barrier is low for this one, so if you've played WrestleMania 2000 and No Mercy to death, it's well worth the import.
10. WWF SmackDown! 2: Know Your Role
2000 | Yuke's | PSX
While N64 wrestling games strove for realism, PlayStation WWF games were just about having a good time. SmackDown! 2 featured juggle heavy gameplay and emphasized multiple finishers to put your opponents away. These matches might not look anything like what the WWF put on TV every week, but dammit if they weren't fun. The graphics are pretty dated now (as pretty much all PS1 games are), but it's still easy to see from this early title why the SmackDown games had such a successful tenure.
Further Reading: A History of Forfeited WWE Championships
9. WWE All-Stars
2011 | THQ | PS2, PS3, PSP, Wii, X360, 3DS
With WWE the only wrestling company regularly lending its license to video games now, there are unfortunately few options out there for gamers who want more arcade-like grapplers. At least THQ put out one title to cater to this group before going out of business.
All-Stars features a terrific roster of both modern wrestlers like John Cena, Randy Orton, and CM Punk, as well as greats of the '80s like Randy Savage, Ted DiBiase, and Roddy Piper duking it out in matches that regularly feature superstars jumping 20-30 feet in the air. The Path of Champions mode is a little light on features, but the Fantasy Warfare mode, which imagines what it would be like for current WWE wrestlers to take on legends of the past, complete with lengthy video vignettes, is well worth the price of admission.
8. WWE '13
2012| Yuke's | PS3, X360, Wii
The transition from the SmackDown series to the current annualized WWE series was a little underwhelming, with WWE '12 just feeling like a prettier SmackDown game. WWE '13 is where the franchise found its own identity. A more competent Universe mode is present here, but the real star is the Attitude Era story mode, which takes players through more than 60 matches during what most consider to the best time in the WWE's history. Rarely is a wrestling game worth playing for the story mode, but WWE '13 is the exception.
Further Reading: Why WWF SummerSlam 1991Was the End of an Era
7. WCW/nWo Revenge
1998 | AKI Corporation | N64
It's hard to believe now, but there was a time in the '90s when WCW nearly put the WWF out of business. Part of the reason for that was the incredibly popular New World Order storyline, but even outside the NWO, Ted Turner and Eric Bischoff had put together one of the most incredible rosters in wrestling history, including Diamond Dallas Page, Chris Jericho, Goldberg, Raven, and The Giant (better known now as The Big Show). Of course, we all know how things ended for WCW, but Revenge remains a wonderful playable glimpse of the rival that nearly destroyed Vince McMahon's empire.
6. Fire Pro Wrestling Returns
2005| Spike | PS2
There's a sizable number of gamers out there who would argue that Fire Pro Wrestling Returns is the best wrestling game ever made. While WWE games have only recently cracked the 100-wrestler roster number, Fire Pro Wrestling Returns features more than 300 wrestlers from promotions around the world. And you can create another 500 wrestlers on top of that.
Forums around the web are filled with tips for making the perfect versions of your favorites. Then you can see how they'll fair in your own promotion or legendary Japanese death matches. Fire Pro Wrestling Returns may not have the flash of other wrestling games, and the depth might be too much for some, but for the hardest of the hardcore wrestling fan, it's the only title they'll ever need.
Further Reading: 25 Weirdest Moments in Wrestling Games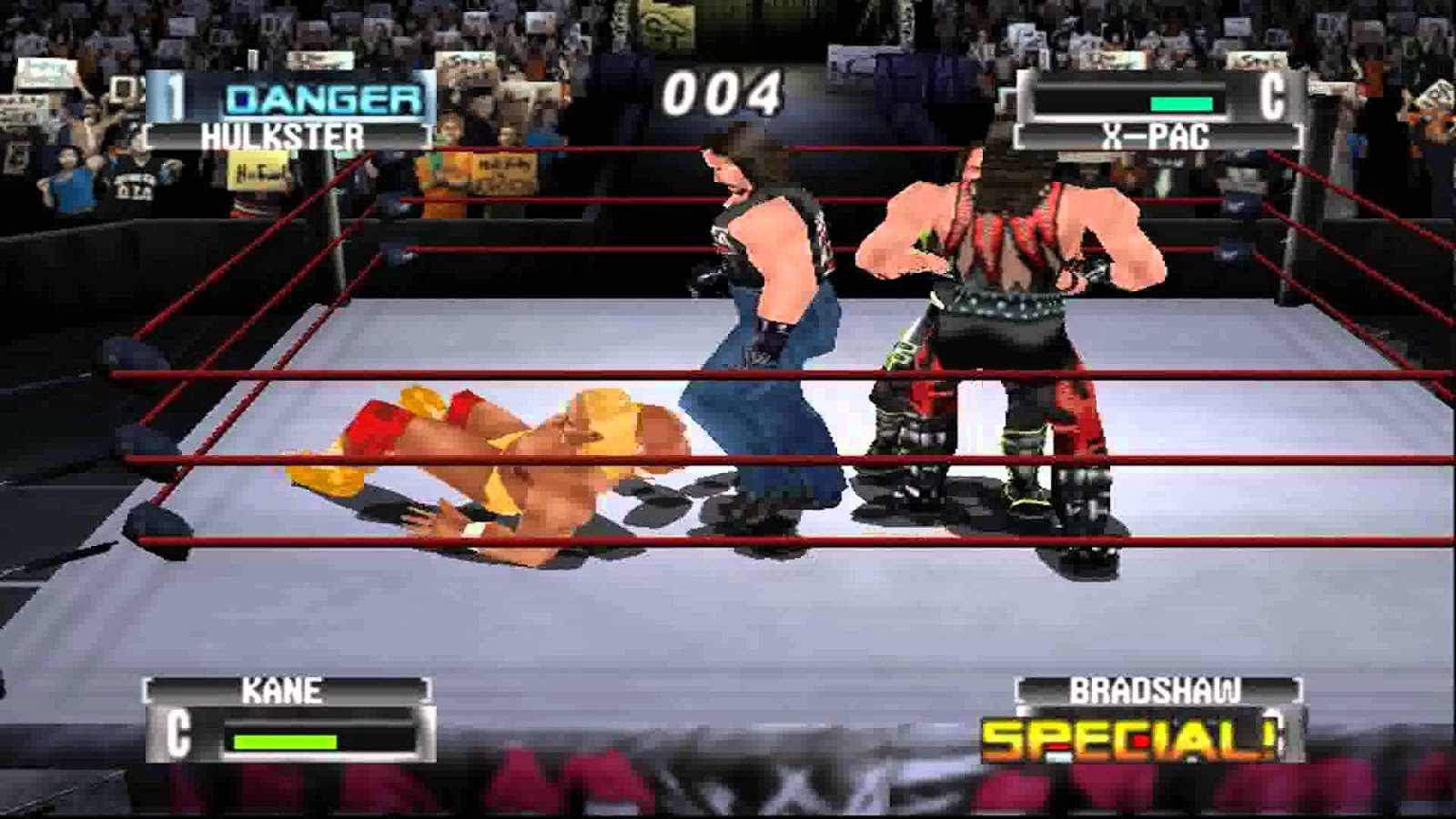 5. WWF WrestleMania 2000
1999 | AKI Corporation | N64
Just a year after AKI brought the war between WCW and NWO to the N64, the studio released one of the best wrestling games ever made. Using the same polygonal figures as WCW/nWo Revenge, WWF WrestleMania 2000 brings a HUGE roster of superstars, complete with entrance themes and unique animations, to the 64-bit console as well as all of the match types you'd ever want and PPVs, including the biggest show in the wrestling business. But WrestleMania 2000 is more than just presentation and features. The game boasts one of the best story modes ever made.
4. Def Jam: Fight for New York
2004| AKI Corporation | GCN, PS2, PSP, XBOX
AKI Corporation was actually working on a WCW game in early 2001 when the promotion was bought out by the WWE. Coincidentally, around that time EA was looking for a partner for a fighting game based around the Def Jam Recordings label. While the first game is great, the sequel, Fight for New York, is superior in every way.
The game plays like a faster, more cartoonish version of the N64 wrestling games, but with a bunch of rappers. Danny Trejo and Carmen Electra are there too for some reason. Sadly, the third game in the series (not developed by AKI), Def Jam: Icon, didn't reach the same heights, but I think pretty much everyone would welcome another sequel.
Further Reading: A Look at the Undertaker's First Year at the WWF
3. WWE SmackDown! Here Comes the Pain
2003 | Yuke's | PS2
One common criticism of current WWE games is how they inflict arbitrary rules on the player in the name of realism, or to maintain WWE's PG image. Older WWE games used to allow for inter-gender matches and had more options for hardcore options. They included stuff like inferno matches, where the goal was literally to set your opponent on fire. In Here Comes the Pain, you could actually throw your opponent off a building, hitch a ride on a helicopter, and then perform an elbow drop off of the helicopter. It's the type of ridiculousness that Broken Matt Hardy could only dream of, and easily makes this one of the best wrestling video games of all time.
2. WWE 2K14
2013 | Yuke's | PS3, X360
Part of what made the WWE franchise's transition to current-gen so disastrous is that the series had almost achieved perfection with WWE 2K14. The story mode featured more than 40 of the greatest WrestleMania matches of all time. That meant the inclusion of wrestlers from Big John Studd through Goldberg for the ultimate WWE roster. Even most of the major members of the NWO were available via DLC. Add in gameplay that was smoother than ever and a Streak mode that lets you either conquer or defend the Undertaker's legendary WrestleMania streak, and you easily have the best wrestling game in years.
Further Reading: The Worst WWE Royal Rumble Moments in History
1. WWF No Mercy
2000 | AKI Corporation | N64
Nearly two decades later, there still hasn't been a wrestling game that tops No Mercy. AKI was at the top of its game here, crafting a perfectly paced and accessible game with depth that fans are still mastering. Seriously, there are tons of mods out there for gamers looking to include current WWE and NXT superstars on the roster. But even without those mods, No Mercy remains infinitely replayable, with a huge roster, tons of match types, and the deepest create-a-wrestler mode ever made.
It's hard to pin down any one thing that makes No Mercy the best wrestling game ever made, but the developers at Yuke's would be well-advised to spend some time with it while working on the next WWE game.
Chris Freiberg is a freelance contributor. Read more of his work here.