Features
SXSW 2023 Games and Tech Preview and Schedule: The Panels You Can't Miss
Gaming and tech are ever-evolving industries, and these SXSW events highlight the latest and greatest in the mediums!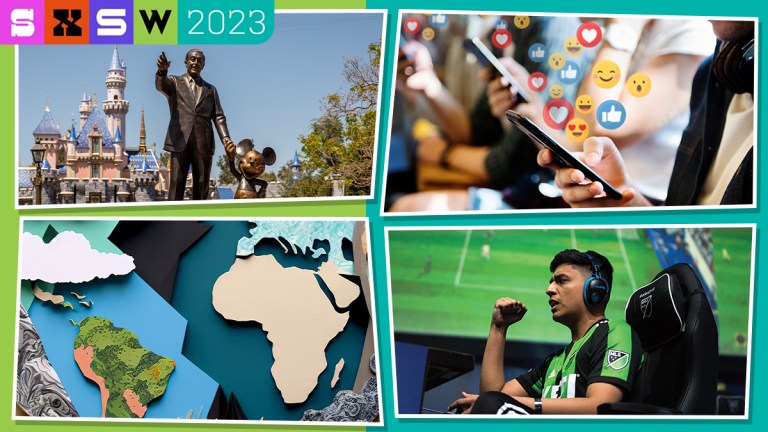 Tech Panel Schedule
With everything from artificial intelligence to virtual reality, SXSW has become the place to explore the newest of what the tech industry has to offer. Whether dealing with the future of technology in daily life, the latest in space exploration, or new ways of entertaining the masses, these technology panels will offer fans, speculators, and curious forward-thinkers unique opportunities to learn more about where the various fields are headed. There's something for everyone, with guest speakers and panels on just about every topic imaginable. Here are some we think Den of Geek readers will particularly enjoy.
Creating Happiness: The Art & Science of Disney Parks Storytelling
Friday, March 10 from 11:30 a.m. to 12:30 p.m. CT
Austin Convention Center | Ballroom D
The immersive experiences at Disney's theme parks go well beyond random character encounters and photo ops. In this SXSW featured session, Disney Parks, Experiences & Products Chairman Josh D'Amaro will share how these sometimes complex storylines are constructed specifically to create the most enjoyable narrative for the park's guests. After all, it's the simple moments that will create the most lasting memories!
Robots for Building in the Wild
Saturday, March 11 from 11:30 a.m. to 12:30 p.m. CT
Hilton Austin Downtown | Salon K
Robots aren't just about unburdening the workforce from menial tasks; they also tackle dangerous construction jobs that could be nearly impossible for a human worker. Innovations in design have allowed these powerful machines to create structures previously never before imagined, and those that develop, operate, and maintain these skillful robots are artists themselves, taking their creations out "into the wild." Panelists will highlight the challenges and benefits of the growing field.
10 Breakthrough Technologies of 2023
Saturday, March 11 from 4:00 to 5:00 p.m. CT
Hilton Austin Downtown | Salon C
MIT creates a list every year of new technologies that they believe will be the most impactful to the way we live and work in modern society. As you might expect, online interactive AI text and image generators are at the forefront of the discussion, but there are also a few items on the list that are likely unfamiliar to most attendees. The CEO and publisher of MIT's Technology Review will present this year's list, featuring innovations that will appeal equally to tech experts and novices alike.
How Teens Really Feel About Social Media
Monday, March 13 from 10:00 to 11:00 a.m. CT
Hilton Austin Downtown | Salon K
It may seem like participation on social media is what makes teenagers happy, but with the way online technology has become wrapped up in young adults' sense of self, there's also potential for feelings of anxiety and depression. Although the big social media companies may try to hide this fact, the panelists in this session, including a Facebook whistleblower and a teen activist, will shine the light on how the industry can take steps toward making the online space a safer and healthier place to be.
LGBTQ + DEI: Queer Representation in STEAM
Monday, March 13 from 11:30 a.m. to 12:30 p.m. CT
Hilton Austin Downtown | Salon K
Professions in science and engineering have been among the last to embrace representation of marginalized groups, and although things are steadily improving, there are still a multitude of barriers for LGBTQ individuals to enter the STEAM fields. Even those who have made a foothold aren't always able to bring their authentic selves into the workplace. Panelists will share their experiences and suggest ways that those in STEAM careers can empower themselves and others.
The Future of Sex
Tuesday, March 14 from 11:30 a.m. to 12:30 p.m. CT
Hilton Austin Downtown | Salon H
Not for the inhibited, this featured session will dive into advancements in "sextech." Bryony Cole is a global sextech leader working with global venture studio Josephmark to take the best ideas out there and transform them into viable business ventures. The talk will explore how to build and scale early-stage concepts that combine sex, technology, and personal well-being. The panelists strive to take sex talk out of the shadows and into the spotlight of innovation.
Deepfakes: The Primary Threat to National Security
Wednesday, March 15 from 11:30 a.m. to 12:30 p.m. CT
Hilton Austin Downtown | Salon K
Deepfakes have been a fun distraction for fans of Tom Cruise and other entertainment personalities, but once things went political with simulations of world leaders, the technology took a dark turn. Rijul Gupta, co-founder and CEO of DeepMedia, will lead a panel of military and NGO experts sharing ideas about how to combat this new threat and how preparedness and scrutiny could be a matter for global intelligence services.
Combatting Climate Change with AI
Sunday, March 15 from 11:30 a.m. to 12:30 p.m. CT
Hilton Austin Downtown | Salon J
Tech pundits are quickly discovering how world-changing the new generation of artificial intelligence and machine learning can be. Why not put that power to good use for the planet? This panel will explore how intelligent systems can provide strategies to limit climate change impacts, make better predictions about the future, transform the way we study our Earth's climate, and lead us toward a bright future for Earth and humanity.
Gaming Panel Schedule
Over the past few years, the games industry has increased its presence at SXSW, and now it's a mainstay of Austin's biggest cultural event. In 2023, the festival's Game Industry Track is all about the cutting edge of interactive entertainment. What's ahead for the medium, and how are new technologies and initiatives going to help it get there? From exploring gaming on the cloud to an online platform that is educating our next generation of leaders, each of these panels has an eye on the future. Plus, a bit of esports action for FIFA fans!
eMLS Cup presented by Coca-Cola
Tuesday, March 12 from 2 p.m. at Austin City Limits Live at the Moody Theater
The FIFA franchise is an industry leader when it comes to esports, and one of its biggest competitions takes place in Austin: the eMLS Cup finals. The tournament returns to Austin after Paulo "PauloNeto999" Neto (Atlanta United) was crowned eMLS Cup champion in 2022 in front of an at-capacity crowd at Austin City Limits Live.
Pro FIFA players, each representing one of the 26 real-life MLS clubs, face off for a prize pool of $100,000, the largest in the tournament's history. But there's an even bigger prize: the chance to become the best FIFA player in North America.
Space Invaders: Cloud Gaming's Future
Tuesday, March 12 from 11:30 a.m. to 12:30 p.m. CT
Fairmont | Manchester GG
Recent advancements in cloud technology have completely changed the way we game, making it easier to play all your favorite titles without needing to buy expensive hardware. Streaming services like NVIDIA GeForce Now and Xbox Game Pass are bringing major AAA releases straight to your mobile devices and in the case of Samsung, right to your TV, making the medium more accessible than ever before. In this panel, experts from NVIDIA, Samsung, and Ubisoft discuss what this all means for the future of the industry.
Reimagining Cities: Civic Engagement w/ Minecraft
Tuesday, March 12 from 2:30 to 3:30 p.m. CT
Fairmont | Manchester EE
Mojang's megahit sandbox game Minecraft isn't just about building silly things and fighting zombies anymore. Thanks to new educational initiatives like Classroom Build Challenges, the platform is now utilized by programs around the world to engage young learners and teach them about sustainable infrastructure, climate change, and other real-world issues. This panel, led by Microsoft, explores all the ways Minecraft is being used to shape our future thinkers.
Esports Entertainment – The Next Decade
Tuesday, March 12 from 4:00 to 5:00 p.m. CT
Fairmont | Manchester GG
The world of esports has matured into a multi-billion dollar industry. And it isn't just about video game competitions anymore. The space has expanded to include esports podcasts and documentaries, as well as new streamers and influencers. Representatives from League of Legends studio Riot Games, esports club Team Liquid, and influencer talent agency Loaded sit down to discuss the diversification of esports entertainment and what's next.
Disrupting the Game: IP & the Future of Franchise
Wednesday, March 13 from 4:00 to 5:00 p.m. CT
Fairmont | Manchester EE
Mobile gaming is a booming business, but where do the category's biggest franchises go from here? This panel, presented by mobile gaming company Pixel United, argues that it's time for mobile gaming to make the jump to movies, TV, and streaming.
Developing the Next Generation of Game Industry Talent
Thursday, March 14 from 10:00 to 11:00 a.m. CT
Fairmont | Manchester EE
Gaming is no longer a niche interest, as much a popular form of entertainment as movies, TV, and music. It's only natural, then, that video game development has also become one of the most sought-after career paths for students entering higher education. Many institutions now offer degrees or certificate programs meant to train the next generation of game developers, but are the curriculums being taught in schools the best they can be to prepare students for the field? This panel interrogates the current state of game development education and what can be improved for the future.
How Voice Technology Will Impact Tomorrow's Gaming
Thursday, March 14 from 4:00 to 5:00 p.m. CT
Fairmont | Manchester EE
These days, Amazon Echo Dot or Google Next devices are about as commonplace in the home as a television set. And folks aren't just using voice technology devices to control smart lighting, order products online, or listen to music. Amazon, Yahoo, Sony, and Volley break down why these gadgets, and the AI that powers them, are the next frontier in gaming tech.