News
Ratchet and Clank: Rift Apart Gameplay Demo Shows off the PS5's Power
Ratchet and Clank: Rift Apart looks like a glorious return for this often underrated franchise as well as one of the PS5's best early exclusives.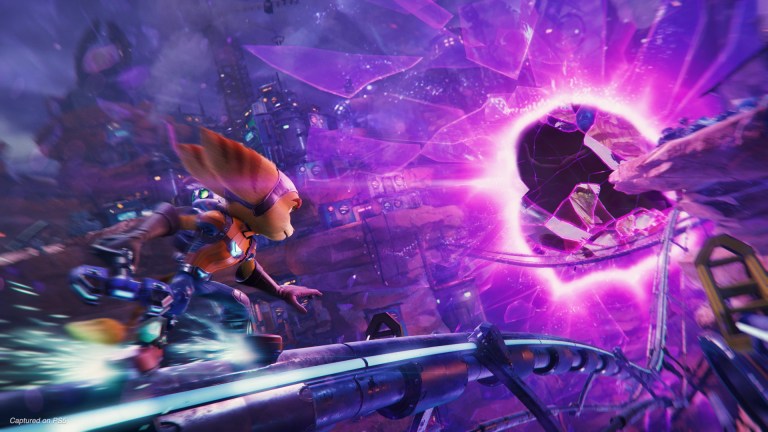 Insomniac Games released a new gameplay demo for Ratchet and Clank: Rift Apart during Gamescom's opening night ceremony, and it featured possibly our best look yet at the potential of PS5's power potential.
While the demo was described as seamless gameplay footage captured from a PS5, it should be noted that the sequence it showcased looked fairly scripted. Our best guess is that it's taken from a segment early in the game that is meant to serve as a kind of preview for what's to come. As such, it's still a little hard to tell whether or not the game will live up to some of its larger technological promises based entirely on this sequence.
Even still, what we see of the game during this demo is very impressive. That's especially true of the game's rifts, which (at least at this early stage) essentially seem to function like portals from the Portal series in that they allow you to easily jump between points on a map.
While the earliest use of Ratchet's rift creating device is used to simply reach the other side of a large gap, a combat sequence later in the demo reveals a bit more of its versatility. There, we witness Ratchet rifts in order to flank his enemies and escape dangerous situations. It's a little thing, but it does give us a glimpse of what Portal might have looked like if it was more of an action game.
We also see Ratchet jump between various dimensions later in the demo, but that's the part of the demo that starts to feel a little more scripted. It's still not clear whether or not Rift Apart will allow you to make these jumps quite so seamlessly as this part of the demo makes that process look, but the technology is impressive nonetheless.
Generally speaking, Rift Apart looks very good, but the game's biggest technological promise remains Insomniac's insistence that you'll never encounter a load screen during your Rift Apart journey. Again, we're not sure at this time exactly how that will work in regards to the idea of being able to execute larger dimensional jumps between dimensions during real-time gameplay, but generally speaking, this feels like the smoothest Ratchet and Clank game that we've seen yet.
Ratchet and Clank: Rift Apart may end up being one of the PS5's most impressive early technological showcases, but there's still some debate regarding how early of a technological showcase it will end up being. Insomniac said that the current plan is for Rift Apart to be a PS5 "launch window" game, but considering that there isn't a launch date available for the PS5 as of yet, it's difficult to say exactly what that means.