News
Hood: Outlaws & Legends Trailer Reveals PlayStation 5 Heist Game
Hood: Outlaws & Legends features a unique take on the Robin Hood character as well as some fascinating multiplayer heist gameplay.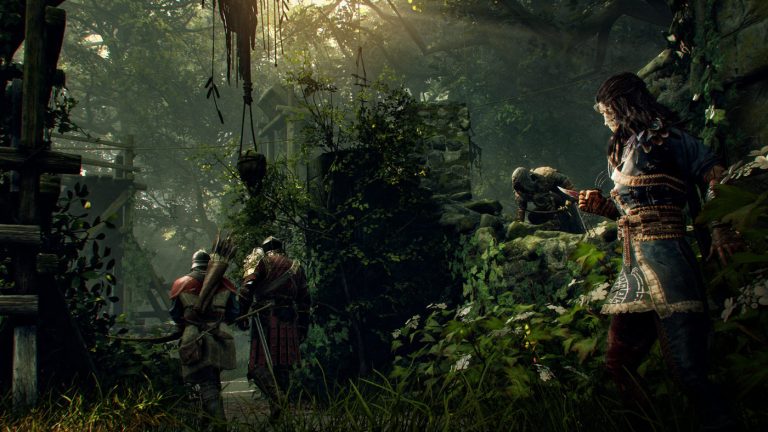 The recent PlayStation State of Play event featured the reveal trailer for a surprisingly intriguing Robin Hood PlayStation 5 (and PC) game called Hood: Outlaws & Legends.
"Hood is not one person. It is an idea. A symbol to the people. A legend," says game director Andrew Willans via the PlayStation Blog. "Because we are retelling a legend rather than being historically accurate, we have created our own version of Dark Ages Britain, a time when old-world myth and superstition compete with man-made power. In this time of feudal law, a powerful authority known as The State is trying to bring order to the chaos. But this comes at great cost to people's liberties, and many consider The State to be as brutal as the ruthless militia who are fighting against their rule."
While that sounds like an interesting take on the Robin Hood character and universe, we'd argue that the most intriguing early Hood: Outlaws & Legends detail is that it's actually a multiplayer heist game.
"Hood is a multiplayer heist game that blends combat, stealth, and strategy," Willans says. "This is a PvPvE game that pits two 4-player teams against each other as they attempt the same daring heist in environments populated with enemy AI guards. Without going into spoiler territory (this is a reveal, rather than a deeper dive – more to come soon), we have a wide range of game mechanics and features that can be used to help teammates or hinder rival players."
We've seen PvE multiplayer heist games in the past (such as the Payday series), but the addition of those enhanced PvP elements certainly adds a bit of a twist to that concept. Willans stops short of offering a full breakdown of how that blend of styles will work, but he does mention that successful heists will demand teamwork as well as management of factors such as item weight and sound dampening.
Much like Godfall, it also seems that the Hood's developers are excited by the potential of the DualSense controller's haptic feedback technology and how that technology will allow them to utilize more realistic feedback. That's a feature we've heard several PlayStation 5 developers highlight, so we're excited to see how the controller actually feels.
In the meantime, be sure to check out the game for yourself courtesy of this stylish debut trailer:
There's no release date available for Hood: Outlaws & Legends (which is kind of the theme for all next-gen games at this point) but developer Sumo Newcastle has already promised to reveal more details about this game soon. We'll be sure to bring those to you once they're available.