Sponsored
Why NVIDIA GeForce Ray Tracing Is the Best Way to Game This Holiday
Looking for the best PC gaming gifts ahead of Black Friday? Look no further than this NVIDIA GeForce RTX ray tracing gift guide!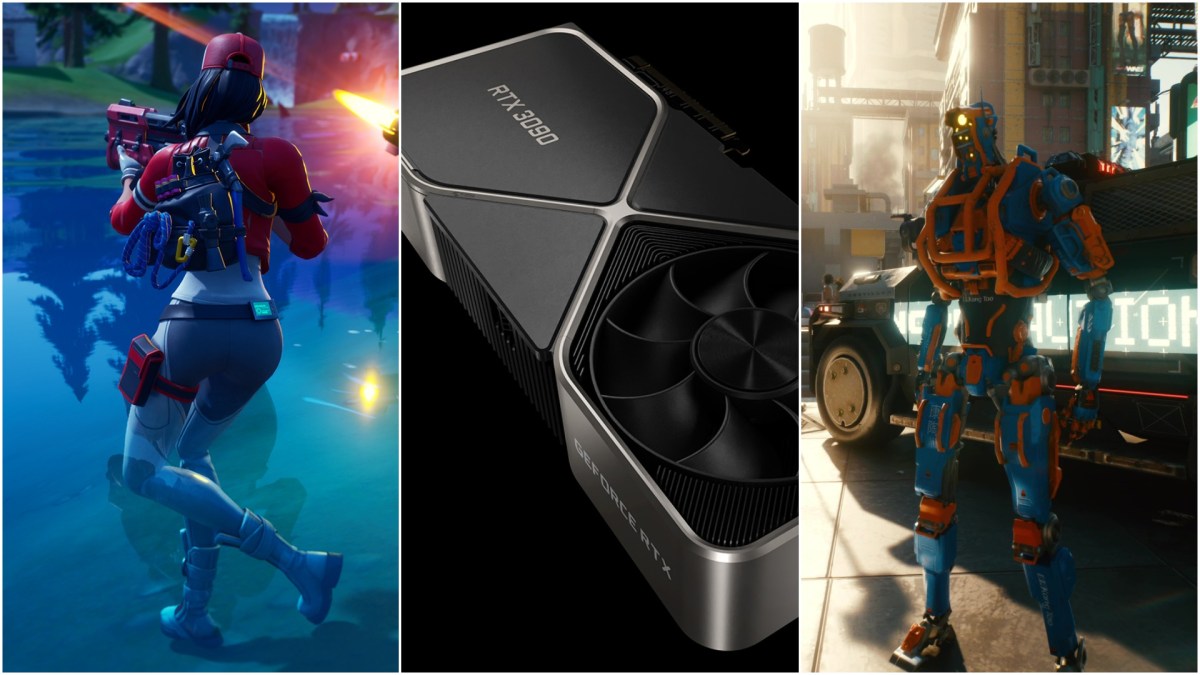 This article is presented by NVIDIA.
2020 is an exciting year for PC gamers, thanks to NVIDIA's powerful next-gen GeForce RTX 30 Series GPUs and ray tracing-enabled RTX gaming laptops. Needless to say, there is absolutely no better way to game this holiday than with NVIDIA GeForce graphics, which deliver the most cutting edge visuals currently on the market.
As we learned last year when we installed a RTX 2080 Ti in our official Den of Geek PC, and after testing several RTX laptops earlier this year, once you've experience ray tracing — a new technique that brings advanced lighting and shadow effects to many of the latest games — it's hard to go back to a time before it.
If you're looking to upgrade your PC gaming experience this holiday, here's a helpful guide on how to do it with the help of NVIDIA GeForce:
Say Hello to the Powerful GeForce RTX 30 Series Family
NVIDIA's latest graphics cards are here, and they're spectacular.
For a long time, the RTX 2080 Ti was the gold standard when it came to PC gaming – but NVIDIA has now found a way to top itself with the RTX 3070, 3080 and 3090 GPUs. That's no small feat for graphics cards that start at $499.
Assuming the rest of your setup is up to date, a RTX 30 Series GPU will offer a seriously enhanced graphical performance, and you should expect three-figure frame rates in even the most demanding titles as well as 4K resolutions, with the RTX 3090 already looking ahead at an 8K future.
How is this possible? Well, it comes down to the new NVIDIA Ampere architecture. It has 2nd generation Ray Tracing Cores, new streaming multiprocessors, and lightning fast G6X memory to push performance to the limit. It also has 3rd generation Tensor Cores, and these are worth highlighting, as they're the secret to one of the RTX 30 Series' trump cards: DLSS (Deep Learning Super Sampling). Using the dedicated AI processing Tensor Cores, the RTX 30 Series unleashes the power of artificial intelligence to produce higher resolution graphics without the same rendering overhead. The result? Smoother gameplay that still stuns visually in supported games – like Call of Duty: Black Ops Cold War, Fortnite, Minecraft, F1 2020, Final Fantasy XV, Hideo Kojima's epic Death Stranding, and many more.
The Best NVIDIA GeForce Holiday Deals
RTX introduced fast, real time ray tracing in games. While previous generations of games have hard coded the way light and shadow behaves, ray tracing allows your gaming PC to render each ray of light dynamically in real time for an unprecedented level of realism. That doesn't just make for incredible weather effects, but for the realistic casting of shadows and incredible reflective detail as the video below demonstrates:
Suffice it to say, the RTX 30 Series GPU family lets you experience this "Holy Grail" of gaming graphics without disrupting your frame rates. No more choosing between looks and fluidity!
For Power on the Go, GeForce RTX Laptops Are Portable Gaming Marvels
If you want great visuals on the go, RTX laptops start at $999 and bring ray tracing and DLSS capabilities with them. They don't offer quite the same performance as the latest desktop RTX 30 Series GPUs, but you'll still be blown away by what's possible in such a small form factor – as I was earlier this year.
And with a RTX GPU, you'll never have to anxiously check the minimum specs page on Steam again.
The Best Games This Holiday Are Ray Traced
Whether you end up with a new supercharged GPU for your PC, or a brand new RTX gaming laptop, you'll benefit from a revolutionary upgrade in visuals.
Here are six excellent games that showcase what NVIDIA GeForce graphics can do:
Cyberpunk 2077
Anybody who has put hundreds of hours into The Witcher 3 will know exactly why Cyberpunk 2077 is so highly anticipated. A futuristic open world, the safe hands of CD PROJEKT RED, and Keanu Reeves starring – what's not to like?
Undoubtedly set to become our best look yet at how ray tracing can make a game feel more immersive, Cyberpunk 2077 is out on Dec. 10.
Call of Duty: Black Ops Cold War
Picking up where the original Call of Duty: Black Ops left off, this Cold War thriller takes you globetrotting around the world to stop a potential nuclear war.
Heavy subject matter aside, it tells the story while looking extremely good along the way. Shadow effects in particular stand out, whether in a dimly lit basement, or in the blazing sunshine of the battlefield.
Watch Dogs: Legion
Exploring the beautifully ray traced version of London in Watch Dogs: Legion has been a treat, given I can't currently head off into town and see the way light reflects in Trafalgar Square's puddles in real life.
Yes, there's tight gunplay and hacking aplenty, but for me, trying to track down my first flat in Vauxhall was worth the price of entry alone.
Fortnite
Whoever coined the phrase "the best things in life are free" probably wasn't thinking about Fortnite – but it's still apt.
The world's biggest online shooter has only had ray tracing enabled for two months, but those with it switched on can enjoy shimmery reflections and detailed shadows while earning their victory royales. If you want to see it at its best, Epic and NVIDIA created a custom RTX Treasure Run map to see what the fuss is about: just enter the creative code 9189-0518-5408 to give it a try.
Control
From the minds that brought you Alan Wake, Quantum Break, and Max Payne comes Control, a memorable action-adventure set in The Oldest House, a shifting hub , brutalist skyscraper full of supernatural threats.
The first character you run into is the bureau's janitor, Ahti, and suffice it to say that with ray tracing enabled, you'll be very impressed with the job he's done polishing the exceptionally shiny floors, as the video above shows. RTX-enabled Control is a true visual feast and perhaps the best showcase of advanced lighting and reflections to date – albeit one that's not easy on the hardware. Fortunately, the game supports DLSS as well for a huge boost in performance using the power of AI.
Minecraft
In many ways, Minecraft doesn't seem like the ideal candidate for a ray tracing update. It is, after all, intentionally blocky and doesn't really go for realism (pigs don't actually look like that).
But when you see it with ray tracing enabled it really showcases the true power of the technology. While other games have pre-set events where dynamic weather and reflections can be programmed in, what happens in Minecraft is completely up to you. And you can unleash your full creativity with the visual fidelity of ray tracing and performance of DLSS, as you build your epic, awe inspiring worlds.
Check out all of the GeForce holiday deals here.