Features
Build Your Own PC: NVIDIA GeForce RTX 2080 Ti GPU
Your GPU defines your PC gaming experience. Here are our thoughts on the NVIDIA GeForce RTX 2080 Ti...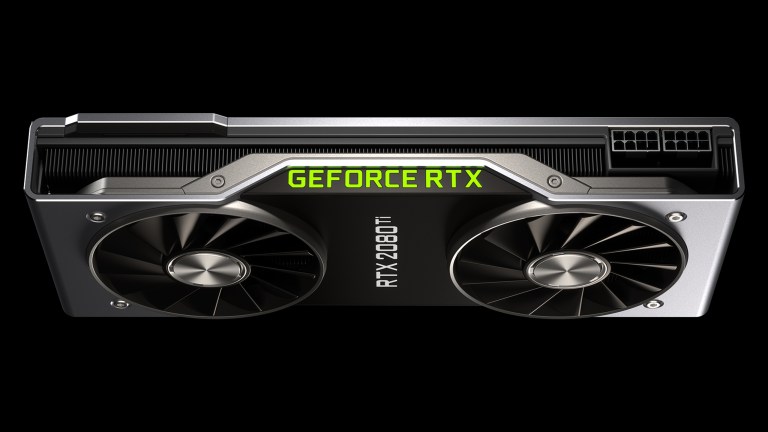 This article is sponsored by Walmart. Part 8 of our PC Building series.
A new graphics card is more than a component upgrade for your PC. It's a declaration of intent. We've looked at a series of PC parts that can make your computer faster and more reliable. Components like an SSD, better RAM, or even a faster CPU exist to maximize the potential of your rig. But a GPU is different.
The truth is that just about any modern GPU (even integrated options) will be powerful enough for anyone who uses their PC to browse the internet or run a few basic programs. However, if you're looking to use your PC as a gaming platform or as the workhorse for high-end functions such as video editing, then it's a high-end GPU that's going to turn your PC into the kind of powerhouse you need.
For our own Den of Geek Gaming PC, we chose the NVIDIA GeForce RTX 2080 Ti. NVIDIA describes the RTX 2080 Ti as its latest "flaghship" card. If you're at all familiar with NVIDIA's long history of innovation and producing premium devices in this particular field, then you probably already know why that designation is a big deal.
Buy the NVIDIA GeForce RTX 2080 Ti
The numbers support this GPU's status as the best premium option on the market today. Compare this card to the GTX 1080 Ti (a stellar GPU in its own right), and you'll find that running the RTX 2080 Ti is essentially the equivalent of running two 1080s. Its chip is over twice the size of the one found in the 1080 and its 11GB GDDR6 RAM structure offers nearly twice the memory bandwidth of the 1080. Break this GPU down any way you want, and you'll find that it outclasses the rest of NVIDIA's line and (quite frankly) everything else out there.
You're not buying a new GPU, especially a premium GPU like this, just for numbers, though. You're buying it because you want to enjoy the results. So far as that goes, the RTX 2080 Ti offers two things that few other graphics cards can truly boast: 4K gaming and ray tracing.
We know you've heard a lot about 4K gaming in recent years, but the sad truth is that few graphics cards are capable of both running games in 4K and running those 4K games at, or over, 60 FPS. This has started a debate in the PC gaming community regarding whether frames or resolution is more desirable.
The RTX 2080 Ti is proof that you should have both. While it's not capable of running every game at 4K while offering max frames-per-second, there is simply no other card on the market that is able to run so many 4K titles at such incredible speeds. Even demanding titles like Battlefield V are capable of breaking the 100FPS mark at 4K resolution and Ultra settings when you play them on this card.
Read More: PC Gaming Innovations That Changed the Way We Play
You know those screenshots of games you see sometimes that you'd swear look too good to be real? Such visuals are achieved by GPUs like the RTX 2080 Ti. Now, just imagine seeing those incredible visuals fill your screen at speeds greater than even the most powerful modern consoles can achieve. That's the kind of performance you want when investing in a premium GPU like the RTX 2080 Ti.
Yet, there's no feature that relays the power potential of this GPU quite like ray tracing. We talked a bit about ray tracing when we looked at the Lenovo Legion Y740 and its RTX 2060 GPU, but here's a refresher on what it is and why it's important: it's a new technique in game design that allows developers to render life-like lighting, reflections, and shadows like never before. With ray tracing, studios can create more immersive and realistic environments, a major leap in game graphics that not only defines PC gaming today but will be a major focus of the next generation of home consoles.
Just check out the video below of Call of Duty: Modern Warfarerunning with ray tracing enabled. It's a showcase of realistic lighting and shadow:
Games like Control and Call of Duty: Modern Warfare that are just the first steps into what ray tracing will be able to achieve in the years to come. And that's why your GPU choice is a declaration of intent. There's no shortage of GPUs on the market that confirm you're living in a pretty exciting time to be a PC gamer. But if you want the very best ray tracing GPU the market has to offer, the RTX 2080 Ti is the graphics card for you.
The NVIDIA GeForce RTX 2080 Ti is a premium GPU that checks in at a premium price. However, purchasing one isn't just about what it's going to be able to do for you today. It's about making sure your rig is ready for what comes next.
To read the complete PC Building series, click the links below:
Matthew Byrd is a staff writer for Den of Geek. He spends most of his days trying to pitch deep-dive analytical pieces about Killer Klowns From Outer Space to an increasingly perturbed series of editors. You can read more of his work here or find him on Twitter at @SilverTuna014.