Sponsored
NVIDIA RTX Laptops Are Leading the Ray-tracing Revolution
NVIDIA's new line of ray-tracing-enabled RTX laptops are at the forefront of a gaming laptop revolution that is changing the way we think about gaming on-the-go.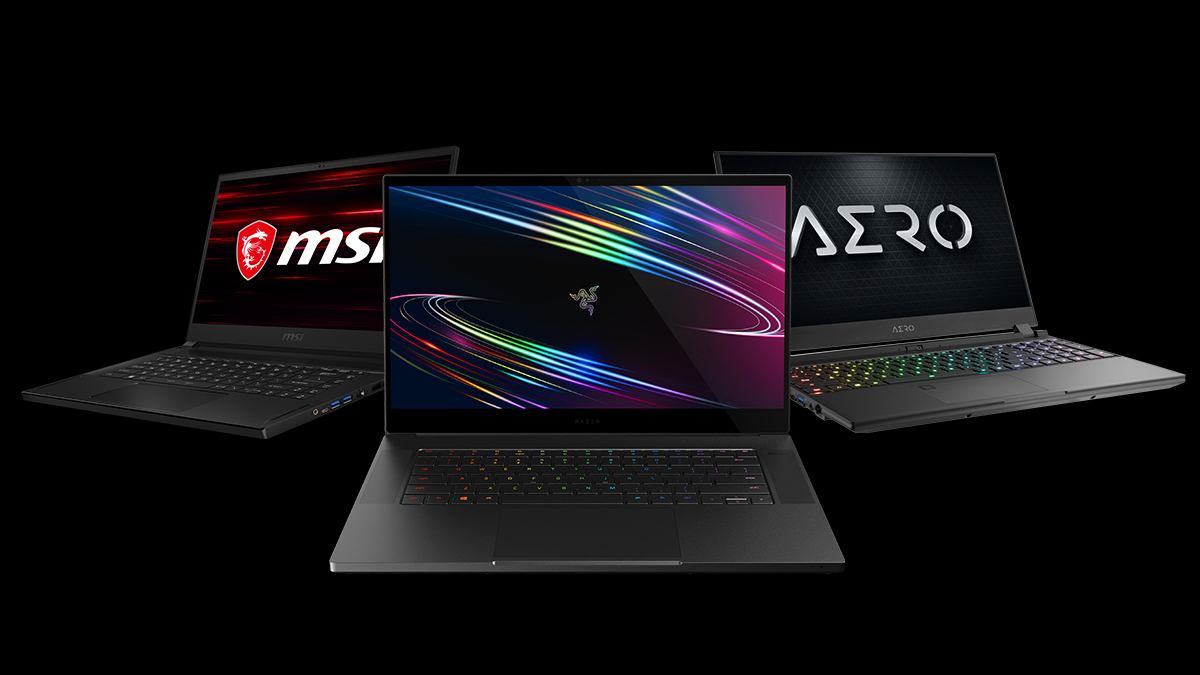 This article is presented by NVIDIA.
NVIDIA is known for innovation, whether it be through its powerful RTX series GPUs or by spearheading ray-tracing as the next frontier of gaming graphics. This year, NVIDIA is taking yet another major leap forward by introducing the thinnest and most portable gaming laptops powered by RTX GPUs on the market.
These new laptops are not only dramatically less bulky than the gaming laptops of old but are also proper desktop replacements with the powerful top-of-the-line graphics you've come to expect from a high-end rig. That means you can experience the beauty of ray-traced graphics on the go like never before.
Whether you're a PC gamer or looking forward to next-gen consoles, you've absolutely heard the term "ray-tracing" before. Why does it matter? Described as "the Holy Grail of graphics" by NVIDIA, ray-tracing is a new technique of rendering life-like lighting that makes games look more photorealistic and feel more immersive. Through the magic of ray-tracing, players can experience physically-correct shadow effects and reflections as well as environments that respond dynamically to the light source in a scene.
You probably want to see what ray-tracing looks like in action, right? Take a look at this demonstration video to see just how much more realistic the lighting looks in a selection of ray-traced games:
NVIDIA's RTX laptops are the key to unlocking ray-tracing at its very best. As I noted in my last look at RTX 2060 laptops in 2019, RTX GPUs can intelligently render shadows based on the shape and distance of an object or figure casting the shadow as well as the light source. These GPUs can also correctly reflect the exact shape and color of an object as well as produce the reflection at the correct angle at which it would be reflected in the real world.
But the RTX 2060 laptops were just the beginning. This spring, NVIDIA introduced a new lineup of laptops fitted with RTX 2070 SUPER and RTX 2080 SUPER GPUs that deliver the enhanced performance PC gaming enthusiasts and hardcore gamers crave.
Den of Geek already runs the powerful, top-of-the-line NVIDIA GeForce RTX 2080 Ti GPU in our official gaming PC, allowing us to bring you the latest games at the highest graphics quality, but I was anxious to try out this new line of NVIDIA laptops that offered more mobility than our beloved rig.
NVIDIA was nice enough to let us try out three laptops: the MSI GF65 Thin with a RTX 2060 GPU as well as the Gigabyte Aero 15 and the Razer Blade 15 Advanced with RTX 2070 SUPER GPUs. After spending more than a month with these gaming laptops, I came away really impressed by how well each performed despite a range of differences in components and price.
First of all, all three laptops are absolutely beautiful, offering a sleek design in a slim chassis. They feel lightweight but sturdy and well-made. All three also offer nice stylistic flourishes like customizable RGB lighting for the keyboards and metallic finish on the chassis.
The MSI GF65 Thin feels particularly lightweight, weighing in at just a little over four pounds, a major selling point for anyone looking to take their PC games with them to the cafe or to their friend's house. Yet, this laptop has a 15.6" 144Hz HD screen in a thin bezel, which means you don't have to sacrifice the screen space for portability. The cooling is also exceptional. Even when playing ray-tracing-enabled games like Control and Wolfenstein: Youngblood on Ultra settings, the MSI GF65 Thin rarely felt too hot to place on my lap while playing in bed or on my couch.
Most impressive is the way the MSI's RTX 2060 GPU holds its own against the RTX 2070 SUPER. While the RTX 2060 laptops are now selling as low as $999/£999, I wouldn't consider the MSI a "budget" option since it still delivers 1080p HD graphics and a comfortable standard of 60 fps. Playing Control on the MSI offered an excellent look at the way the RTX 2060 can dynamically create reflections and shadows, such as when allies and enemies are moving around you.
This MSI laptop is also a great showcase for an NVIDIA technology running through all three of these laptops that ensures that you're playing at the highest graphical fidelity, even when a PC's specs are slightly less beefy.
This technology is called DLSS 2.0, an AI neural network designed to boost frame rates without sacrificing resolution, while also vastly improving ray-traced game performance. I found that the demanding space adventure Deliver Us The Moon, which offers an impressive simulation of what sunlight and shadows look like on the Moon's surface, looked even better with DLSS 2.0 enabled.
Check out this visual feast powered by DLSS 2.0 for yourself:
Playing Deliver Us The Moon is particularly breathtaking on the Razer Blade 15 Advanced (starting from $1,799/£1,899), as the shadows of a space colony's abandoned towers dynamically and realistically spilled over the Moon's surface. The model I tested boasted a 15.6" 300Hz HD screen, 10th-Gen Intel i7 CPU, and 16 GB RAM inside an aluminum chassis that was only 0.7 inches thin. With those specs, I had no problem running Deliver Us The Moon, Control, Minecraft RTX, or Wolfenstein: Youngblood at the highest graphics settings, but with DLSS 2.0 enabled, the images looked even smoother, with virtually no stutter in frame rates.
But the most impressive thing about the Razer Blade 15 Advanced besides the excellent ray-tracing capabilities of the RTX 2070 SUPER GPU is the actual size of the laptop. It's the smallest gaming laptop I've ever played on, even if it's slightly heavier than the MSI at 4.5 pounds.
With those specs and that size, you'd expect the Razer Blade to get pretty hot with less space for the components to breathe. Yet, not only do the low-noise fans, thermal blockers, and heat exchangers do a good job of dissipating heat in the Razer but NVIDIA's innovative Max-Q Dynamic Boost technology helps all three of these laptops efficiently balance power between the CPU and GPU on a per-frame basis to prevent either component from being overtaxed or getting too hot while you're gaming.

Heat management is key to why NVIDIA laptops are thinner than ever before. Since the components inside these laptops create heat, managing how power is dispersed between these components is the best way to reduce the heat created by more demanding games. A laptop that more efficiently manages heat requires less breathing room for each component, resulting in a thinner, more compact chassis.
Speaking of power, one of the glowing problems with gaming laptops in the past is that they still required you to stay close to a power outlet. Fast-paced, chaotic games like Wolfenstein: Youngblood, with its advanced ray-traced reflections that flesh out environments throughout alternate-history war torn Europe, can drain laptop batteries very quickly. Fortunately, NVIDIA's Optimus technology and Battery Boost help extend the battery life of your laptop for when you're unplugged and every second counts.
With these laptops, you can enjoy games without being stuck to a desk during a tense firefight for fear that you might power down in the middle of gameplay. The convenience and portability of a gaming laptop should be a big selling point over purchasing a stationary rig. Being able to move all three laptops from room to room while shooting my way through Wolfenstein is a major pro in my book.
The Gigabyte Aero 15 I tested (starting from $2,099/£1,998) had identical CPU, GPU, and RAM specs to the Razer Blade 15 but with a stunning 15.6" 59Hz 4K screen that made the dynamic lighting rendered by its RTX 2070 SUPER graphics card absolutely pop. This laptop weighs 4.4 pounds and is 0.7mm thin, a nice go-between among the three in terms of weight. Of note is the metallic chassis, which has a detailed finish that makes this laptop stand out in particular in terms of appearance.
I spent a considerable amount of time with this laptop running around and building things in Minecraft RTX, which offers a ray-traced enabled experience unlike any you've had in the popular sandbox game before. Touring pre-made worlds specifically created to show off the power of ray-tracing, I made my way through the light-drenched streets of "Neon District," the dystopian and shadowy "The Observer," and fought off zombies in "Medieval." The latter world is particularly eye-catching, with its massive castle that overlooks the village below and the crystalline water kissed by sunlight. I could see my reflection in the water while rays of light came through the windows of quaint, blocky cabins. All of this rendered beautifully on the Gigabyte Aero 15.
Look at what a difference ray-tracing makes in Minecraft:
All three of these models show that there's an NVIDIA RTX laptop for everyone at various price points and with specs that meet different needs. The MSI GF65 Thin with RTX 2060 is the perfect portable, lightweight and reliable, delivering ray-traced graphics at a very affordable price. The Gigabyte Aero 15 with RTX 2070 SUPER is a more premium option made for those who want a 4K screen (an OLED 300Hz HD screen option is also available). The Razer Blade 15 Advanced is an absolute powerhouse that ran everything I threw at it at the highest graphics settings.
Most importantly, all of these laptops show the promise of NVIDIA's continued work in the laptop space. After testing out their RTX laptops two years in a row, I can't wait to see what they'll come up with in 2021.