News
MLB Players League: Where To Stream Joey Gallo, Amir Garrett, and Jeff McNeil Tonight
MLB The Show Players League is back for night five. Fan favorites Amir Garrett, Bo Bichette, and Luke Jackson are set to stream.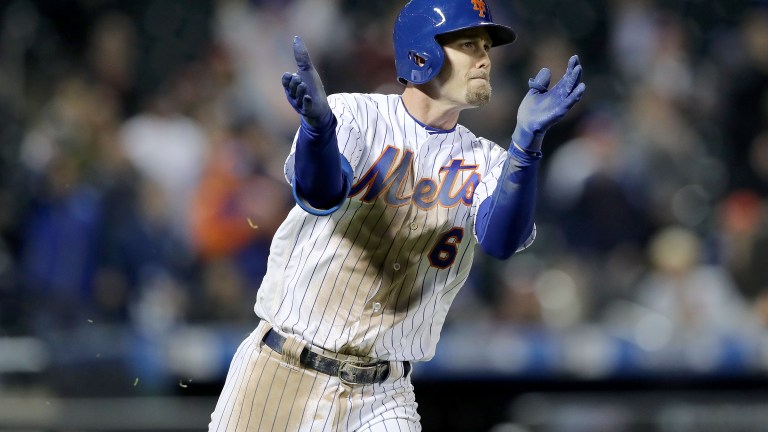 The competition is heating up in the MLB Players League on MLB The Show 20. Through four nights of play, we've seen walk-offs, a handful of guys hitting dingers as themselves, and gratuitous celebrations. With a 29-game regular season and only eight playoff spots, nearly every game matters.
On Tuesday, 12 Major League Players will be live streaming their matchups. Headlining the evening's tilts are 2019 All-Stars Joey Gallo (Texas Rangers) and Jeff McNeil (New York Mets). Gallo went undefeated on opening night, treating his fellow big leaguers like lambs at a slaughter. The Rangers' slugger outscored his opponents 30-6 in a display of joystick brilliance. It'll be tough to replicate now that the target is on his back. McNeil continues to show the baseball world that he's the most versatile player in any game, real or virtual. He went 3-1 and sits in first place in a competitive NL East. On Tuesday, McNeil faces tough competition in Arizona's Jon Duplantier (3-1), Toronto's Bo Bichette (3-1), Cincinnati's Amir Garrett (3-1) and Houston's Lance McCullers Jr. (2-2).
Joey Gallo (Texas Rangers) Twitch Stream
MLB Players League Highlights and Recaps
Did you just learn about the MLB Players League? It's OK, we have you covered. Check out all the highlights and analysis from each night of action: Night 1 Recap, Night 2 Recap, Night 3 Recap, Night 4 Recap.
Watch MLB The Show (The Show)
We'll have more in-depth coverage of the Players League in the next episode of our new baseball video series MLB The Show (The Show). In each episode, baseball, video games, and entertainment collide. Featuring exclusive interviews with current and former big leaguers, comedians, actors and celebrity baseball fans, (The Show) is our love letter to the game we're all missing right now. In last week's episode, guest Dennis Quaid takes a trip down memory lane about his hit 2002 baseball film The Rookie. We also slide headfirst into the History of Baseball Video Games. Watch the episode below!
On the next episode, which drops Thursday, April 16, we're joined by Kevin Heffernan and Steve Lemme, the stars of Super Troopers, BeerFest, and currently Tacoma FD. They show off their Rec League Softball hardware, fill out a BeerFest roster with Major League players, and recall some wild nights out with former pros. Follow along by subscribing to our YouTube channel!