News
MLB The Show Players League: Rangers' Joey Gallo Dominates Night 1
MLB's Players League in The Show 20 kicked off with Joey Gallo, Blake Snell, Amir Garrett, Trevor May, Eduardo Rodriguez and Lance McCullers Jr.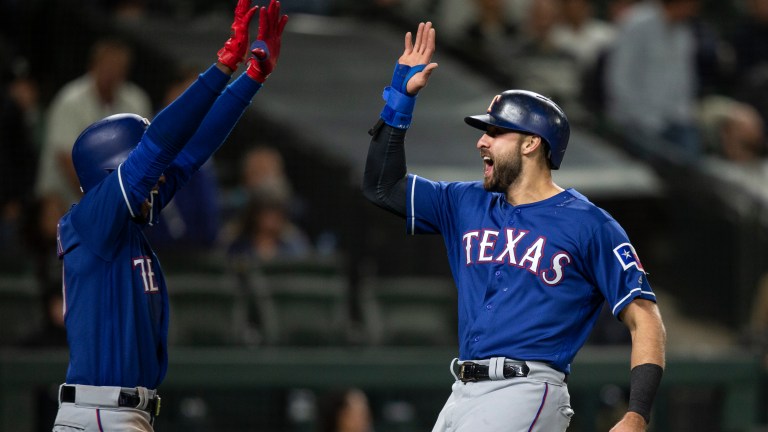 On Friday, Major League Baseball and Sony's MLB The Show 20 kicked off its Players League with one representative from each of the 30 clubs participating in a 29-game regular season through April 28. It may be the closest thing we'll get to real baseball for the foreseeable future. For fans depraved of America's Pastime, it's hard to deny this format was a fun way to pass the time at a moment when we could all use an escape from the real world. Night one featured Joey Gallo (Texas Rangers), Amir Garrett (Cincinnati Reds), Blake Snell (Tampa Bay Rays), Lance McCullers (Houston Astros), Trevor May (Minnesota Twins), and Eduardo Rodriguez (Boston Red Sox). It also featured big dingers, a safety squeeze, trash talk, and rage reactions, all things we love.
Where To Watch MLB The Show Players League
The Players League streams at 9 p.m. each night on the following channels per MLB.com:
MLB social media accounts (Twitter, Facebook, YouTube, Twitch), MLB Network's Twitch site, "MLB The Show" social media (Twitter, Facebook, YouTube, Twitch), the clubs' social media accounts and MLB.com. Each player will also stream it from their individual Twitch or YouTube accounts.
MLB also created a central hub for standings, schedules, and videos.
MLB The Show Players League Results: Day 1
The story of the night was Joey Gallo, who dropped the hammer on his fellow big leaguers. The Rangers outfielder went undefeated, 4-0, and outscored his opponents 30-6. That would be impressive in four nine inning games. It's absurd for three inning games. Total domination by Gallo.
The most dramatic game of the evening was the matchup between Tampa Bay pitcher Blake Snell and Reds reliever Amir Garrett. The scoreless tie was broken in extra innings when Garret used Mike Moutaskas to pull off a sacrifice bunt with the bases loaded. "That's what we do, SMALL BALL," he yelled in excitement. Garret then retired Tampa Bay in order with Raisel Iglesias in the bottom of the fourth to close out the game.
The 1-3 start for league commissioner Trevor May led to him showing some frustration in a few moments of light rage, but he vowed vengeance on Twitter after the event.
Here's how the standings shake out after the first night of play:
Joey Gallo (Texas Rangers): 4-0
Amir Garrett (Cincinnati Reds): 3-1
Blake Snell (Tampa Bay Rays): 2-2
Lance McCullers (Houston Astros): 2-2
Trevor May (Minnesota Twins): 1-3
Eduardo Rodriguez (Boston Red Sox): 0-4
Dong of the Day
Despite only playing three inning games, homers were in abundance during night one. None were bigger than Gallo's shot off Snell."I barely play, I usually play Call of Duty," Gallo cooly remarks as he eviscerates a pitch from Snell, putting a hole in the Tropicana Stadium roof. It was video game art imitating real life. Look at MLB's Twitter video comparing the real thing vs. MLB The Show 20.
Garrett's commentary after the game was on-point. "All you do is hit dingers," he tells Gallo during the interview portion of the event with MLB Network's Robert Flores. Even if you're not into eSports, I imagine a lot of people will tune into the Players League for the trash talk alone. If nothing else comes of this league, we'll have a head start on finding the next generation of color commentators.
Gamer Swag
Respect to the players for leveling up with the gaming equipment. Snell is a Twitch veteran, so we knew what to expect, but props to Gallo and Rodriguez for sporting fancy headsets. Snell and Garrett also looked comfy in gaming chairs. Garrett's model is possibly the same one we have in our own office.
Swagger isn't just in your equipment, though. It's about the threads, too, and Garrett easily takes the gamer swag award for rocking up to night one in midseason form with his Reds jersey and cap. Look good. Feel good. Game good.
Watch MLB The Show (The Show)
We'll have more in-depth coverage of the Players League in the next episode of our new baseball video series MLB The Show (The Show). In each episode, baseball, video games, and entertainment collide. Featuring exclusive interviews with current and former big leaguers, comedians, actors and celebrity baseball fans, (The Show) is our love letter to the game we're all missing right now.
In this week's episode, guest Dennis Quaid takes a trip down memory lane with (The Show) about his hit 2002 baseball film The Rookie. We also slide headfirst into the History of Baseball Video Games. Watch the episode below!
On the next episode, which drops Thursday, April 16, we're joined by Kevin Heffernan and Steve Lemme, the stars of Super Troopers, BeerFest, and currently Tacoma FD. They show off their Rec League Softball hardware, fill out a BeerFest roster with Major League players, and recall some wild nights out with former pros. Follow along by subscribing to our YouTube channel!