Features
Dennis Quaid Revisits the Pitching Scenes From The Rookie
In an exclusive interview on our new baseball-themed series, Dennis Quaid gives us an "Actor's Cut" commentary on his hit 2002 film The Rookie.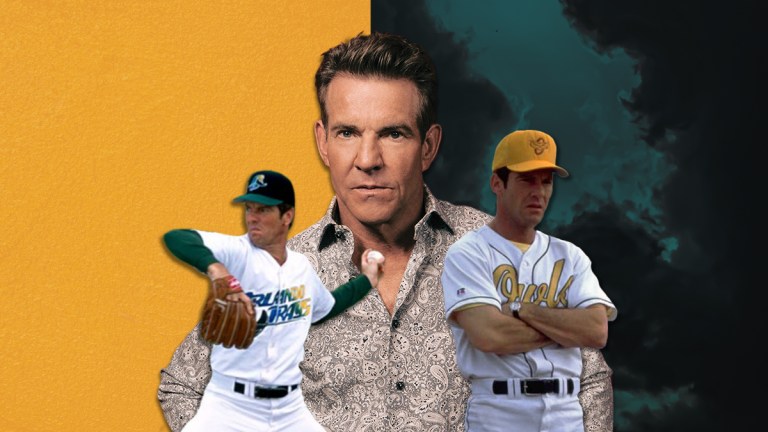 It's never just one thing that prevents a ballplayer from reaching the big leagues. It can be a combination of injuries, life getting in the way, or a player not having the mental makeup or physical ability to reach the pinnacle of the sport. That "what if" can be haunting, but life moves on.
It was arm troubles that led Jim Morris, a former Major League Baseball draft pick, to flame out of the minors by 1989. He went on to become a high school science teacher and a baseball coach in small town Texas. He moved on until his players made him a bet: if they win the league title, he'd have to try out for the pros a decade after giving up his career. The team held their end of the bargain and so did Morris: he still had enough gas in the tank to hit 98 MPH with his fastball and it earned him a minor league deal at the unheard of age of 35. In 1999, Morris did the seemingly impossible—he made his Major League debut and became the oldest rookie to step on a mound in nearly 40 years.
Morris chronicled his unlikely underdog story in his autobiography, The Oldest Rookie, and his story was immortalized by Disney in 2002 film The Rookie. Almost exactly two decades after Morris' short stint in the Major Leagues with Tampa Bay came to an end, we revisited classic baseball film with the film's lead, Dennis Quaid, on the latest episode of our new baseball themed video series, MLB The Show (The Show).
"I hadn't thrown a pitch since Little League," Quaid says about prepping for the role. "I was left-handed, thank God"
Landing The Rookie wasn't Quaid's first baseball-related gig. In his second film credit, the 1977 film I Never Promised You A Rose Garden, the actor played a baseball pitcher named Shark (coincidentally he'd later name his future rock band Dennis Quaid and The Sharks). His 2000 hit Frequency also had a baseball element to it as the storyline relies on memories of the New York Mets 1969 World Series Championship. The Rookie was a different animal, though, as Quaid would have to get into pitching form. He spent time throwing on the mound of an empty Dodger Stadium to get into shape for the role.
The scene he's frequently asked about is when Coach Morris stops his car at a speed sign. The former pitcher takes out a ball and whips it 96 MPH. "I never put myself on a radar gun on purpose," Quaid says with a laugh. "I didn't want to know. All I wanted to do was look like I could throw."
The warmups paid off. In the movie's climax, Morris makes his big league debut in his home state of Texas. The scene, shot during the seventh inning stretch of a Texas Rangers game, sees Quaid running from the bullpen to the pitcher's mound before facing his first batter in a pivotal moment in the game. He calls shooting the scene "one of the most incredible moments" of his life.
"You can feel everyone in the stadium," Quaid recalls. "It gives you a certain type of energy."
Quaid says having Morris on the set as a consultant was a "big deal" and inspiration for the cast, who "really turned into a team" during the production. He's maintained a friendship with the real Jim Morris ever since and the former big leaguer will also be one of Quaid's upcoming guests on his interview podcast, The Dennissance from Audio Up.
Quaid also reflected back on his own playing days, his favorite baseball movies of all-time, his charity work with Los Angeles Angels star Albert Pujols, and memories of pick-up games between takes on the set of the 1994 film Wyatt Earp with Kevin Costner. Watch the full interview below and please show us some love by liking, subscribing, and commenting on our YouTube channel!
We'd like to thank to our partners at Soundstripe for helping make this series possible! All music in MLB The Show (The Show) is licensed from Soundstripe.com, which provides stock music for creators, with plans starting at $11.25 / month. For 10% off, use coupon code "DENOFGEEK10" at checkout.