News
MLB Players League Highlights: Blake Snell Shines and Hunter Pence Walks Off
Monday's games in MLB Players League featured redemption for Blake Snell and victory for Hunter Pence in the longest game in league history.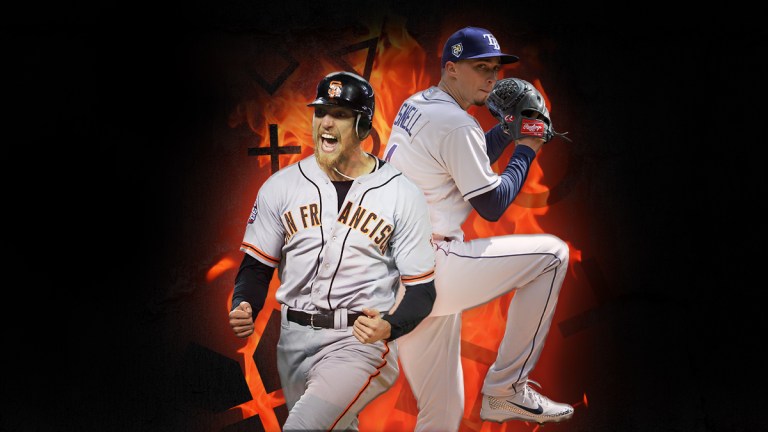 On Monday, MLB The Show Players League had its biggest night yet with 13 players in action. It featured league debuts from stars like Washington Nationals slugger Juan Soto, Milwaukee Brewers closer Josh Hader, St. Louis Cardinals infielder Matt Carpenter, and veteran Giants outfielder Hunter Pence. Some rising stars also made their Players League debut, including the Dodgers top prospect Gavin Lux, Pittsburgh Pirates shortstop Cole Tucker, and Colorado Rockies breakout star and 2019 All-Star David Dahl.
MLB Players League Night 4 Highlights, Results, and Standings
With a full slate of games, the Players League came as close as possible to replicating a busy night during the MLB season. Twitch essentially became MLB Tonight as fans could jump around to different streams. MLB Network's Robert Flores was back as the master of ceremonies and his call of Trevor May (Twins) and David Dahl's (Rockies) matchup was one of the more entertaining streams of the night. May, the league commissioner, eked out a 1-0 victory despite several fielding gaffes. May went 4-0 on the night after going 1-3 on opening night.
Blake Snell also redeemed himself on Monday after a lackluster opening night and beatdown at the hands of Joey Gallo. Snell went undefeated Monday vs. Ian Happ (Cubs), Tommy Kahnle (Yankees), Dwight Smith Jr. (Orioles), and Brett Phillips (KC). For the full list of results and schedule for Tuesday night's games, head over to MLB's central hub for standings, schedules, stats, and videos. You can catch Monday's stream below.
Dongs of the Night
Hunter Pence, on his birthday, delivered perhaps the best moment of the Player League so far. His game with Brett Phillips went the distance, nine innings, meaning six additional extra innings in this league. Pence walked it off with Buster Posey, then Pence's wife got in on the celebration.
What's there not to love about Juan Soto? Watch him go deep for a self-dong.
More self-dongs is what you want? They call Brett Phillips a defense first guy who can't swing the sticks. Phillips clapped right back at his naysayers after smacking a dinger. 
Where To Stream MLB The Show Players League
You can check out the following channels for more info and streaming links: MLB social media accounts (Twitter, Facebook, YouTube, Twitch), MLB Network's Twitch site, "MLB The Show" social media (Twitter, Facebook, YouTube, Twitch), the clubs' social media accounts and MLB.com. Each player will also stream it from their individual Twitch and/or YouTube accounts.
Watch MLB The Show (The Show)
We'll have more in-depth coverage of the Players League in the next episode of our new baseball video series MLB The Show (The Show). In each episode, baseball, video games, and entertainment collide. Featuring exclusive interviews with current and former big leaguers, comedians, actors and celebrity baseball fans, (The Show) is our love letter to the game we're all missing right now.
In last week's episode, guest Dennis Quaid takes a trip down memory lane with (The Show) about his hit 2002 baseball film The Rookie. We also slide headfirst into the History of Baseball Video Games. Watch the episode below!
On the next episode, which drops Thursday, April 16, we're joined by Kevin Heffernan and Steve Lemme, the stars of Super Troopers, BeerFest, and currently Tacoma FD. They show off their Rec League Softball hardware, fill out a BeerFest roster with Major League players, and recall some wild nights out with former pros. Follow along by subscribing to our YouTube channel!