Features
Why Cyberpunk 2077's "Labor of Love" Award Sends All the Wrong Messages
Cyberpunk 2077 just won the coveted Labor of Love Steam Award, but fans are rightfully torn on whether the game deserves forgiveness much less an award.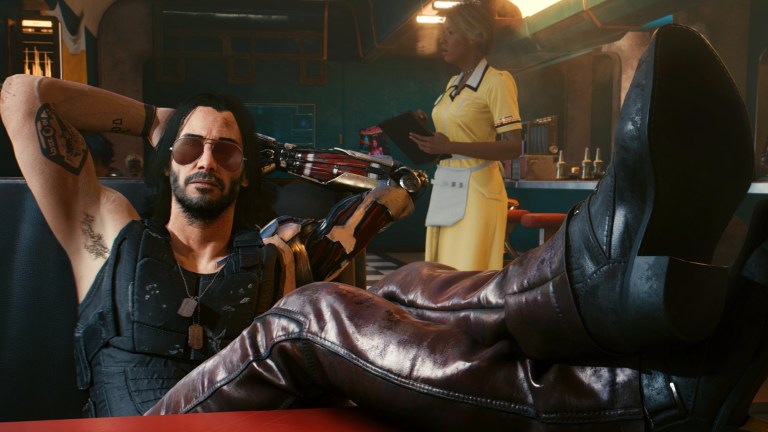 Valve recently revealed the winners of the 2022 Steam Awards, which allowed fans to vote for and celebrate the cream of last year's gaming crop. This year's winners included Elden Ring grabbing yet another Game of the Year award and Final Fantasy VII Remake Intergrade winning Best Soundtrack. Many gamers can agree on most of the nominees and winners, but one Steam Awards title has once again divided the internet: Cyberpunk 2077. That controversial 2020 game won the "Labor of Love" award, which raises the important question of whether it's actually time to forgive CD Projekt RED for releasing that game in such a sorry state.
For those unaware the Labor of Love award is described as follows:
This game has been out for a while. The team is well past the debut of their creative baby, but being the good parents they are, the devs continue to nurture and support their creation. This game, to this day, is still getting new content after all these years.
Cyberpunk 2077 was up against some stiff competition for that honor, including Deep Rock Galactic, Project Zomboid, DOTA 2, and No Man's Sky. Now to be fair, Cyberpunk 2077 has come a long way from its initial release state, thanks in no small part to the dedicated developers at CD Projekt RED, but the game's subreddit (and other corners of the internet) is lit up with people annoyed Cyberpunk 2077 won the award at all. Disgruntled gamers even started a new wave of review bombing out of protest. Of course, there are those who support the game's win, though they may have spoken loudest with their votes in this instance.
Cyberpunk 2077 has certainly improved since the game's disastrous launch, but this win highlights just how divided the game's fanbase remains. Only you know whether you personally feel the game deserves animosity or absolution. However, it's hard not to feel that this award is as much about fandom and the state of the industry as it is about Cyberpunk 2077.
Does Putting Out Fires Count as "Nurture and Support?"
At first glance, the Labor of Love award seems pretty harmless. Why shouldn't we thank developers who stick with games and add more content, especially since Cyberpunk 2077 has improved so much since its launch?
However, that award is supposed to celebrate studios that add new content, and CD Projekt RED hasn't actually added a lot of new content to Cyberpunk 2077. Most of its post-launch updates have been dedicated to patching out bugs and smoothing the overall experience. Mind you, many of those bugs made some versions of the game nearly unplayable at launch.
It's also important to remember that before Cyberpunk 2077 launched, CD Projekt RED had big plans for its future. The company originally wanted to take the Witcher 3: Wild Hunt approach and keep Cyberpunk 2077 alive with free and paid DLC, as well as a multiplayer mode (a first for the studio). But CD Projekt RED employees quickly realized they would have to patch holes in the release version's code before that could happen. The more problems CD Projekt RED fixed, the more the studio had to push back its plans to actually grow the game.
By Forbes' count, CD Projekt RED reworked their long-term Cyberpunk 2077 plans no less than four times, all while the company scrambled to release bug fixes and QoL updates. In December of 2022, CD Projekt RED announced that in order to fix Cyberpunk 2077 they had to abandon all multiplayer ambitions for the game. Yes, Cyberpunk 2077 is in a far more stable state, but at this point, fans expected to be able to enjoy the studio's most ambitious game yet rather than the experience that should have been available at launch.
To be fair, Cyberpunk 2077 has been updated with free DLC that includes minor additions such as weapons, missions, and cosmetics. They're welcome additions, but they feel closer to the bare minimum of what we expect from modern gaming updates rather than the "Labor of Love" that the other nominees (and more titles) most certainly represent. What Cyberpunk 2077 represents is sadly something else entirely.
Cyberpunk 2077 Is Synonymous With Poor Management and Unreasonable Expectations
In the spirit of fairness, the team at CD Projekt RED has done a fantastic job of turning Cyberpunk 2077 around. As of 2022, the game is more popular than ever, thanks to a combination of patches and the breathtaking Cyberpunk: Edgerunners anime (even if you don't like anime or the game, you need to watch the show).
However, the mere fact Cyberpunk 2077 was released in such a horrible state is emblematic of almost everything wrong with the game industry today. What sort of message are these fans sending that they're willing to forgive and award all the mismanagement simply because the game is now in the state it should have been at release?
Keep in mind that Cyberpunk 2077's issues started when the game was announced. Despite revealing this project to the world the year after it released The Witcher 2: Assassins of Kings, CD Projekt RED didn't begin development on the game until four years later, after The Witcher 3: Wild Hunt and all of its DLC were released.
Humorously (if darkly so), the game's first teaser trailer gave a release date of "when it's ready," which we now know was the title's first broken promise.
Cyberpunk 2077 represented many firsts for CD Projekt RED. For instance, it was the studio's first game with classes and character customization, but more importantly,  Cyberpunk 2077 was CD Projekt RED's first project that utilized the REDengine 4. In fact, the engine was so new it wasn't even finished; the studio developed the game while there were still working on the engine. Ideally, that challenging scenario would have been properly accounted for during the course of development. Instead, reports suggest that Cyberpunk 2077's developers actually only had about four years to finish the studio's most ambitious game yet.
According to a Bloomberg report, the entire development process of Cyberpunk 2077 was "marred by unchecked ambition, poor planning, and technical shortcomings." Because of all these issues, the working conditions at CD Projekt RED were abysmal. Game concepts and ideas were overhauled on a regular basis. The Co-CEO of CD Projekt RED, Marcin Iwiński, promised in 2019 that Cyberpunk 2077's developers wouldn't need to crunch, but the company eventually enforced six-day work weeks anyway. To make matters worse, staff members had to develop game builds for far more platforms than previous projects, because that's what upper management had promised investors.
That's perhaps the strangest thing about this award win. The labor that went into Cyberpunk 2077 (and continues to go into it) is obviously there and, sadly, bolstered by crunch. We also can't entirely question the love of those who worked on (and continue to work on) the game. However, you're not alone if you feel like this win was orchestrated by those who have pledged loyalty to a company and a brand that deserves to be constantly called into question for their decisions.
Cyberpunk 2077 Deserves to be Played, but It Doesn't Deserve Awards
Cyberpunk 2077's bugs were certainly a problem, but one of the game's biggest controversies was actually its overinflated marketing budget. While CD Projekt RED spent around $321 million on the game, only $121 million reportedly went towards actual development; the rest was funneled into a marketing machine full of false promises.
Arguably the worst offender was Cyberpunk 2077's infamous E3 demo, which was reportedly designed to trick audiences. According to Bloomberg's previous report, many of the "game mechanics" and "features" displayed in the demo hadn't even been coded yet. Furthermore, game devs felt they had wasted their time on the demo and should have actually developed Cyberpunk 2077 instead. However, they made the demo anyway because the higher-ups expected one.
That misleading demo wasn't a one-off problem. CD Projekt RED made so many false promises to investors and audiences that multiple shareholders sued the company. Oh, and we can't forget that after CD Projekt RED announced Cyberpunk 2077 had gone gold, the company had to walk that claim back and delay the game since it was still buggy to the point of being unplayable. For much of its existence, Cyberpunk 2077 has been a broken promise.
While we owe the legions of coders at CD Projekt RED for cleaning up the mess left by Cyberpunk 2077's initial release, that mess should have easily been avoided in the first place. This isn't a simple case of an overly-ambitious title finally making good or a little project gradually growing into a great game. Cyberpunk 2077 still represents the dangers of thinking that crunch is acceptable, that advertising a game is more important than developing it, and that false promises are surprisingly easy to move past if you can afford to weather them.
The story of Cyberpunk 2077's development and release should dangle above the industry's head like a Sword of Damocles. Instead, we're left to marvel at the stunning loyalty of those whose capacity for forgiveness is so great that they're willing to put a game on the pedestal for finally doing the near minimum.