Features
Does Cyberpunk 2077's PlayStation Store Removal Make It the Worst Launch Ever?
Cyberpunk 2077 is no longer available on the PlayStation Store, which means it's time to talk about whether this is the worst video game launch ever.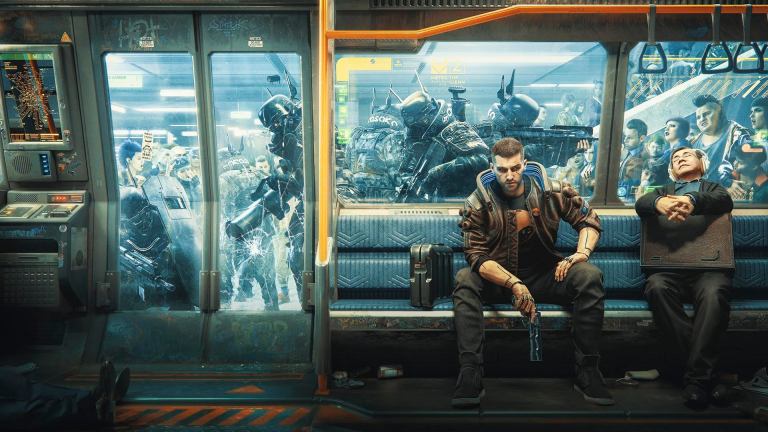 Late last night, Sony revealed via the PlayStation website that they have decided to honor refund requests for those who purchased Cyberpunk 2077 via the PlayStation Store. More importantly, they have decided to remove Cyberpunk 2077 from the PlayStation Store "until further notice."
Cyberpunk 2077 developer CD Projekt Red was quick to respond to this decision with one of their "yellow background tweets of doom" that have come to define the year in Cyberpunk 2077 updates. In it, the team noted they were aware of Sony's decision and are still working to improve the game and get it back on the PlayStation Store as soon as possible.
The word you want to use at times like this is "surprising." Yet, nothing about this is surprising to anyone who has been following Cyberpunk 2077 since the game launched last week. Not only did Cyberpunk 2077's PS4 and Xbox One versions launch with a shocking amount of serious technical issues that surpassed even the most cynical expectations of the game's performance, but CD Projekt Red previously encouraged players to pursue refunds for those versions of the game. At that time, though, no special refund policy had officially been implemented by Sony or Microsoft. Sony has obviously now done just that, while Microsoft just announced that they're instituting an expanded refund policy for all Microsoft Store purchases of the game.
What we're left with now are unanswered questions. While "When will Cyberpunk 2077 return to the PlayStation Store?" and "What happened to this game?" are near the top of that list, the one I keep coming back to most has to be "Is Cyberpunk 2077's debut the worst game launch ever?"
While the subject of anything being the "worst," is inherently subjective, you can start having a productive conversation about Cyberpunk 2077's historical standing by taking a look at some of the other worst debuts in video game history while trying to be as objective as possible about how Cyberpunk 2077 compares.
For instance, there have been countless smaller games that launched either entirely broken or as barely disguised phishing attempts. Obviously, Cyberpunk 2077 isn't quite at that level. There have also been games that were essentially doomed to fail for eternity due to a variety of bad decisions. The War Z's developers, for instance, starting banning players for criticizing their broken game full of empty promises. There's also the strange case of the MMO ArcheAge which made it nearly impossible to access the game's land ownership feature due to the fact that hackers had pretty bought all the land hours after the game launched. Cyberpunk 2077 has its problems, but at least there have been some PC players who have been able to get some kind of enjoyment out of it.
At the same time, Cyberpunk 2077 is clearly in worse shape than titles like World of Warcraft or GTA Online which just couldn't support the number of people that tried to play them at launch. We're far beyond a simple case of not anticipating demand.
No Man's Sky is another game that's being referenced quite a lot lately, but that comparison isn't entirely accurate. No Man's Sky was a much smaller game that ultimately fell victim to official and unofficial hype. It came from a largely unproven studio that really only made a name for itself during the game's marketing period. It ultimately proved to be a lesson in expectation management rather than a technological nightmare that represented some of the worst elements of Triple-A gaming.
A similar thing happened with Kingdom Come: Deliverance (a project I actually liked despite its problems). That game was incredibly buggy, missing important features, and ultimately felt like a shell of its final form, but it was a Kickstarter project made by a relatively small team that still managed to live up to some of its more ambitious promises.
By comparison, Cyberpunk 2077 is a high-profile game from a respected developer that launched with a variety of technical problems and design shortcomings that resulted in drastic measures being taken in an attempt to salvage whatever hope the game has left. It's when you compare the game to the other titles in that category that you start to appreciate its qualifications for the dubious title of "worst launch ever."
While I've heard Cyberpunk 2077 be compared to two of its more immediate and recent peers (Anthem and Fallout 76), it's important to remember that the hype for those games was muted somewhat by loud cries from those who felt that those developers and franchises shouldn't go in those directions in the first place. The hype for Cyberpunk 2077 was rarely muted despite attempts to point out some of the red flags that had emerged.
Cyberpunk 2077 certainly shares disappointment DNA with Batman: Arkham Knight. They are, after all, two high-profile seemingly "can't miss" games from established developers that launched on certain platforms in a nearly unplayable state and were eventually pulled from storefronts. At least that game's problems were limited to PC, though, whereas even Cyberpunk 2077's ideal platforms suffer from notable issues.
What about Diablo 3 and Halo: The Master Chief Collection? Again, they were both seemingly can't miss titles from major studios that launched with a variety of controversial design decisions and technical issues. In both cases, though, I feel like the heated discussions around both of those games would have been cooled somewhat if their online services had been more reliable.
When I really look at it, Cyberpunk 2077 reminds me more of games like Too Human, Daikatana, and Assassin's Creed: Unity. All of those single-player focused titles were hyped to death, developed by notable names, attracted quite a bit of controversy, and launched in nearly unplayable states. Cyberpunk 2077 even shares some design concepts with Daikatana, and Assassin's Creed: Unity forced Ubisoft to embrace desperate measures by giving away free games in an attempt to calm everyone down.
Yet, when you get right down to it, there are factors that separate Cyberpunk 2077 from its peers.
We've already talked about Cyberpunk 2077's controversial road to release, but it's very much worth reminding everyone that CD Projekt Red's reputation was already being chipped away at by those who had legitimate concerns about the company's culture. While that reputation was defended by the studio's passionate fanbase, even some of those supporters are starting to question whether CD Projekt Red's customer-friendly image is a crumbling facade.
There's also the issue of the game's development. CD Projekt has delayed Cyberpunk 2077's release three times in 2020 as part of their attempt to optimize the game. After one of those delays, it was revealed that the company had instituted a "crunch" schedule. So not only is Cyberpunk 2077 a bug-ridden nightmare, but it's a bug-ridden nightmare that's long development cycle must now be measured in financial and human costs along with the concerns regarding inherent problems with the game's direction.
Do you know what really separates Cyberpunk 2077 from its fellow disappointments, though? It's the fact that the versions of the game that perform the worst are the ones that really needed to work the most.
While it seems that many (or even most) of the Cyberpunk 2077 pre-orders came from PC players, all reports indicate that the game was set to be a hit among console gamers as well. Some early projections suggested that the game could eventually sell over 30 million units, and CD Projekt Red had previously indicated that Cyberpunk 2077 recouped its budget shortly after the game's launch. It was clear that a wide variety of gamers were looking forward to this game as a way to end what has been a truly miserable year on something of a high note.
Instead, CD Projekt Red turned in frankly embarrassing ports at a time when many console gamers are unable to find the next-gen consoles which can at least run the game somewhat respectfully. As an added twist, Cyberpunk 2077's PS4 version was so bad that it now prevents PS5 gamers from being able to download it digitally. It's important to also remember that Cyberpunk 2077 began its life as a PS4/Xbox One game. That only furthered the assumption that the game would at least run respectfully on those platforms even if the next-gen and PC versions would obviously be the "optimal" ways to experience it.
In a year that saw many studios make hard decisions and further delay their projects in order to best serve the people making them and the people who would eventually play them, CD Projekt Red pulled off the bad development trifecta with delay frustrations, crunch scheduling, and an ultimately broken game most readily available on platforms utterly incapable of handling it. Suddenly, that massive Halo Infinite delay makes a lot more sense, doesn't it?
Worst launch ever? At this point, it's all semantics. What matters is that Cyberpunk 2077's removal from the PlayStation store puts it in rare company at a time when CD Projekt Red had every opportunity and every advantage needed to prevent exactly this kind of scenario from ever happening.