News
Elden Ring Is Closing in on an Impressive Last of Us Part 2 Record
Elden Ring's impressive award season performance may soon surpass a record recently set by The Last of Us Part 2.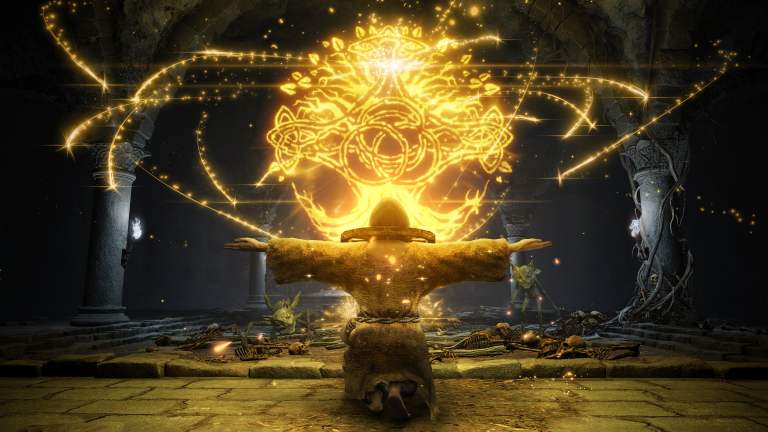 The term "Game of the Year" is thrown around a lot these days. Some companies have even caught flak for publishing Game of the Year editions of titles that didn't actually win any Game of the Year awards. However, 2022 gave us the gift of Elden Ring: a landmark game that ended up securing a stunning number of Game of the Year awards from various outlets. Actually, Elden Ring may soon surpass The Last of Us Part 2 as the biggest consensus Game of the Year game ever.
When Elden Ring was released early in 2022, millions were ready to immediately proclaim it Game of the Year material. After all, the game essentially rewrote the blueprint on how to produce an open-world experience. Sure enough, most final Game of the Year lists included Elden Ring in some capacity, with many of those ranked lists putting FromSoftware's masterpiece right at the top (including our own).
The 2022 Game Awards even ended with Hidetaka Miyazaki accepting the show's top trophy on behalf of everyone at FromSoftware. Well, it technically ended with a random kid walking up on stage and trolling everyone, but that occurred during Miyazaki's acceptance speech.
Actually, according to ResetEra's dedicated award season catalogers, Elden Ring has won a total of 321 Game of the Year awards from news outlets and recognized reader's choice lists (so far). Initially, the site reported that the game had acquired 324 such awards, but some of those wins since proved to be duplicates (whoops). Still, 321 Game of the Year awards is nothing to sneeze at, especially since that figure makes Elden Ring the winner of the second-most Game of the Year titles of all time, right behind The Last of Us Part 2.
According to GameAwards.net, 2020's The Last of Us Part 2 earned a sum total of 322 Game of the Year awards from various prominent media outlets and reader's choice lists. While some Elden Ring fans are no doubt disappointed by this "almost got 'em" news, there are a few other important details you should know about this story. For instance, while The Last of Us Part 2 has garnered more total Game of the Year awards, Elden Ring wowed more media outlets. According to ResetEra, Elden Ring won 278 Game of the Year awards from tallied media sources compared to The Last of Us Part 2's 208. The Last of Us Part 2 is holding onto its overall record thanks to its 114 readers' choice lists selections, whereas Elden Ring has only topped 43 such lists so far.
"So far" may be the key phrase here. Since 2022 is still fresh in everyone's minds, some sites are still compiling their Game of the Year lists. For instance, when ResetEra's researchers initially tabulated The Last of Us Part 2's awards, they counted 303 selections. The game then acquired 19 other awards in the first few months of 2021. If Elden Ring were to experience similar growth, then it would most assuredly surpass The Last of Us Part 2's record. All Elden Ring needs is two awards and it will become the most recognized Game of the Year video game of all time. That's no small feat given the sheer number of various opinions that such awards are subject to as well as the fact that God of War Ragnarök ended up securing quite a few Game of the Year wins itself in 2022.
So while we'll wait and see what the final count reveals, it certainly looks like Elden Ring will end up with yet another impressive honor to add to its growing list of accolades. As for whether or not Elden Ring would have beaten certain legacy Game of the Year winners released in the pre-internet or early internet eras…well, that might be a discussion for another day.