News
BlizzCon 2023 Start Time, Schedule, and Predictions
BlizzCon 2023 figures to be one of the biggest gaming events of the year. Here's when you can watch it (and a few of the things you should expect to see).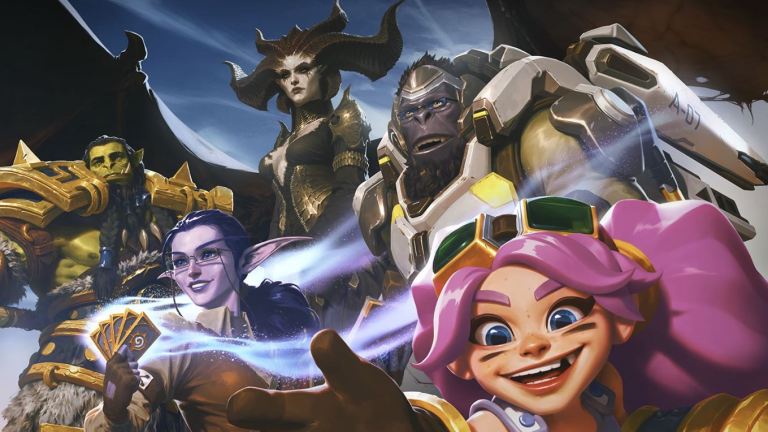 Through numerous ups and downs that have essentially seen the company reinvent its legacy, BlizzCon has remained Blizzard's biggest event of the year. Essentially a celebration of all things Blizzard, BlizzCon is both a massive fan convention and the one time a year when you can expect Blizzard to give us a look at what comes next. Given what a year 2023 has been for Blizzard (the release of Diablo 4, the apparent conclusion of WoW Classic, and Microsoft's acquisition of Activision Blizzard, etc. ), this year's BlizzCon event figures to be especially interesting.
Even better, it turns out that it's going to be remarkably easy to watch BlizzCon 2023. So far as that goes, here's nearly everything you need to know about the upcoming event.
BlizzCon 2023 Start Time
The digital portion of BlizzCon 2023 is scheduled to begin on November 3rd at 11 AM PDT, 12 PM MT, 1 PM CT, and 2 PM EDT. At that time, the BlizzCon 2023 opening ceremony presentation will begin. From there, a series of smaller presentations and events will throughout November 3rd and into November 4th. The event will then conclude on November 4th.
BlizzCon 2023 also marks the return of the physical BlizzCon ceremony (held in the Anaheim Convention Center in Anaheim, California). That means that BlizzCon attendees will get to enjoy a series of activities not available to online viewers. Everyone else will want to follow the BlizzCon 2023 schedule listed below.
BlizzCon 2023 Broadcast Schedule
Below is the full schedule for every BlizzCon 2023 broadcast event:
*Note: All times listed are in PDT
November 3
11 AM – Opening Ceremony
1:30 PM – World of Warcraft: What's Next
2:30 PM – Overwatch 2: Deep Dive
3:30 PM – World of Warcraft Classic: What's Next
4:30 PM – Hearthstone: What's Next
5:30 PM – Warcraft Rumblings
November 4
12 PM – World of Warcraft: Deep Dive
1:30 PM – Overwatch 2: What's Next
2:30 PM – Diablo IV Campfire Chat
4:45 PM – Community Night
6:15 PM – LE SSERAFIM Appearance
As mentioned above, that is the full list of events that online viewers will be able to watch this year. Those attending the show will be able to watch/participate in additional events, though there are no plans for those events to be broadcast online at this time.
Do You Need a Premium Pass to Watch BlizzCon 2023?
Unlike some previous years, you do not need a premium pass to watch most of the BlizzCon 2023 presentations online. All of the events listed above can be viewed by anyone at their scheduled start times. The only things you'll miss out on by going the "free" route are any of the events that are limited to those who attend the show.
However, you can purchase a BlizzCon Collection package that grants you access to various special items in different Blizzard games. The BlizzCon Collection comes in two editions: The $29.99 Epic Pack and the $49.99 Legendary Pack. The Legendary Pack grants you access to premium cosmetic items, Battle Passes, and loot for Diablo 4, Overwatch 2, WoW, Hearthstone, and Warcraft Rumble as well as everything that is included in the Epic Pack.
If you're interested in purchasing either collection, you can do so here.
How to Watch BlizzCon 2023
You can watch BlizzCon 2023 online on YouTube and Twitch via the following channel links:
As in years past, 2023's BlizzCon event will also be co-streamed by various YouTube and Twitch streamers. That being the case, you can expect to see multiple streamers on both platforms broadcasting the event throughout those two days. If you'd prefer to watch it with them through their streams, you will likely be able to do so.
BlizzCon 2023 Predictions
As is typically the case, Blizzard has managed to keep most of their upcoming BlizzCon announcements and reveals under wraps ahead of the show. However, a few recent leaks strongly hint at some of the things you can probably expect to see.
Here are a few of the more notable BlizzCon 2023 leaks that have appeared so far (as well as our predictions for what else you should expect to see):
World of Warcraft's Next Expansion
Blizzard will almost certainly reveal World of Warcraft's next expansion at BlizzCon 2023. While a series of "leaks" suggest the next expansion will take players to a new continent called Avaloren, much of that information has rightfully been debunked or challenged by eagle-eyed fans who spotted a number of inaccuracies and inconsistencies in those reports.
However, given the time travel shenanigans that occurred towards the end of the Dragonflight expansion, it really does seem like the next expansion will either take us back to Azeroth's past or force players to bounce between various time periods. That's little more than a loose theory at this time, but that is certainly the most obvious piece of narrative groundwork that the WoW team has laid thus far.
The Future of WoW Classic
The biggest question heading into BlizzCon 2023 is "What will Blizzard do with WoW Classic?" After all, the Wrath of the Lich King portion of Classic is wrapping up, and Cataclysm is the next WoW expansion set to receive the Classic treatment. The problem there is that Cataclysm is the expansion that introduced many of the changes that WoW Classic was meant to revert in the first place. As such, there has always been a debate about where Classic will go once it hits that point.
At the moment, my guess is that Blizzard will continue to support the proper "Classic" experience even if they do re-release Cataclysm in some form. In fact, we've already seen them do that with the recent release of Classic Hardcore servers which incorporate the popular Permadeath mechanic into official WoW servers.
The question now is whether or not Blizzard reimagines WoW from the beginning with the long-rumored Classic+ concept or if they continue to expand Classic with new content that picks up where Wrath of the Lich King previously left off. In either case, I'd still lean towards Blizzard not missing the chance to do something with Cataclysm while still offering Classic fans some kind of lifeboat.
Diablo 4's Next Season and First Expansion
Much like WoW, the reveals of Diablo 4's next season (Season 3) and first expansion feel just shy of inevitable. However, we don't really know what to expect from either update at this point.
Interesting recent rumors suggest that Diablo 4's first expansion will focus on Mephisto (The Lord of Hatred) and a new nature-based class called the Spiritborn. The Mephisto thing feels like a guarantee given where Diablo 4's campaign left off, but that new class is slightly harder to buy into at face value. I'd sooner bet on Blizzard resurrecting a classic Diablo class like Monk, Crusader, Demon Hunter, or Blood Knight, but we will soon see.
Diablo 4's next season will likely not generate as much hype as that first expansion, though it's arguably the more interesting piece of the puzzle. Premium cosmetics aside, Diablo 4 players have all had access to the same basic content up until this point. Once Blizzard starts rolling out premium expansion content, though, that dynamic will certainly change to some degree. It's going to be very interesting to see how the Diablo 4 team handles potentially splitting its player base and if those seasonal updates take a hit in quality while the premium expansions receive the lion's share of the love (and new content).
Overwatch 2's New Hero (and Future)
At the moment, there seems to be a 99% chance that the next Overwatch 2 hero will be revealed at Blizzcon 2023. For what it's worth, previous updates and current speculation all suggest that the next Overwatch 2 hero will almost certainly be a Support character. Of course, Overwatch plans have historically been subject to change, so I wouldn't take anything for granted quite yet.
Truth be told, the bigger question at the moment is "Where does Overwatch 2 even go from here?" Following the game's many delays, botched launch, controversial updates, and the apparent death of the Overwatch League, Overwatch 2 is in a rough place at the moment. While Blizzard rarely uses BlizzCon to do anything but celebrate their library of titles, this is one instance where the company may have to be a little more blunt about the state of the game and what comes next. As such, you can probably expect a host of upcoming changes, events, and other additions designed to please fans.
(Probably) No Xbox Game Pass Updates
While Blizzard reps will almost certainly reference Microsoft's recent acquisition of Activision Blizzard multiple times during BlizzCon 2023, don't expect anything more substantial than that.
Xbox representatives have made it clear that we probably shouldn't expect to see significant front-facing movement on that deal until 2024. That notably includes information on if (and when) certain Activision Blizzard games may join the Xbox Game Pass library. While you can't rule out the possibility of a brief surprise update (such as "Diablo 4 on Game Pass in 2024″), it seems like we'll have to wait a bit longer for anything more substantial than that.
A Codename: Odyssey Teaser?
The biggest BlizzCon 2023 wildcard at the moment is Blizzard's rumored survival title, Codename: Odyssey. A simple look at the BlizzCon schedule reveals that Codename: Odyssey does not have a broadcast block to itself at any point during the show. That rules out the possibility of getting a proper showcase for the game, which makes sense given its reported development timeline.
However, I wouldn't be so quick to rule out the possibility of getting a teaser trailer for that project during the opening ceremony. Blizzard clearly wants this return to a physical BlizzCon showcase to be as big of a deal as possible, and there are few things in the company's arsenal bigger than the reveal of their first new IP since Overwatch.